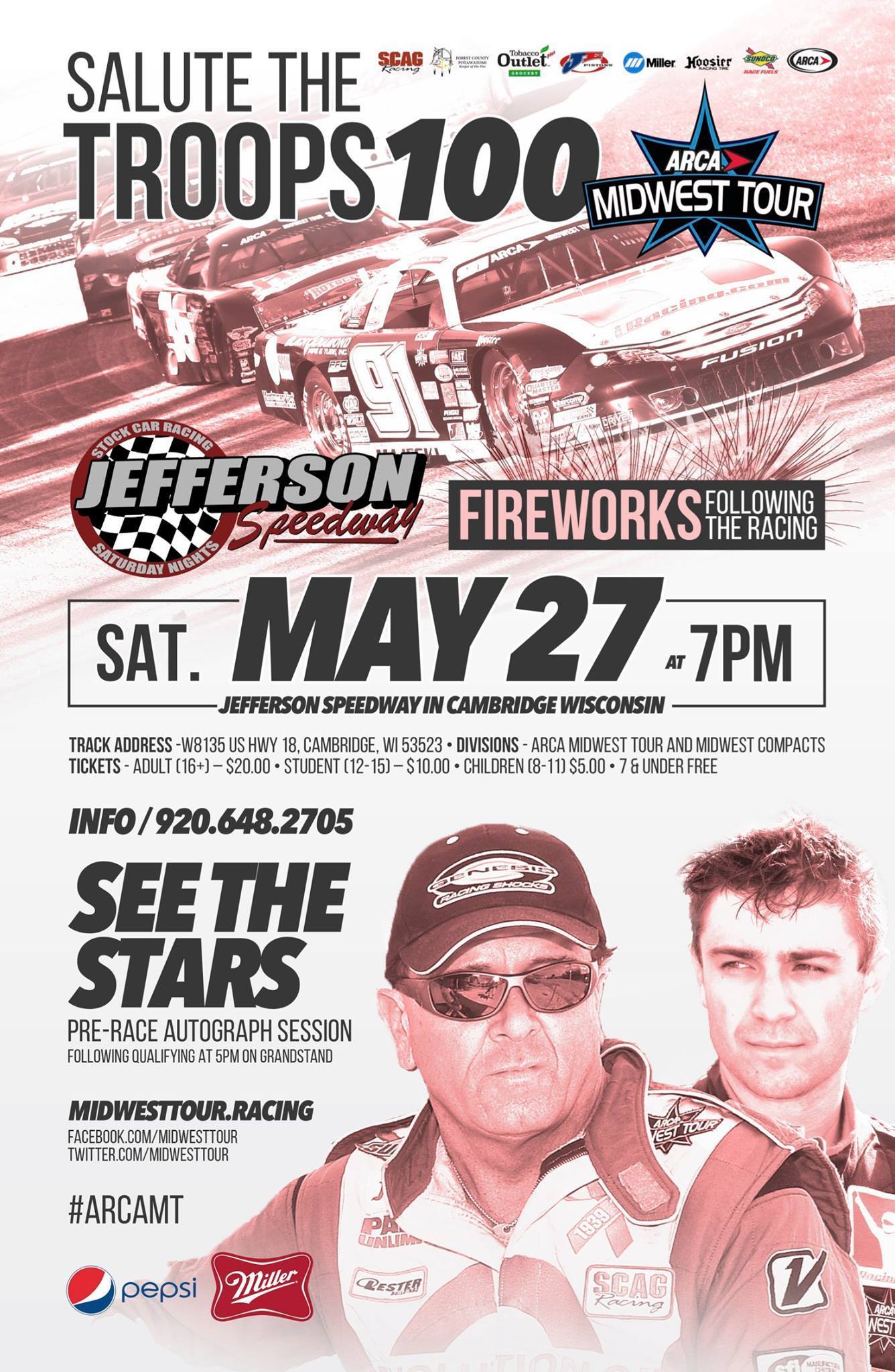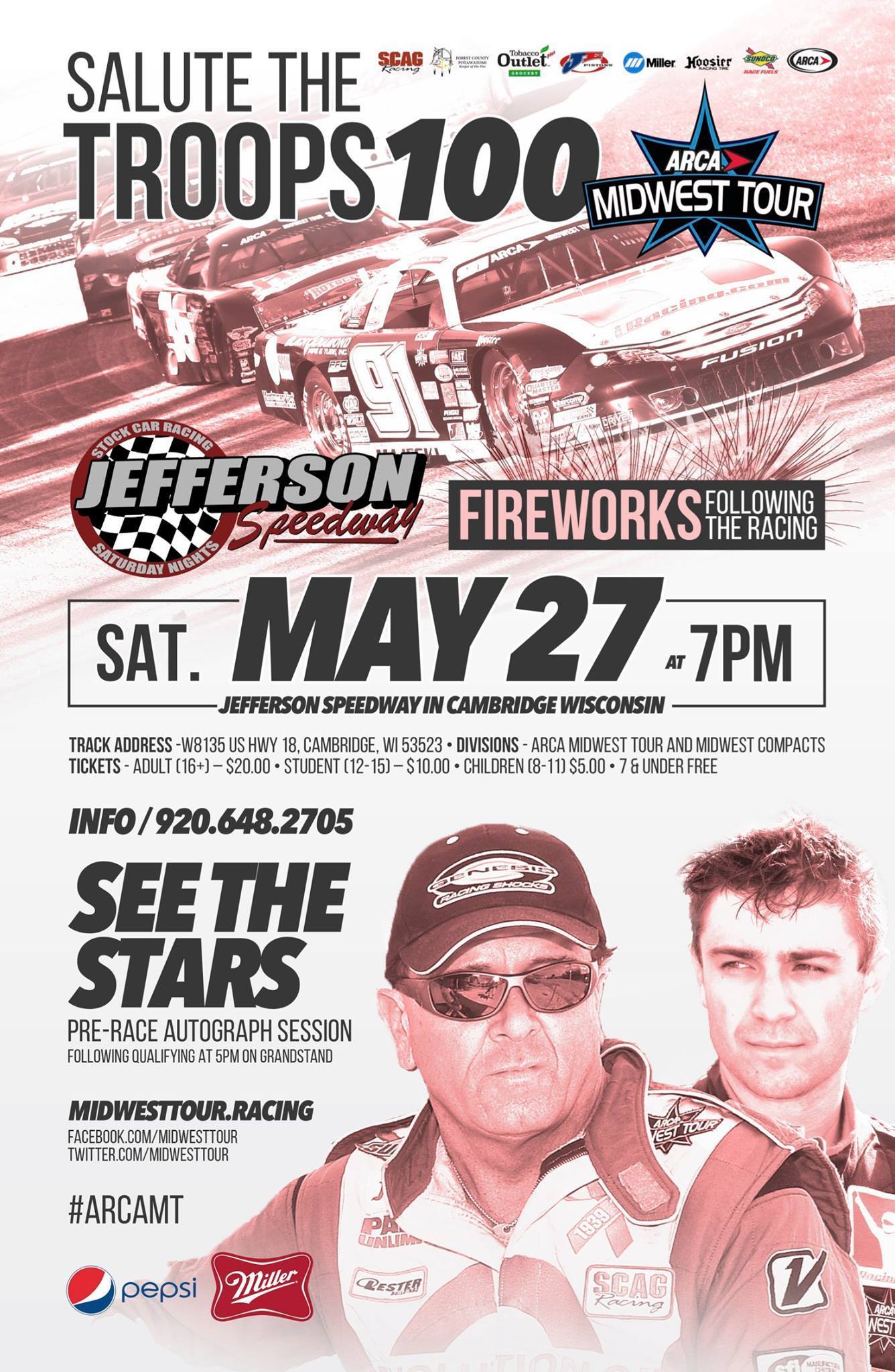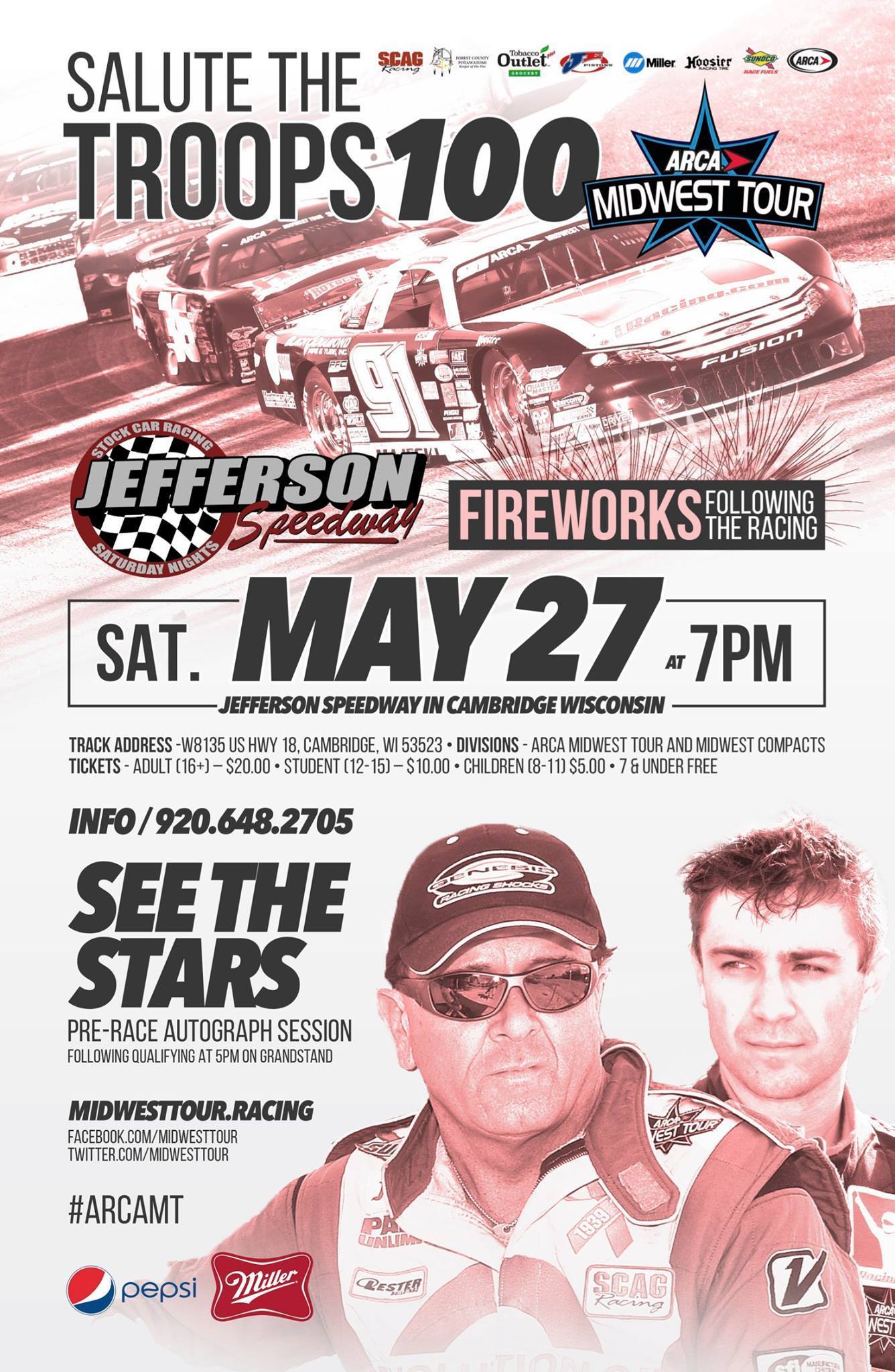 ARCAMT Stars & Cars Prepare for a Return to Jefferson Speedway This Saturday Night
The Stars & Cars of the ARCA Midwest Tour presented by SCAG Power Equipment are preparing to make a return to the famous Jefferson Speedway in Jefferson, Wisconsin this Saturday night for the "Salute the Troops 100."
The last time that "Wisconsin's Action Track" hosted the Midwest Tour was on May 17, 2008 when Jonathan Eilen took the victory.
The early expected entry list will have many of the Midwest's hot shoes trying to tame the challenging quarter-mile oval.
Eilen, fresh off a second-place finish at Sunday's Cabin Fever 100, eager to return to Jefferson.
"It's definitely a different track," Eilen recalled. "It is real flat in turns one and two and turns three and four is banked like Madison and Elko. I really like it. It's fits my driving; one and two you are running the low line and three and four you are running up to the wall. This is the kind of a track that is in the driver's hands."
All eyes will be on entries like Cabin Fever 100 winner Ty Majeski and Andrew Morrissey, who won the Joe Shear Classic opener along with the other Touring Stars.
One driver the local fans will be keeping an eye on this Saturday night will be 2016 ARCAMT Rookie of the Year and Larry Detjen's Sportsmanship Award winner Casey Johnson.
Johnson is not only a two-time Big 8 Series champion, a two-time Madison Triple Crown champion, but he is also a three-time Jefferson Speedway champion. He has 33 Late Model and two Super Late Model victories at Jefferson alone, part of his 62 victories overall in his career.
"When I saw the 2017 schedule and saw that Jefferson was on it, I told my wife to not make any family plans over Memorial Day weekend," Johnson exclaimed. "It would be awesome to get if I could get my first Midwest Tour win at my home track. I hope the fans come out and support us this Saturday night."
Qualifying will get underway at 5pm with the autograph session to follow. Racing will get underway at 7pm.
Visit midwesttour.racing for the full schedule and be sure to follow the ARCA Midwest Tour presented by SCAG Power Equipment on Facebook (/midwesttour) and Twitter (@midwesttour).
ARCA Midwest Tour Presented by SCAG Power Equipment Salute the Troops 100 (Race #119) Jefferson Speedway, Jefferson, WI
Saturday, May 27, 2017
Expected Entries (25 as of 5/22/17)
Car # Name Hometown State
0 Andy Jones Gurnee IL
5 Casey Johnson Edgerton WI
7 John DeAngelis, Jr Hubertus WI
7 Paul Shafer, Jr Portage IN
8 Chad Butz Suamico WI
14 Austin Nason Roscoe IL
18 Michael Ostdiek Lakeville MN
20 Jim Sauter, Jr Tomah WI
21 Dave Tomczak Franklin WI
35 Travis Dassow West Bend WI
36 Dan Fredrickson Lakeville MN
39 Andrew Morrissey DeForest WI
42 Dennis Prunty Knowles WI
43 Matt Kocourek Franklin WI
44 Justin Mondeik Gleason WI
45 Rich Bickle, Jr Edgerton WI
52 Ricky Baker Plainfield IL
54 Rich Schumann, Jr Portage WI
75 Chris Weinkauf Merrill WI
75 Mike Beyer Machesney Park IL
76 Jason Weinkauf Merrill WI
77 Jonathan Eilen Hampton MN
91 Ty Majeski Seymour WI
O4 Natalie Decker Eagle River WI
119 Dalton Zehr Daytona Beach FL