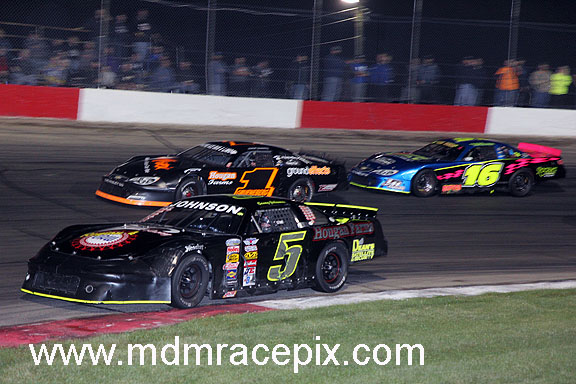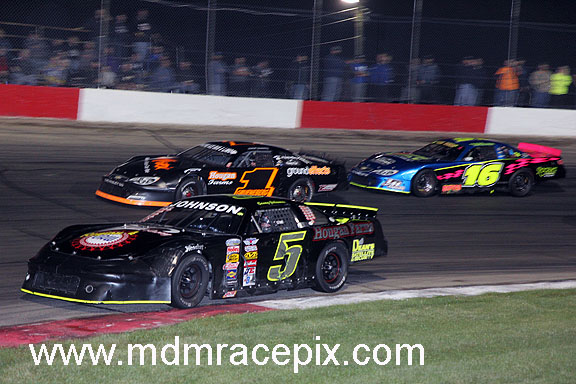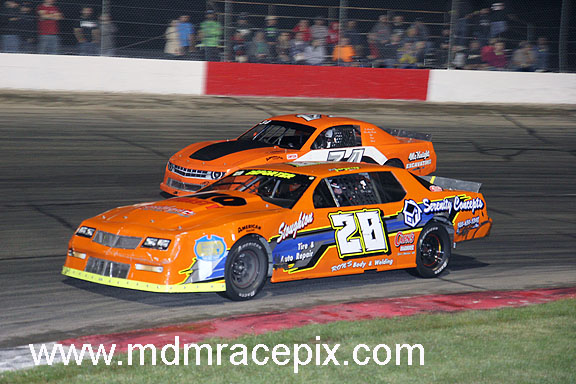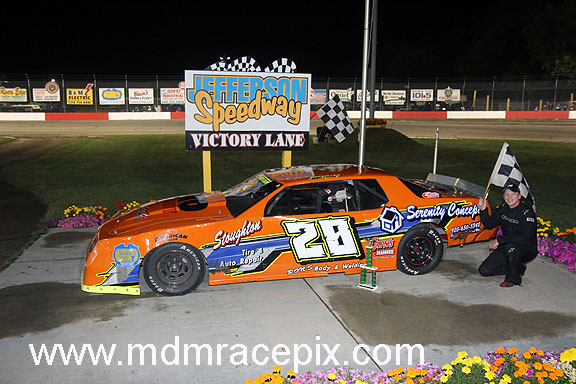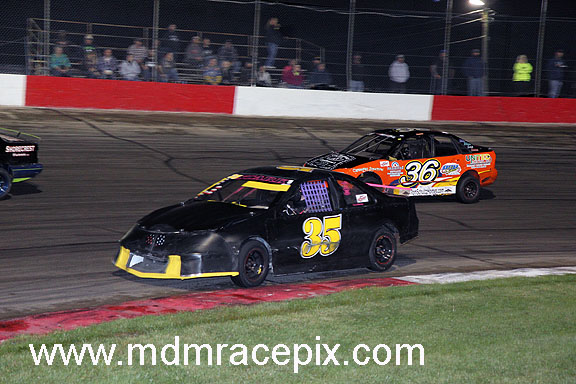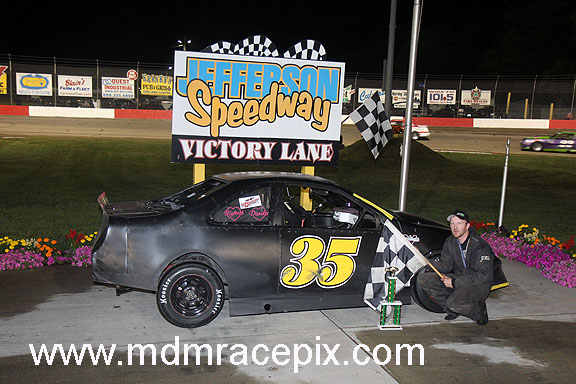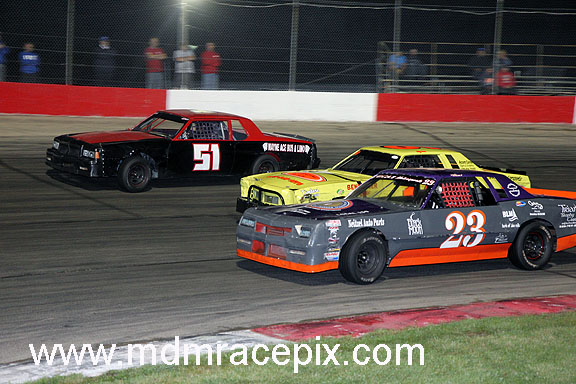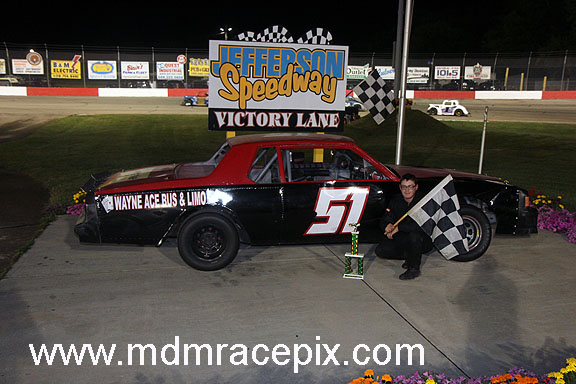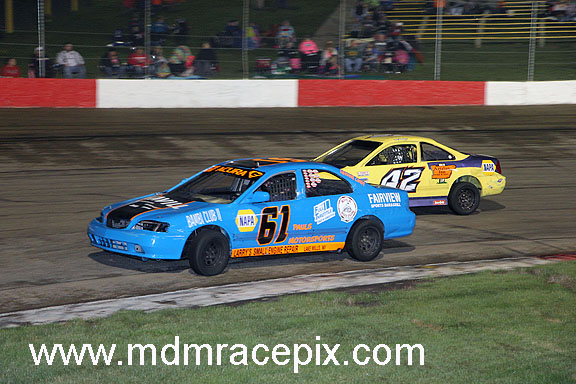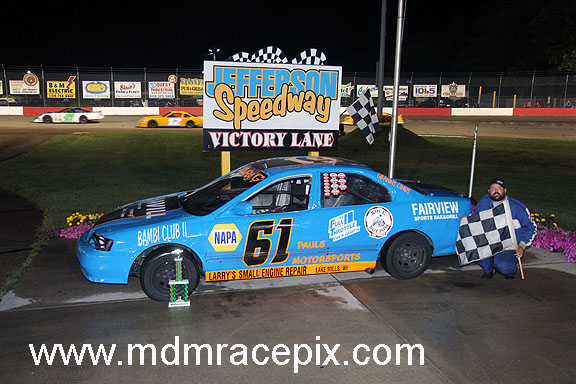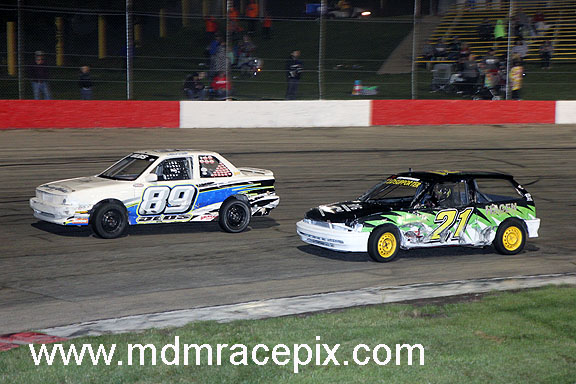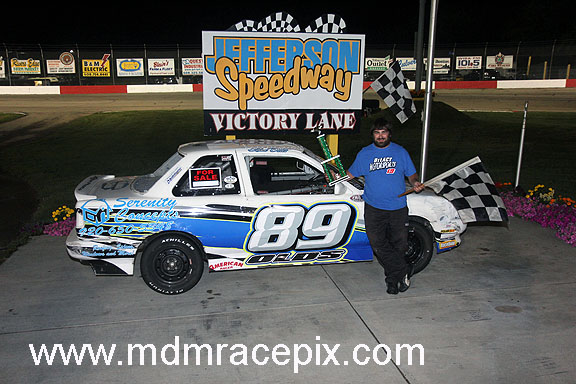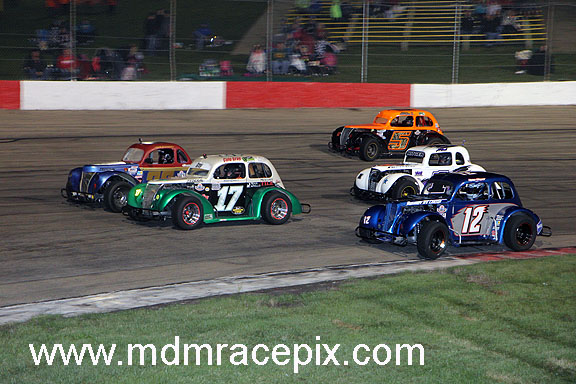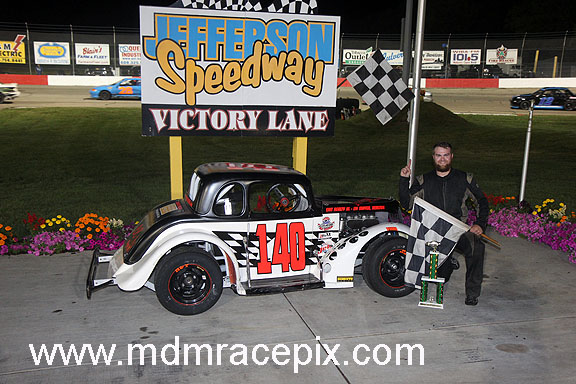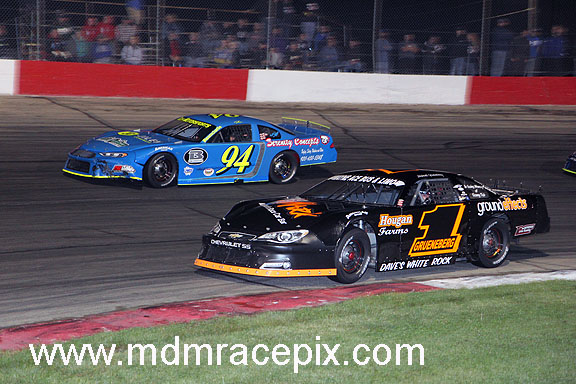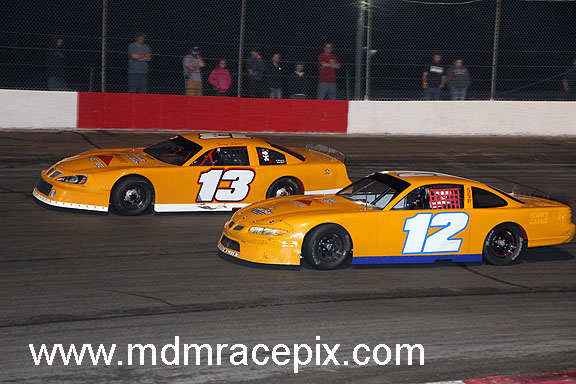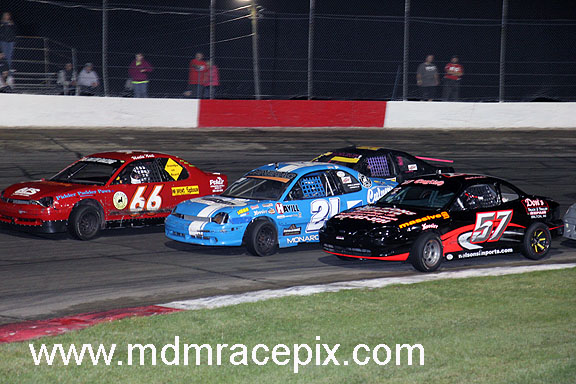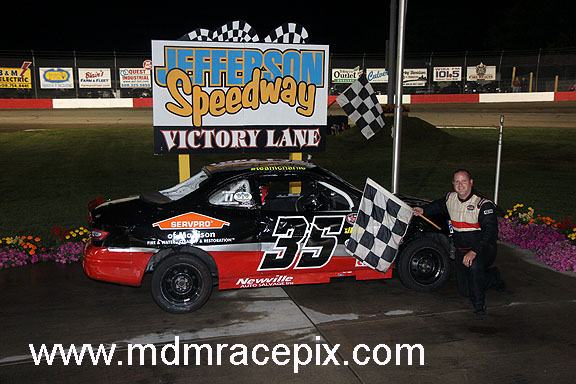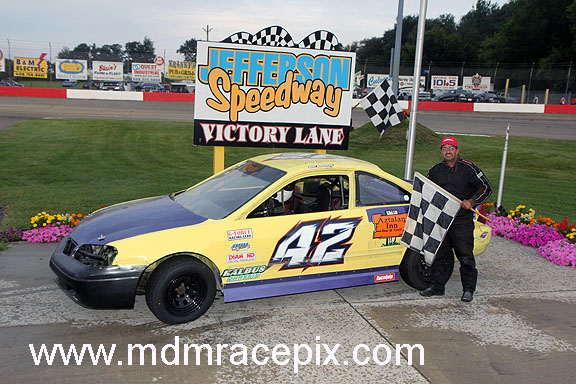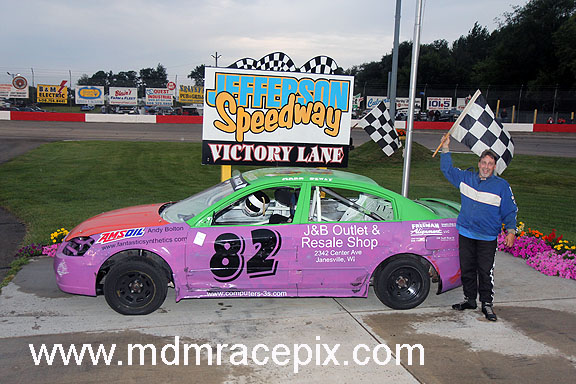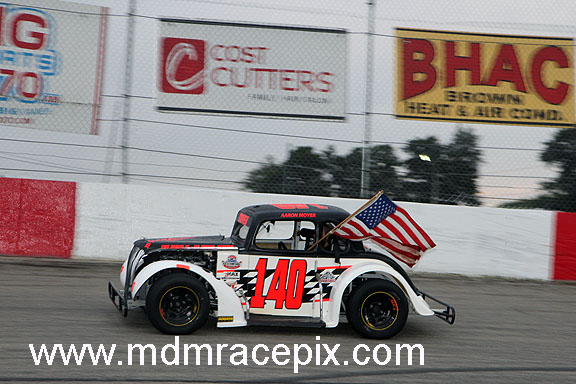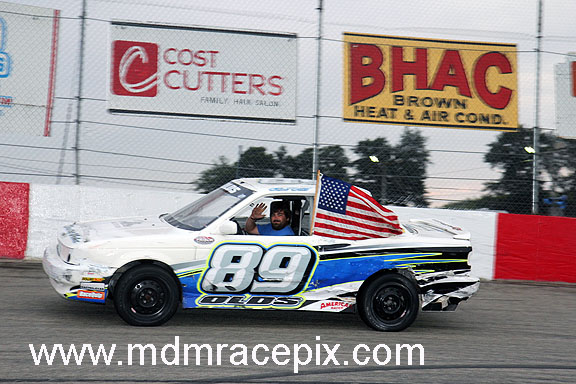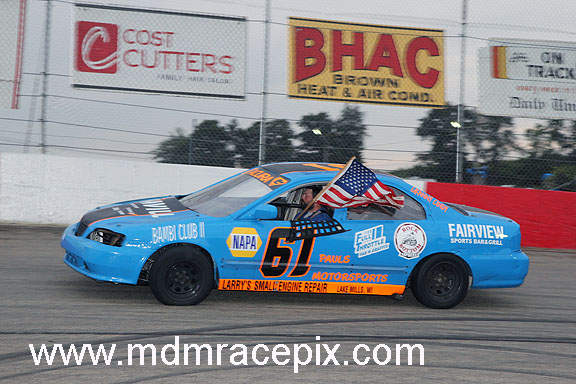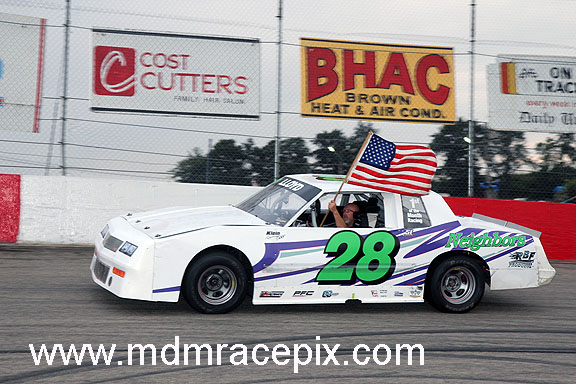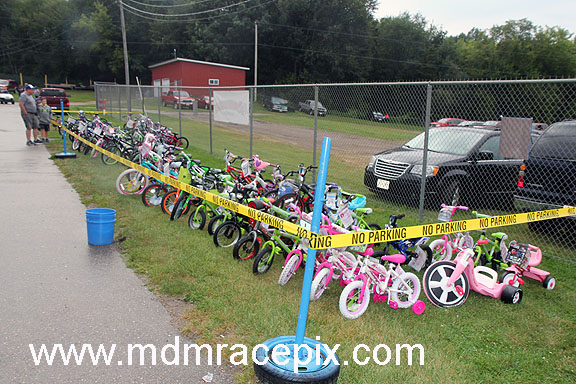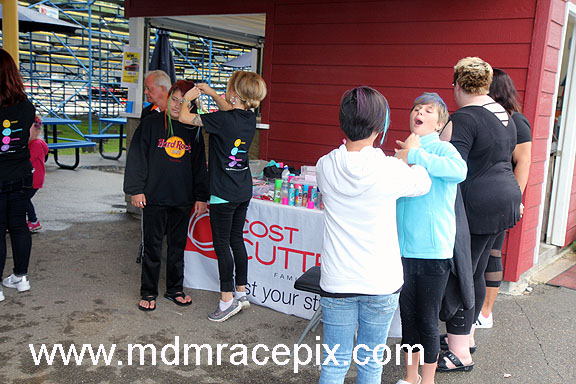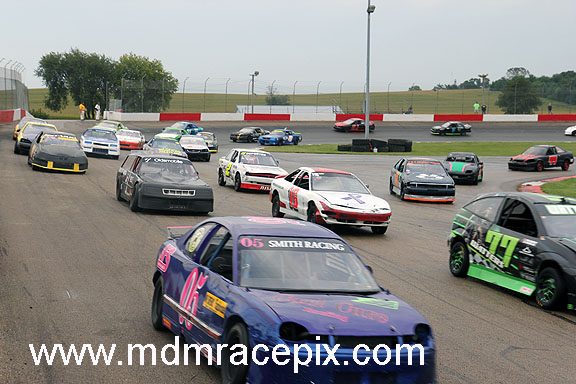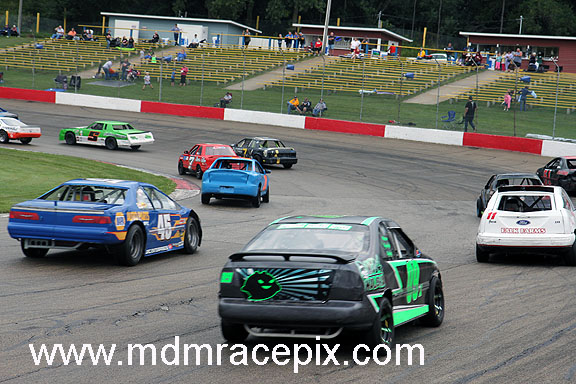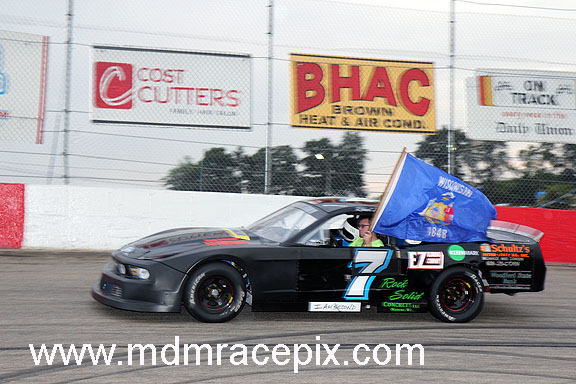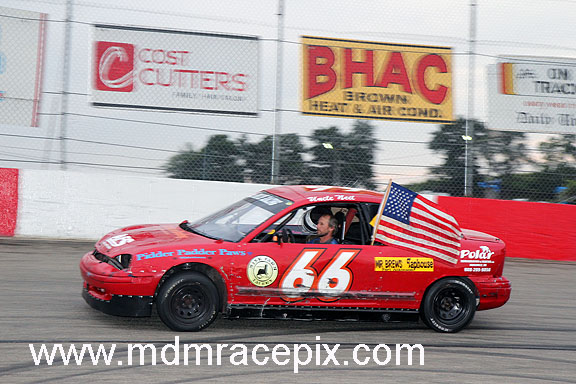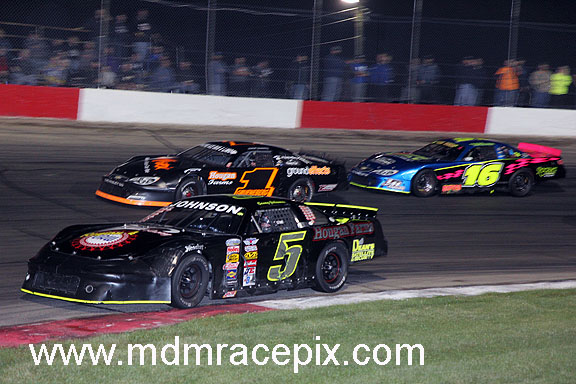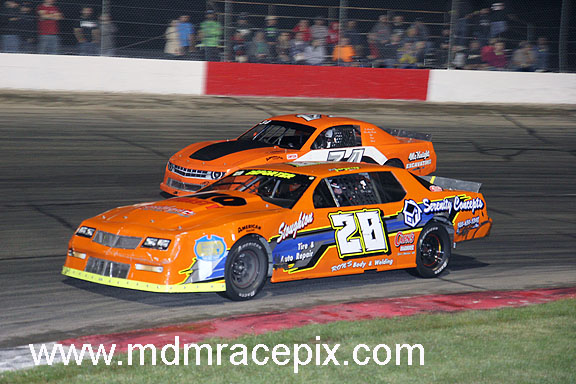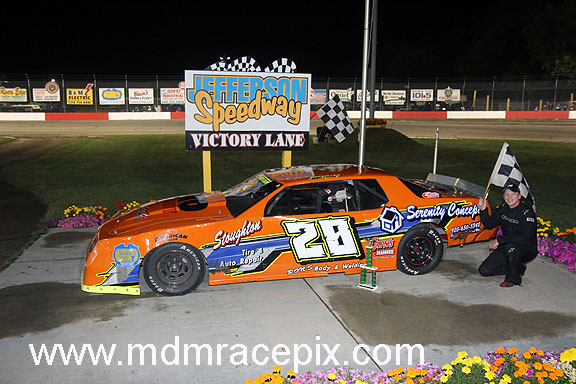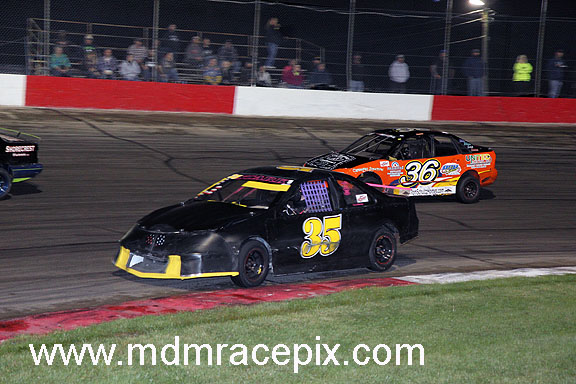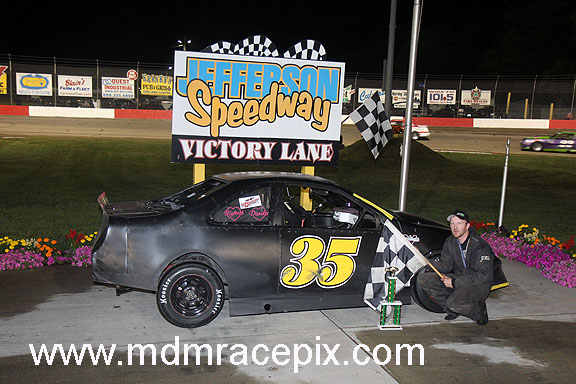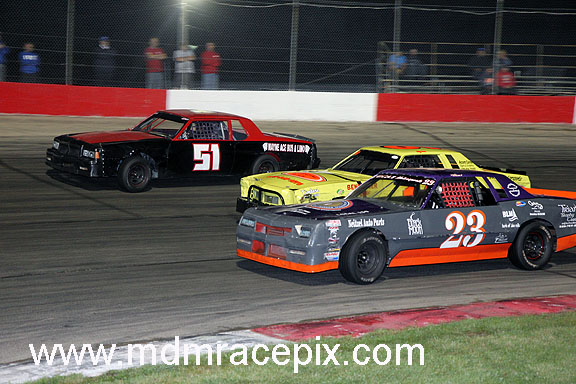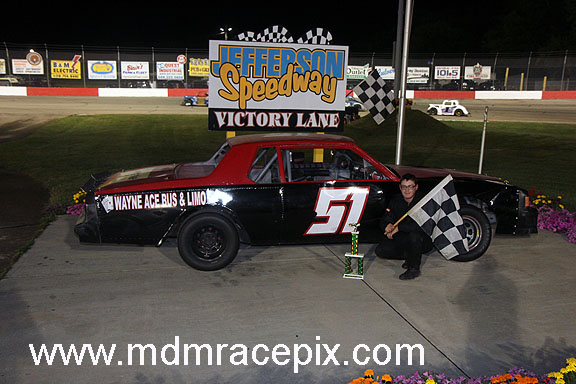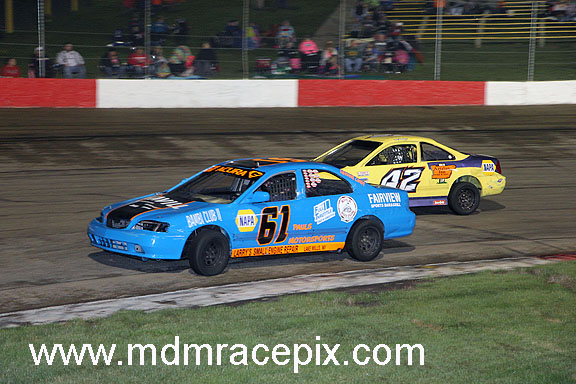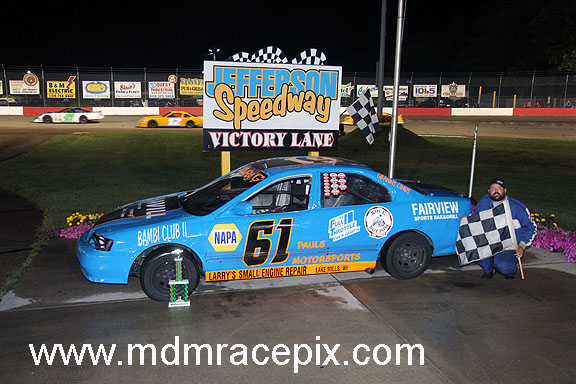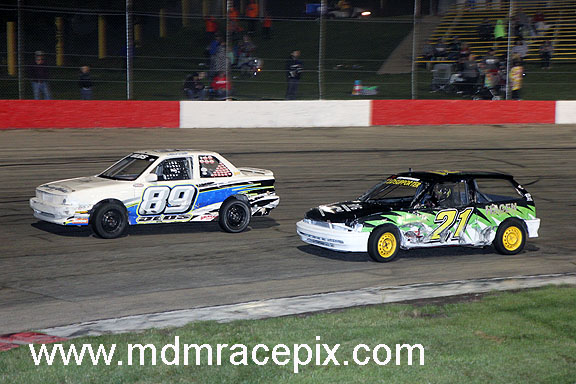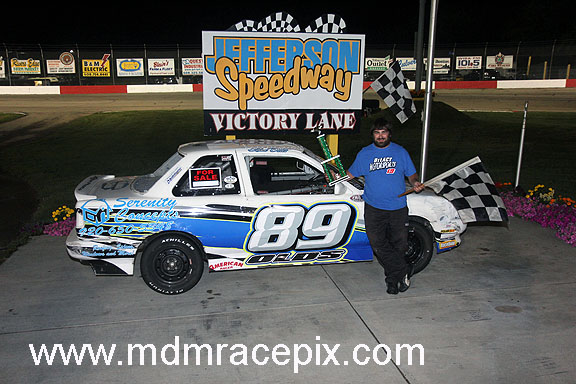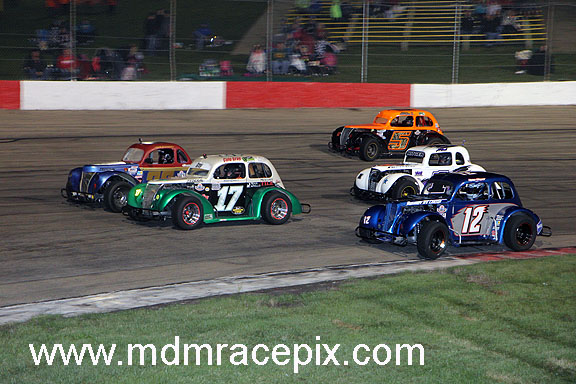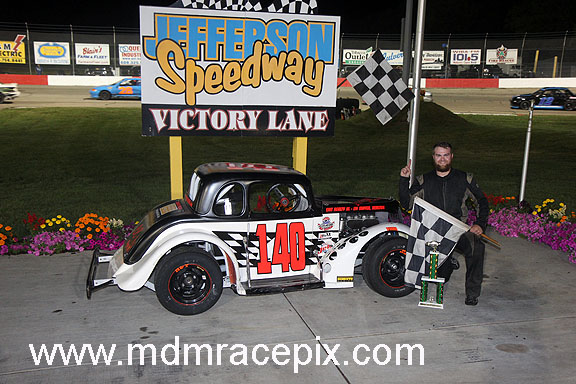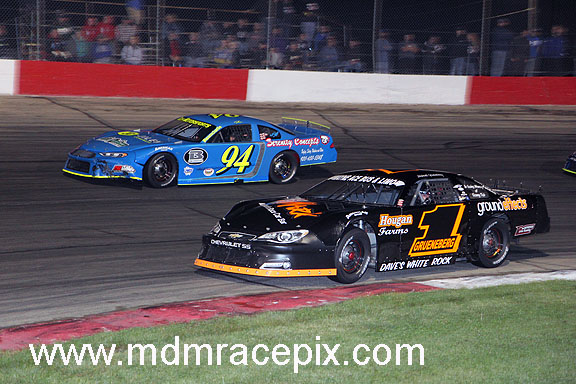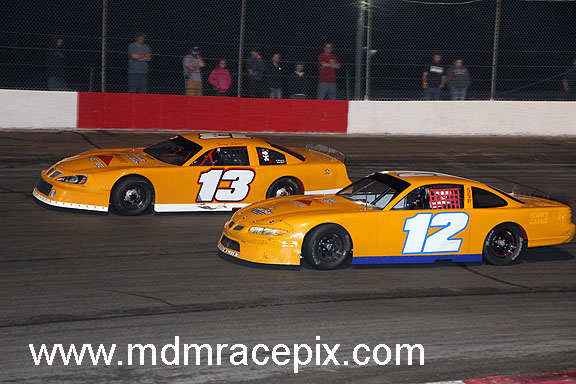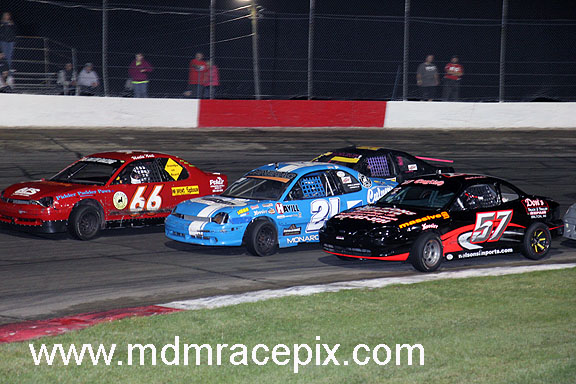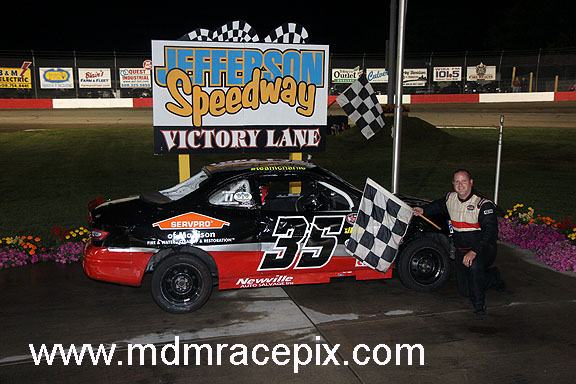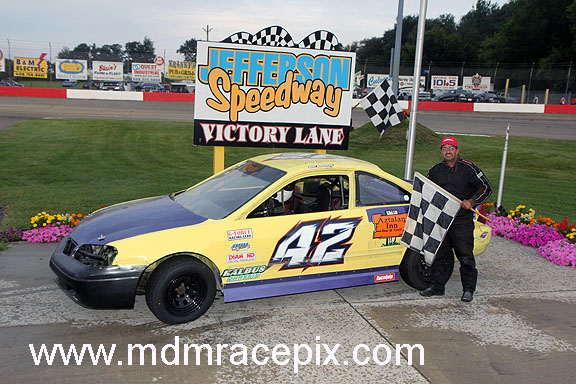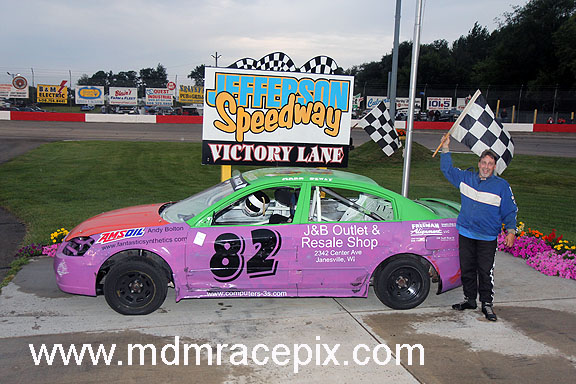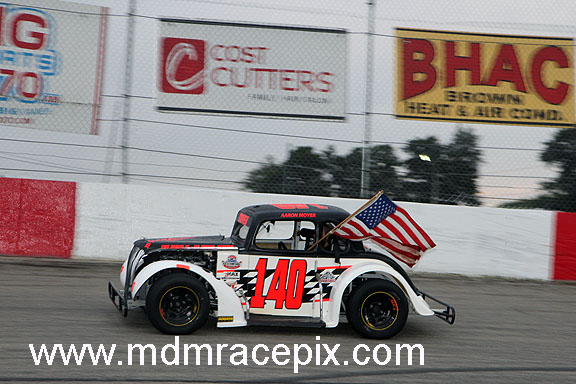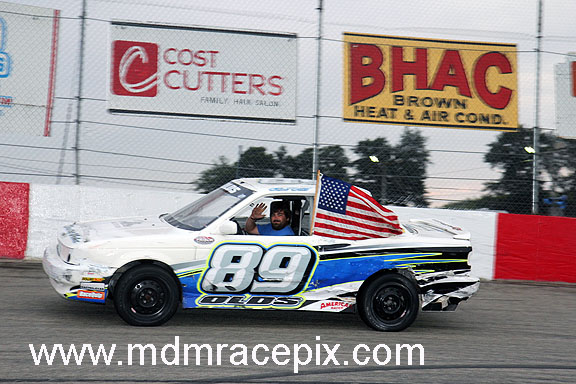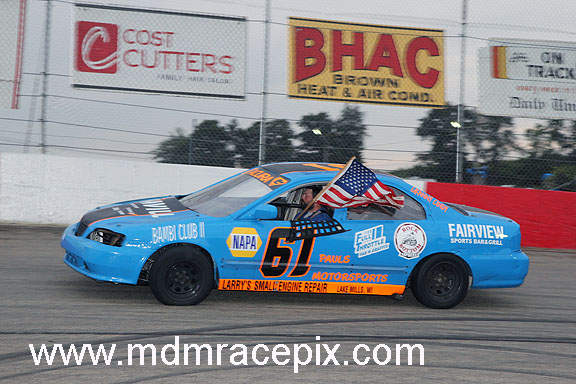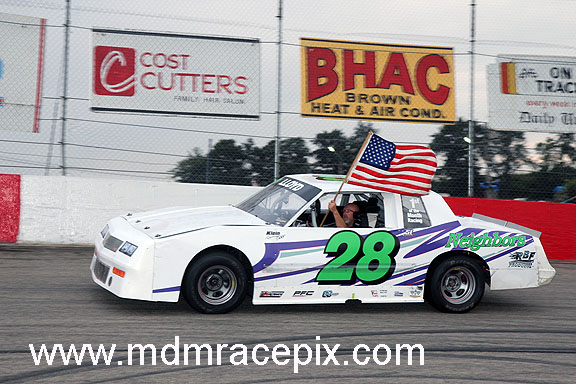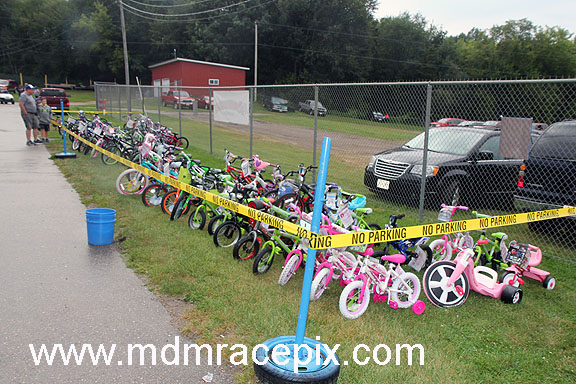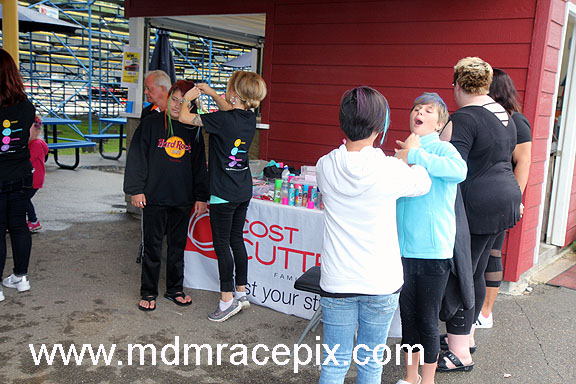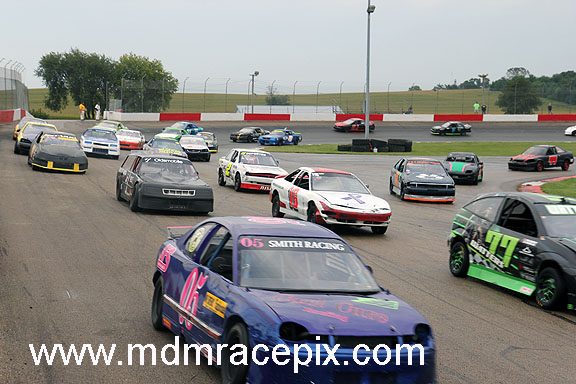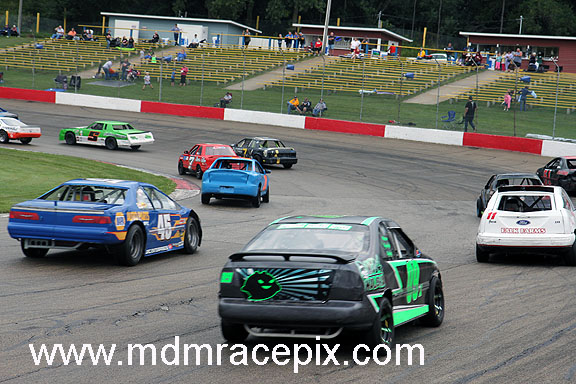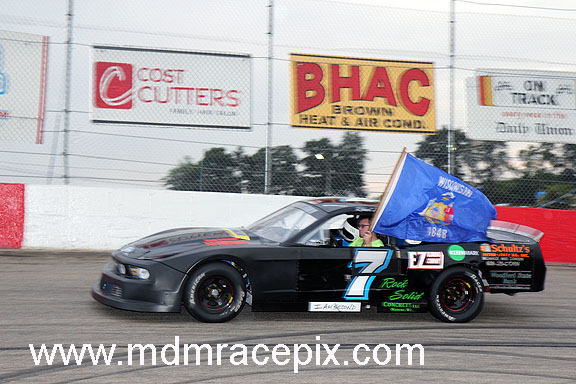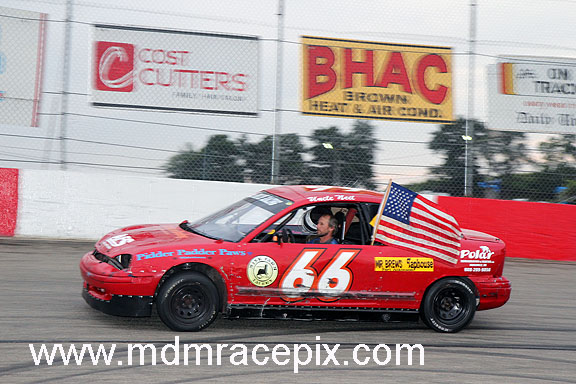 Johnson Wins Cost Cutters 50
JEFFERSON, WI (Saturday, August 26, 2017)           Whenever Edgerton's Casey Johnson unloads his familiar #5 Late Model at Jefferson Speedway, he is a threat to end the night in victory lane. In his previous three visits to Wisconsin's Action Track in 2017 he has two wins and a second place finish to his credit. His success this season continued on Saturday night as the three time track champion once again put his ride out front and claimed the Cost Cutters Family Hair Salons 50 lap feature event.
Kyle Smith and Cody Erdmann brought the 20 car field to the green as they fought side by side for control. Smith eventually moved out front alone on lap four with Dylan Schuyler moving next to Erdmann for second. The first of three early cautions slowed the pack on lap five for a spinning Stephen Scheel. Smith restarted on the point with Schuyler now in second and Jacob Nottestad challenging Erdmann for third. But contact between Nottestad and Erdmann on lap seven forced the second caution, sending both drivers to the rear. More contact on the restart between Kody Hubred and Dale Nottestad resulted in caution number three, sending the duo to the back of the pack. Smith remained out front as racing resumed followed by Schuyler in second and John Ovadal up to third. Johnson joined the three leaders as the four way battle for position was underway. Schuyler drew even with Smith on lap 14 with Ovadal right behind and Johnson challenging for third. Lap after lap, Schuyler and Smith raced wheel to wheel with Ovadal and Johnson locked in a battle for third close behind. By the half way point of the race, Jason Erickson and Michael Grueneberg closed in on as the top six competitors raced two by two under a blanket. On lap 28, Schuyler inched into the lead with Johnson trying to follow. Johnson cleared Smith for second and quickly moved up to work on the new leader. On lap 30, Johnson rocketed off turn two, pulling up alongside Schuyler as they raced down the back stretch. Johnson cleared a lap later with Ovadal now trying to follow under Schuyler. Contact between Schuyler and Ovadal on lap 32 ended with caution after Schuyler spun in turn two and Ovadal made heavy contact. The incident ended both driver's evenings and moved Grueneberg up to second for the restart. With ten laps to go, the top two began to separate themselves from the pack while Erickson battled Smith for third. A final caution on lap 43 set up a seven lap shootout to the finish. But Johnson held Grueneberg at bay over the final circuits to see the checkers first and secure his third feature win of the season. Erickson finished third with Hubred rebounding for a fourth place finish. Luke Westenberg rounded out the top five.
Mark Deporter of Fort Atkinson claimed the 30 lap Sportsman feature event. Ed Jackson led early from the pole with Boyd Eichelkraut and Dan Silberhorn fighting for second. Eichelkraut grabbed the spot on lap three bringing Jake Biever along for third. Biever quickly drove up next to Eichelkraut, stealing second and setting his sights on Jackson. On lap nine, Biever got under Jackson, moving into the lead just before a caution slowed the pace on lap ten. Biever restarted on the point followed by Jackson in second and Deporter in third. On the restart, Deporter dispatched of Jackson and began to peek to the low side of Biever at the front. On lap 16, Deporter got a run to draw even with Biever as they entered turn one. Deporter charged into the lead as they raced off turn four. Deporter began to pull away while Robert Hansberry moved into third and began to close in on Biever. Hansberry got to second with four laps to go, but ran out of time to catch Deporter. At the checkers, it was Deporter for the win followed by Hansberry, Biever, Josh Madell and Tony Ciano.
Sun Prairie's Gary Stark made a late race pass to net the win in the 20 lap International feature. Adam Schook and Dillon Scott battled for control from row one at the start with Schook taking the initial lead. Scott tried to fight back on the low side as Ashley Gottschalk moved up to join the battle for first. On lap seven, with Schook out front, a three wide battle for second resulted in Jason Uttech grabbing the position. Caution for a multi car melee on the front stretch on lap eight set up a restart with Schook and Uttech on the front row. Schook reclaimed the lead with Brandon DeLacy firing up to second. DeLacy dove under Schook, grabbing the lead on lap 11 with Stark in his tracks for second. The top two began to break away from the rest of the pack as they laps wound down. With five laps to go, Stark dove under DeLacy entering turn one. After a one lap battle, Stark cleared for the lead with DeLacy remaining close by in second. At the stripe, it was Stark for the win followed by DeLacy, Josh Marx, Neil Higgins and Gottschalk.
Dan Snyder of Madison dominated the 25 lap Hobby Stock feature to get his first win of the season. Jordy Egli, Jon Benninger and Snyder raced three wide down the front stretch to complete the opening lap with Snyder sliding into control on lap two. Snyder immediately began to pull away from the pack while Egli and Benninger battled for second. Egli cleared for second on lap five with Jared Vike in tow for third. Vike quickly moved up next to Egli, stealing the second position  on lap seven Phil Wuesthoff and point leader, AJ Lloyd, moved up to third and fourth respectively on lap 11 while Vike tried to cut into Snyder's advantage. But Snyder stayed strong on the point as he cruised to the checkers to secure the win. Vike was second followed by Wuesthoff, Lloyd and Brandon Angileri.
Fort Atkinson's Chris Gottschalk continued his winning ways as he claimed the 15 lap Road Warrior feature event. Jim Wolf led early followed by Leroy Gronert in second. On lap four, Bill Sweeney joined the leaders as they raced three wide for the lead. Gronert moved out front just before the caution waved on lap five. Gronert and Sweeney led the field back to green with Sweeney grabbing the lead and Gottschalk up to second. Gottschalk quickly drove alongside Sweeney, motoring into the lead on lap six. Bryan Gottschalk moved up to battle Sweeney for second, taking the spot for himself on lap ten. But Chris Gottschalk was already well on his way to the feature win. Bryan Gottschalk was second followed by Sweeney, Merek Pankow and Mark Dewey.
Chad Olds of Whitewater solidified his point lead in the Bandit division by winning the 20 lap feature event. Tyler Edmundson led lap one from the pole with Cade Watters and Josh Lenz battling for second. Watters moved into the runner up position on lap four while Olds was making his way to the front on the high side. Olds took second from Watters on lap six and began sneaking up alongside Edmundson. On lap eight, Olds moved past Edmundson to claim the lead and begin to stretch his advantage. Tyler Deporter made his way to second, but couldn't run down Olds. At the checkers, Olds was the winner followed by Deporter, Jeremy Bredeson, DJ Hill and Nick Schmidt.
West Bend's Aaron Moyer claimed the 20 lap Legends feature event. Derek Mueller and Frank Beutel got by Lucas Stevenson as they battled for the lead on lap one. Beutel led lap two with Max McNamara quickly up to second and Moyer in third. McNamara got by Beutel on lap three to grab the lead while Moyer began to work over Beutel for second. Moyer completed the pass for second on lap eight before the yellow waved to slow the action. McNamara and Moyer led the field back to green with Moyer firing into the lead. But another caution on lap nine created another restart with Moyer and McNamara on the front row. This time, it was McNamara taking control of the lead. Yet another caution on lap 11 set up a third restart with McNamara and Moyer leading the way. McNamara held the advantage with Moyer stalking him in second. After a couple attempts to steal the lead, Moyer settled into second until the caution waved a final time on lap 17. Under the caution, McNamara experienced mechanical difficulties and was forced to retire from the race. Moyer took control of the lead on the restart with Dilon Schwanbeck into second. Moyer flew to the checkers to claim the win with Schwanbeck, Cole Grey, Beutel and Ryan Weyer rounding out the top five.
Next Saturday, September 2, is a full program of racing including the Sportsman Challenge Finale. Time trials begin at 5pm with racing at 7pm. Jefferson Speedway is located halfway between Jefferson and Cambridge on Hwy 18. Please visit jeffersonspeedway.com for more information.
JEFFERSON SPEEDWAY RACE SUMMARY
Note: All qualifying and heat races were canceled due to weather conditions.
Late Model-
Feature Results- 1) Casey Johnson, Edgerton  2) Michael Grueneberg, Madison  3) Jason Erickson, Fort Atkinson  4) Kody Hubred, Cambridge  5) Luke Westenberg, Jefferson  6) Kyle Smith, Lake Mills  7) Shaun Scheel, Lake Mills  8) Stephen Scheel, Lake Mills  9) Steve Dobbratz, Rio  10) Steven Sauer, Waterloo  11) Cody Erdmann, Horicon  12) Jerry Eckhardt, Johnson Creek  13) Brody Willett, Aubernet (IA)  14) Jacob Nottestad, Utica  15) Seth Reamer, Beaver Dam  16) Dylan Schuyler, Jefferson  17) John Ovadal, Watertown  18) Noel Ramge, Helenville  19) Chuck Duncan, Milwaukee  20) Dale Nottestad, Cambridge
Last Chance- Casey Johnson, Jerry Eckhardt, Brody Willett, Chuck Duncan, Seth Reamer, Steven Sauer
Consi- Craig Phillips, Brody Willett, Riley Stenjem, Joe Wendorf
Sportsman-
Feature Results- 1) Mark Deporter, Fort Atkinson  2) Robert Hansberry Jr, Beloit  3) Jake Biever, Janesville  4) Josh Madell, Mayville  5) Tony Ciano, Janesville  6) Chris Chenoweth, Watertown  7) Bryce Miller, Columbus  8) Randy Bruenig, Columbus  9) Jim Taylor, Stoughton  10) Jim Tate Jr, Doylestown  11) Ed Jackson, Madison  12) Boyd Eichelkraut, Stoughton  13) Dan Silberhorn, Fond du Lac  14) Rick Coppernoll, Stoughton  15) Tim Coley, Madison  16) Bobby Selsing, Johnson Creek
International-
Feature Results- 1) Gary Stark, Sun Prairie  2) Brandon DeLacy, Stoughton  3) Josh Marx, Dousman  4) Neil Higgins, Watertown  5) Ashley Gottschalk, Fort Atkinson  6) Adam Schook, Palmyra  7) Todd Buckley, Slinger  8) Jason Uttech, Watertown  9) Noah Pankow, Jefferson  10) Nick Schmidt, Watertown  11) James Junget, Rio  12) Bob Peters, Janesville  13) Dillon Scott, Rio  14) Joe Cross, Sun Prairie  15) Mark English, Edgerton
Hobby Stock-
Feature Results- 1) Dan Snyder, Madison  2) Jared Vike, Sussex  3) Phil Wuesthoff, Beaver Dam  4) AJ Lloyd, Loves Park (IL)  5) Brandon Angileri, Janesville  6) Chester Williams, Waukesha  7) Jordan Egli, Stoughton  8) Kenny Storkson, Indianford  9) Bud Riedner, Waunakee  10) Lucas Buckingham, Whitewater  11) Jon Benninger, Windsor  12) Jamie Tate, Doylestown  13) Korey Bengsch, Fond du Lac  14) Jim Wolf, Watertown  15) Gary Paulick, Union Grove  16) Chris Matz, Jefferson  17) Jessica Breunig, Columbus  18) Chuck Egli, Stoughton
Road Warrior-
Feature Results- 1) Chris Gottschalk, Fort Atkinson  2) Bryan Gottschalk, Jefferson  3) Bill Sweeney, Lake Mills  4) Merek Pankow, Jefferson  5) Mark Dewey, Janesville  6) Leroy Gronert, Jefferson  7) Bill Reynolds, Watertown  8) Jim Wolf, Watertown  9) Rodger Stephenson, Cambridge  10) Brett Carson, Fort Atkinson  11) Richie Nelson, Janesville  12) Craig Henning, Helenville
Bandit-
Feature Results- 1) Chad Olds, Whitewater  2) Tyler Deporter, Fort Atkinson  3) Jeremy Bredeson, Deforest  4) DJ Hill, Watertown  5) Nick Schmidt, Watertown  6) Bill Kohn, Madison  7) CJ Hemiller, Watertown  8) Tyler Edmundson, Jefferson  9) Anthony Dorzak, Cedarburg  10) Kelsey Dobbs, Beloit 11) Cade Watters, Sun Prairie  12) Josh Lenz, Lake Mills  13) Lyle Phillips, Edgerton  14) Mike Misch, Rochelle (IL)  15) Nicole Mueller, Muskego  16) Matt Weber, Whitewater
Last Chance- Lyle Phillips, Kelsey Dobbs, Anthony Dorzak, Nicole Mueller
Legends-
Feature Results- 1) Aaron Moyer, West Bend  2) Dilon Schwanbeck, Poynette  3) Cole Grey, Endeavor  4) Frank Beutel, Caledonia  5) Ryan Weyer, Hubertus  6) Derek Mueller, Verona  7) Mark Ritger, Elkhart Lake  8) Dale Kiley-Schaefer, West Bend  9) Michael Hoffman III, Darien  10) Max McNamara, McHenry (IL)  11) Lucas Stevenson, Janesville  12) Michael Hoffman, Darien