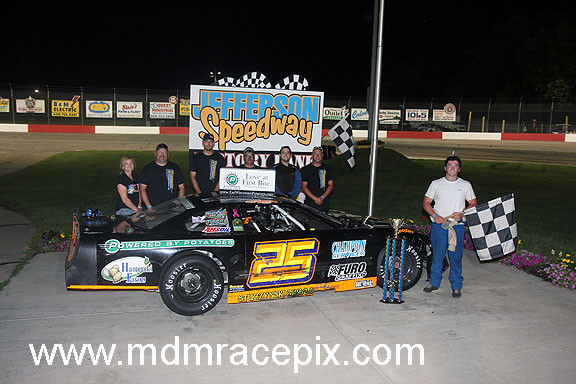 BROOKS SHINES IN SHOWDOWN AT JEFFERSON
JEFFERSON, Wis. (July 23, 2017) – It was a night for the up-and-coming standouts of Super Late Model racing to shine.  But no one quite had the glimmer of Wyatt Brooks, as he picked up his first TUNDRA Super Late Model Series win in Round Three Powered by Wisconsin Potatoes at Jefferson Speedway Saturday night.
The 22-year-old Amherst, Wis. native took control of the 75-lap feature from the outset and withstood two hearty challenges in the final 14 laps from Dean's Satellite and Security Rookie contenders Jordan DeVoy and John Beale.
Perhaps the most impressive facet of Brooks' win was how the racer with very little experience at the tricky quarter-mile mastered the outside lane – especially on restarts.  With his choice of either lane each time the barrel was placed to double up the field, Brooks chose the outside.
"My car was so tight the entire day," Brooks said in Victory Lane. "I couldn't have started in a better spot than the outside pole with the car I had." Brooks secured the lead from fellow front-row starter Grant Griesbach just two laps after the green flag dropped.  Behind him, teammate Jordan Thiel slid to Second and looked to close in to challenge for the top spot.  A caution on lap six gave Thiel the opportunity to start alongside Brooks, but Brooks stepped away.
The complexion of the race took a major turn on lap eight.  Brent Strelka and Adam Peschek touched wheels going into turn three, sending Strelka sideways.  With nowhere to go, and little time to react, several possible contenders slid into the melee.  The incident collected Mike Lichtfeld, Corey Jankowski, Jeremy Lepak, point leader Dalton Zehr, Cole Anderson, and fast qualifier Justin Mondeik.  Both Mondeik and Anderson were able to continue.  Anderson would nurse his machine to a Sixth Place finish and Mondeik would finish ninth.
After the track was cleared, Brooks and Thiel were again set to bring the field to green.  Once more, Brooks was able to hold off Thiel and retake the lead.  Unfortunately for Thiel – just two laps later – he was forced to drop out with a mechanical issue.
Brooks stretched out a comfortable lead over Darek Gress, DeVoy, Griesbach, and Colin Reffner. As he did, all eyes turned to Beale.  In the second half of the race Beale – who started second-to-last on the grid – began to climb to the front of the pack.  He made his way past Reffner on lap 40.  Then, after a seven-lap dispute, he moved past Griesbach into Fourth on lap 55.  Before he could close in on the top three, a caution fell for a Braison Bennet spin on lap 61.
By this time DeVoy had moved past Gress into Second.  Once again Brooks chose the outside and DeVoy the inside.  DeVoy held even for several laps, forcing a side-by-side scrum with Brooks.  Behind them, Beale secured Third over Gress.
The battle was halted a final time for a spin with eight laps to go.  Just before the field was sent to the green flag, DeVoy slowed.  A melted wire ended his day without an opportunity to challenge for the win again.  That, however, would send Beale to the front row with Brooks for the final showdown.
Beale held strong on the inside as Brooks tried to wheel his way back to the front.  With five laps to go, Brooks sealed the lead spot, but the battle was not over.  Beale continued to peek into the inside line and hope for an opening.  That opening did not come as Brooks kept the door shut and went on to secure the victory.
Behind Beale, Peschek made several moves late in the race to secure the final podium position.  It was Peschek's first race as a Super Late Model.  His Third Place TUNDRA debut is the best since Nathan Haseleu and Skylar Holzhausen won in their series debuts in 2015.Griesbach continued a successful week, as well.  After scoring a Top Ten in the Slinger Nationals on Tuesday, he held on for Fourth – his best TUNDRA finish. Leading rookie Colin Reffner enjoyed yet another solid day at a new race track.  Reffner scored a Fifth Place finish and cut Zehr's point lead from 44 to 19 markers.
On a hot and humid evening at Jefferson Speedway, it was Edgerton's Casey Johnson in victory lane at the end of the Mid Summer Classic 50 lap Midwest Truck Series feature event.
Johnson, who also earlier in the night picked up the Racing Radio's Fast Qualifier Award, made it look easy behind the wheel of Jerry Wood's number 73 truck. He started last and advanced to the front during his ten lap Weaver Auto Parts Qualifying Heat to finish third. But it was Nick Egan and Dave Edwards who would bring the truck field down for the green flag. A slip out of turn four by the duo was all Johnson needed to take the lead on lap two before the caution flew for numerous contact and spins in turn on lap five. All driver were able to continue except the 36 of Michael Bachaus.
On the restart, it was Johnson back to the front as Mike Corvo took over the second spot from Edwards, with Egan and rookie Derek Doerr swapping back and forth for the fourth spot. With thirty laps to go, it was Dan Jung that advanced into the top five taking that spot away from Egan, as Edwards would run Corvo back down to battle for second once again. Johnson continued to lead at the halfway mark.
The caution would then fly once again on lap 32 for a spin by Gabe Sommers on the front straight away to bunch the field back up. On the restart, Edwards and Johnson would mix it up for several laps, but pressure from Jung and Corvo allowed Johnson to pull back into the lead, Leaving Edwards to defend for the second spot.
After mechanical problems sidelined Corvo, it was Doerr who took advantage to advance to the front along with current points leader James Swan and rookie Luke Fenhaus who had is best career qualifying record of second earlier in the day all battling for atop five spot with ten laps to go.
As the field continued to battle for positions second through fifth during the final laps, it only allowed Johnson to pull away and on to the checkered flag. Edwards fought off Jung for second. Derek Doerr would have his best series finish, finishing fourth over Kevin Knuese who rounded out the top five.
In Legends action, it was West Bend's Aaron Moyer capturing the checkered flag as the winner of the 20 lap feature event. Mark Ritger, Cole Grey and Derek Mueller raced three wide on the opening lap with Mueller holding the advantage as they crossed the stripe. Ritger charged back under Mueller on lap two, but couldn't hang on as Mueller reclaimed the point a lap later. Dilon Schwanbeck joined the battle at the front on lap four, drawing even with Mueller and taking over the lead. David McCalla followed into second and quickly began to challenge the new leader. After a brief battle, McCalla took over the top spot. But Schwanbeck fought back to pull alongside McCalla, with Moyer now watching closely from third. Schwanbeck slipped back slightly, opening a hole that Moyer quickly filled. Moyer continued forward as he drew even with McCalla at the front. With six laps remaining, Moyer stuck his nose out front and immediately began to stretch his advantage. At the checkers, it was Moyer for the win with McCalla edging out Schwanbeck for second. Ryan Weyer was fourth with Kevin Korsmo rounding out the top five.
Next Saturday, July 29, is round two of the Badgerland Challenge. The Challenge is a three night event in conjunction with Slinger Speedway and Madison International Speedway. Time trials begin at 5pm with racing at 7pm. Jefferson Speedway is located halfway between Jefferson and Cambridge on Hwy 18. Please visit jeffersonspeedway.com for more information.
JEFFERSON SPEEDWAY RACE SUMMARY
TUNDRA Super Late Model-
Feature Results- 1) Wyatt Brooks, Amherst  2) John Beale, Verona  3) Adam Peschek,   4) Grant Griesbach, Pewaukee  5) Colin Reffner, Wisconsin Rapids  6) Cole Anderson, Northfield (MN)  7) Braison Bennett, Neenah  8) Darek Gress, Neillsville  9) Justin Mondeik, Gleason  10) Jordan DeVoy, Lake Geneva  11) Jordan Thiel, Darboy  12) Brent Strelka, Freedom  13) Mike Lichtfeld, Pardeeville  14) Jeremy Lepak, Ringle  15) Dalton Zehr,  16) Corey Jankowski, Tomah  17) Jerry Brickner,
Fast Qualifier- Justin Mondeik
Dash Winner- Brent Strelka
Heat Winners- 1) Jordan Thiel  2) Dalton Zehr
Midwest Truck Series-
Feature Results- 1) Casey Johnson, Edgerton  2) Dave Edwards  3) Dan Jung  4) Derek Doerr  5) Kevin Knuese  6) Luke Fenhaus  7) James Swan  8) Nick Egan  9) Ross Christianson  10) Rick Corso  11) Danielle Behn  12) Rock Christianson  13) Daniel Calhoun  14) Mike Corvo  15) Gabe Sommers  16) Rick Johnson  17) Michael Bachaus
Fast Qualifier- Casey Johnson
Heat Winners- 1) Rock Christianson  2) Nick Egan
Legends-
Feature Results- 1) Aaron Moyer, West Bend  2) David McCalla, Cedar Rapids (IA)  3) Dilon Schwanbeck, Poynette  4) Ryan Weyer, Hubertus  5) Kevin Korsmo,  6) Mark Ritger, Elkhart Lake  7) Derek Mueller, Verona  8) Cole Grey, Endeavor  9) Noah Eisenhouer, Freeport (IL)  10) Lucas Stephenson, Janesville
Fast Qualifiier- Max McNamara—15.747 seconds
Heat Winners- 1) Dilon Schwanbeck  2) Aaron Moyer