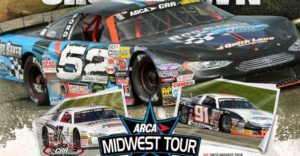 SEE THE ARCA SUPER LATE MODELS INVADE JEFFERSON SPEEDWAY!   THE CARS AND STARS OF THE ARCA MIDWEST TOUR. CHAMPIONS AND CHALLENGERS…MIDWEST TOUR TOP DOGS  ANDREW MORRISSEY…..AUSTIN NASON JEFFERSON CHAMPS CASEY JOHNSON & DALE NOTTESTAD THE RETURN OF LEGENDARY  RICH BICKLE.  SECOND GENERATION SENSATION CARSON KVAPIL.  CHICAGOLAND CHAMP AND DEFENDING RACE WINNER PAULY SHAFER  AND MANY MORE….ALL GOING WHEEL TO WHEEL FOR 100 LAPS IN THE SALUTE THE TROOPS 100.   PLUS THE LATE MODEL THROWDOWN & ROAD WARRIORS!  ALL PAST & PRESENT MILITARY—GET $5 OFF ADMISSION AND A $5 CONCESSION VOUCHER.  IT'S ARCA RACING SATURDAY AT 7.  COME EARLY FOR THE AUTOGRAPH SESSION.
ADULTS(16+):$20, STUDENT(12-15): $10, CHILDREN(8-11) $5, KIDS(7 AND YOUNGER) FREE WITH ADULT)
ROUGH CAMPING $20/NIGHT
HALFWAY BETWEEN JEFFERSON & CAMBRIDGE ON HIGHWAY 18.