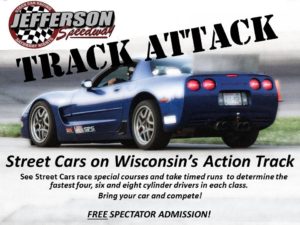 YOU CAN PUT YOUR STREET CAR TO THE TEST ON OUR CHALLENGING SEVEN TURN ROAD
 COURSE FOR TROPHIES AND BRAGGIN RIGHTS….…TRACK ATTACK IS BACK…..FRIDAY NIGHT 7p.
Track Attack includes:  One practice session at 6:30.  The three timed runs beginning  at 7pm with the top 4 in each class advancing to the semi final runs.  The winners of the semi final runs meet in the finale!   The expected classes include:  4 cylinder, 6 cylinder, 8 cylinder, trucks, outlaw/modified, and vintage/custom.  Free Spectator admission.