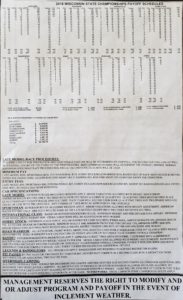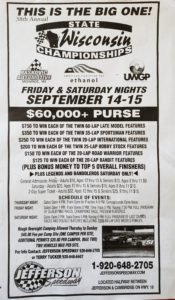 . 
SEE THE HOLY GRAIL OF RACING THIS WEEKEND AT WISCONSIN'S ACTION TRACK….
IT'S 38TH ANNUAL WISCONSIN STATE CHAMPIONSHIPS! IT'S TWO DAYS OF THE MOST INTENSE RACING ON THE
PLANET!   $60,000 PRIZE MONEY!   FRIDAY NIGHT ITS THE "BATTLE TO GET IN THE SHOW" WITH PREVIEW
FEATURES, QUALIFYING RACES AND THE CHAMPIONS RACE. RACING FRIDAY 7:30. THE WISCONSIN STATE
CHAMPIONSHIPS SPONSORED BY SPONSORED BY AMERICAN ETHANOL, RASKOVIC AUTOMOTIVE AND THE
WISCONSIN GRAIN PRODUCERS.  IT'S THE WISCONSIN STATE CHAMPIONSHIP GRAND FINALE. 200 OF THE
MIDWEST'S BEST BRING THEIR A GAME FOR THE SUPER-RACE OF THE YEAR. SEE TWIN FEATURES FOR SPORTSMAN,
WILD HOBBY STOCKS, INTERNATIONAL, ROAD WARRIOR, LEGENDS, BANDOLEROS & BANDITS PLUS TWIN 60-60 LAP
LATE MODEL FEATURES. PLUS… A FULL PROGRAM OF LAST CHANCE RACES IN ALL DIVISIONS.  RACING SATURDAY
AT 6!  HALFWAY BETWEEN JEFFERSON & CAMBRIDGE ON HIGHWAY 18.