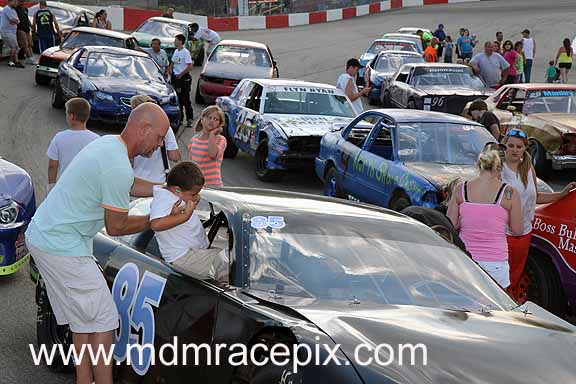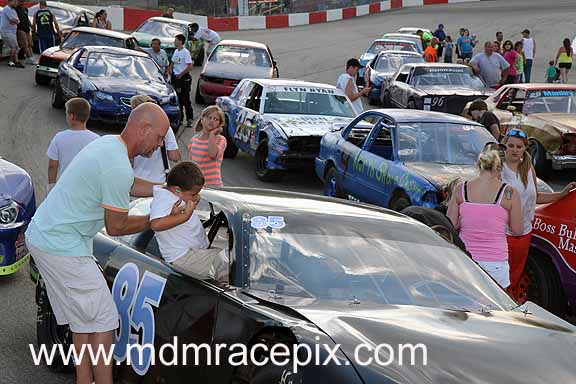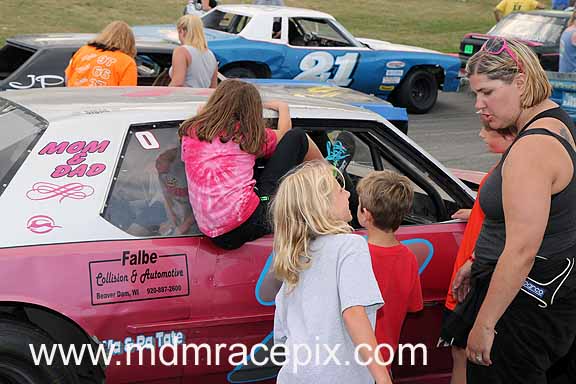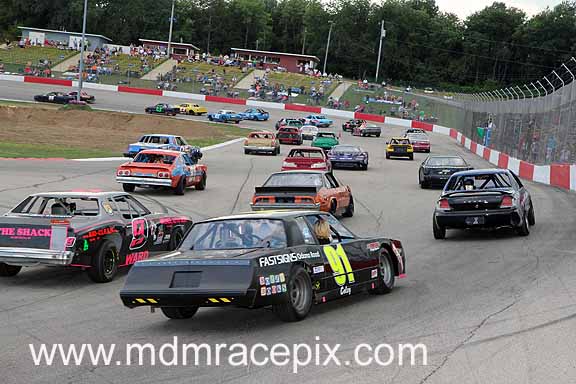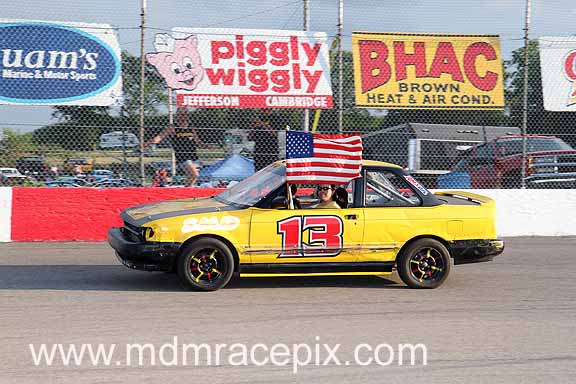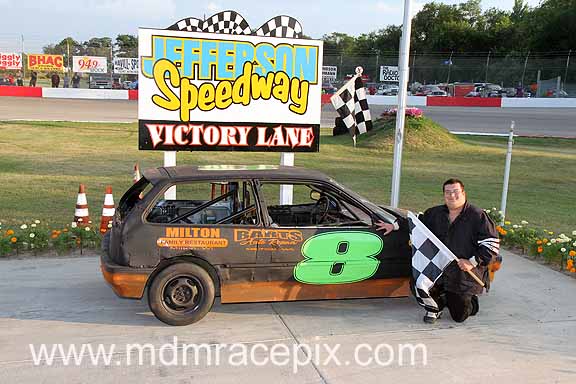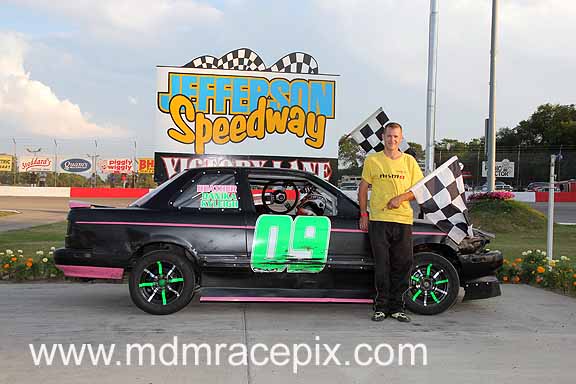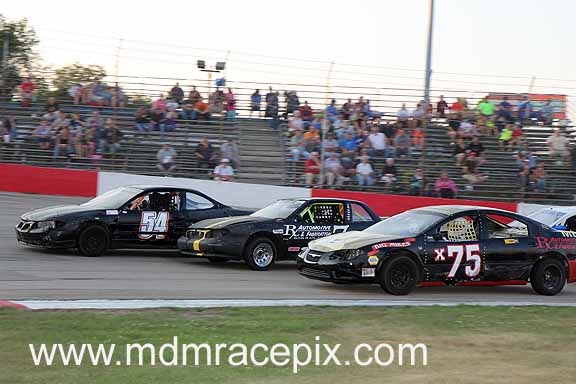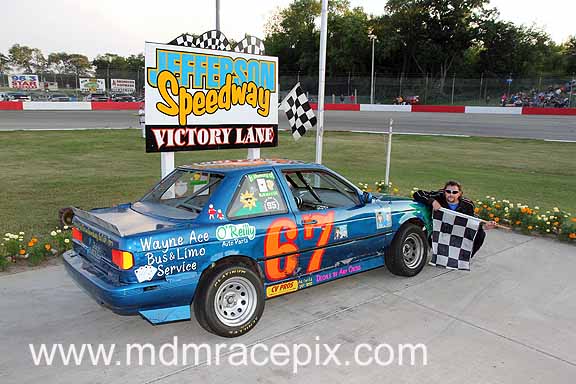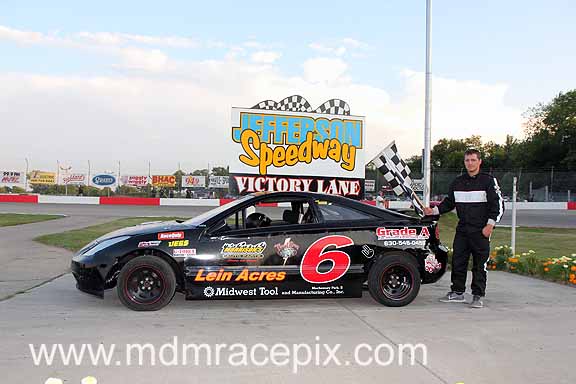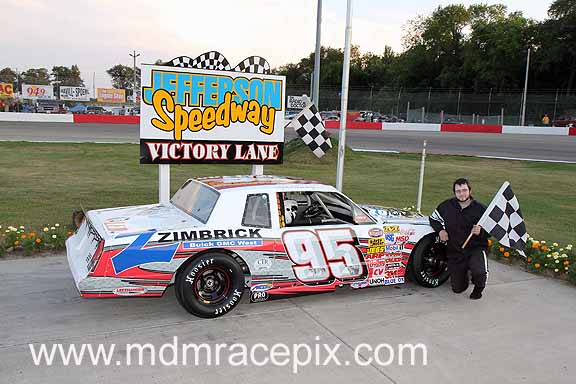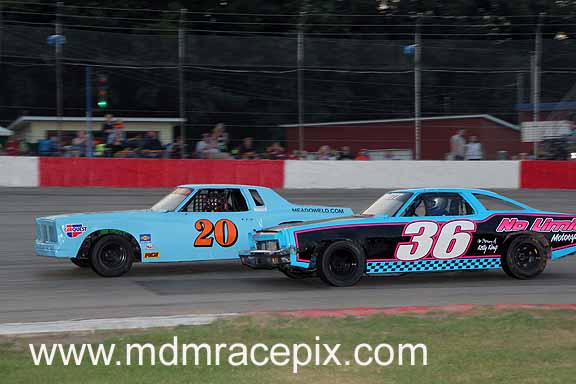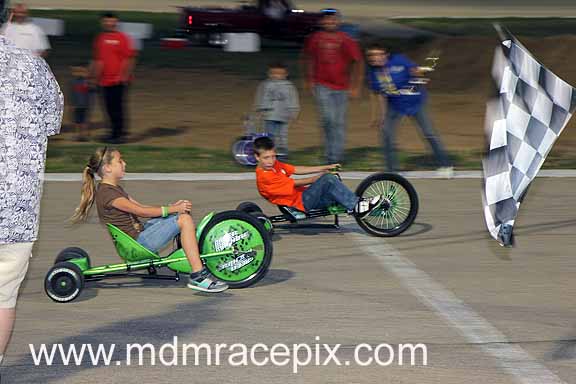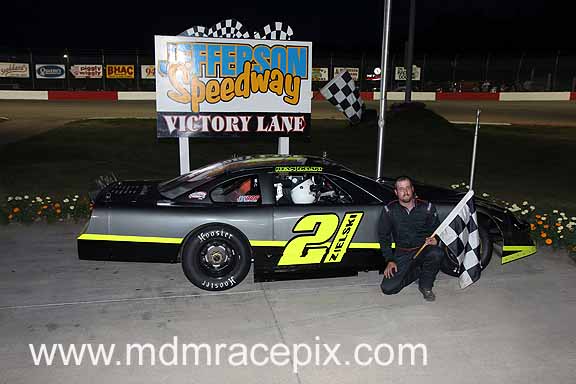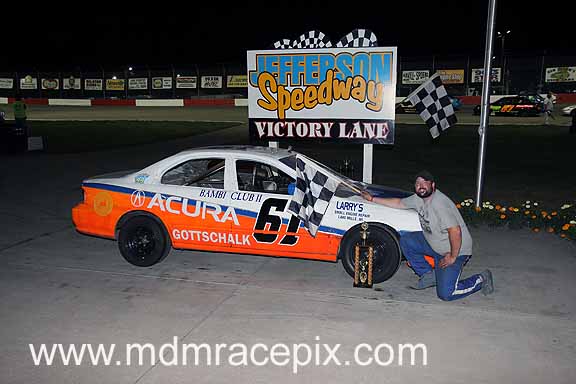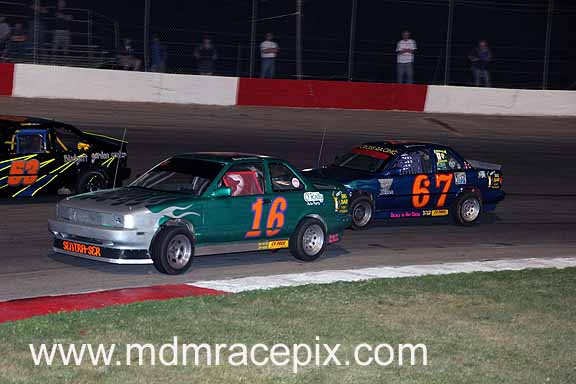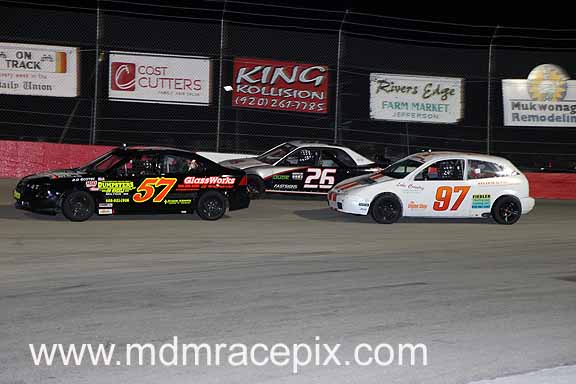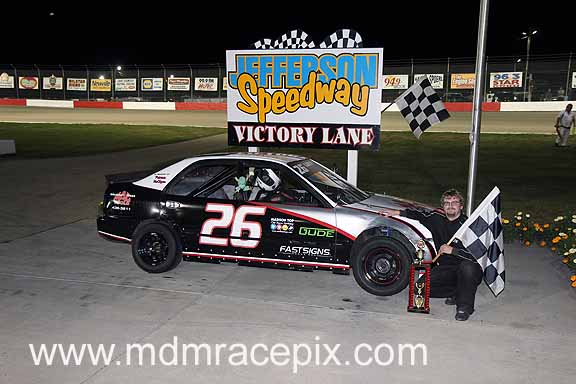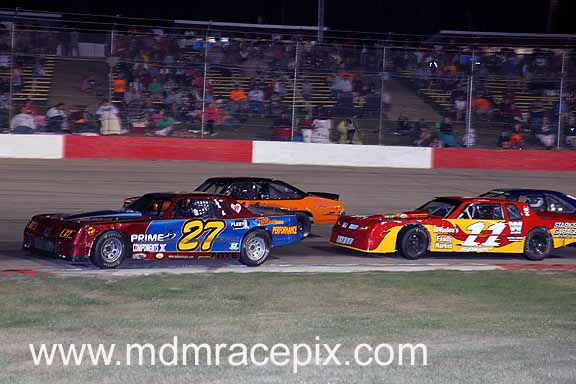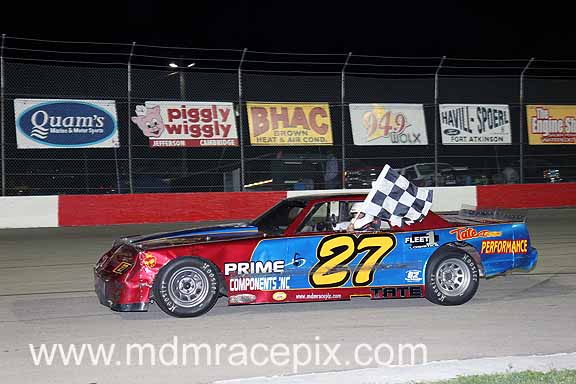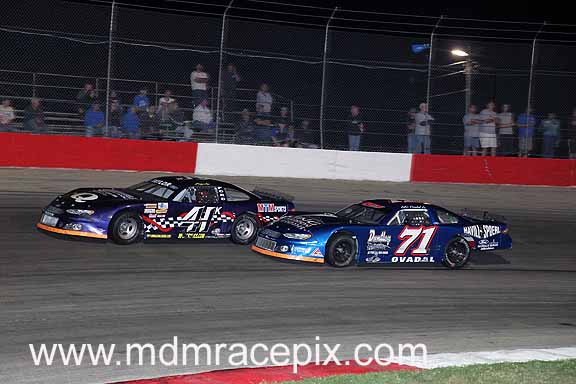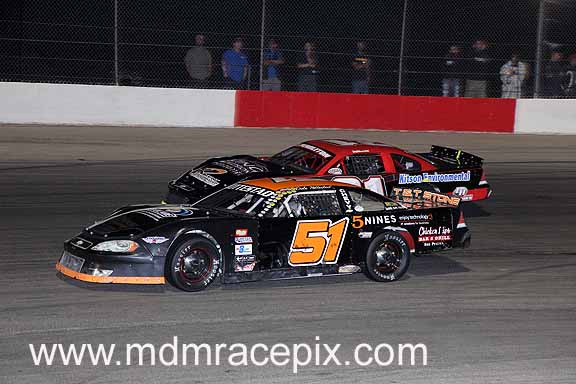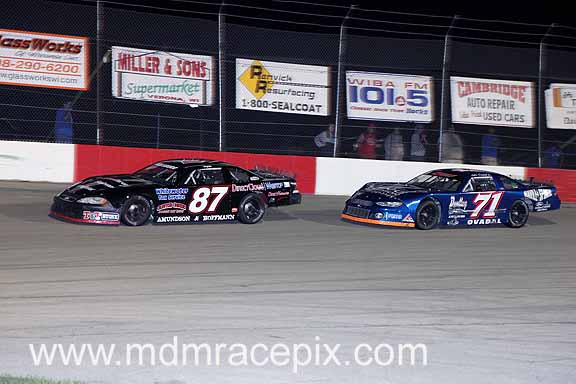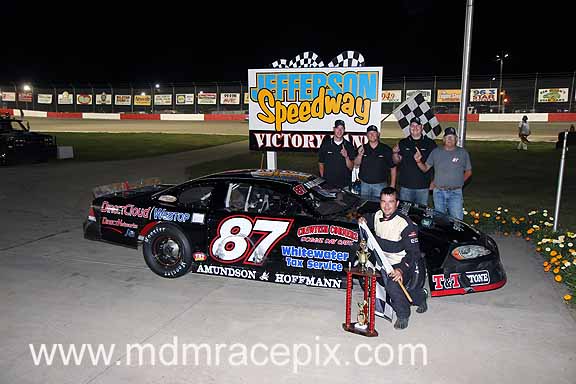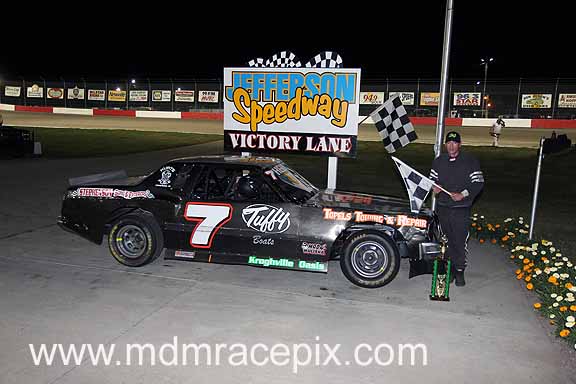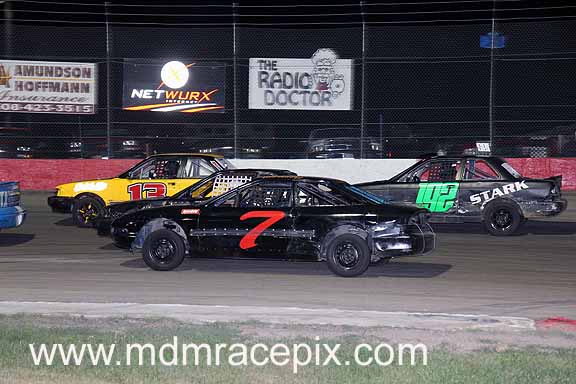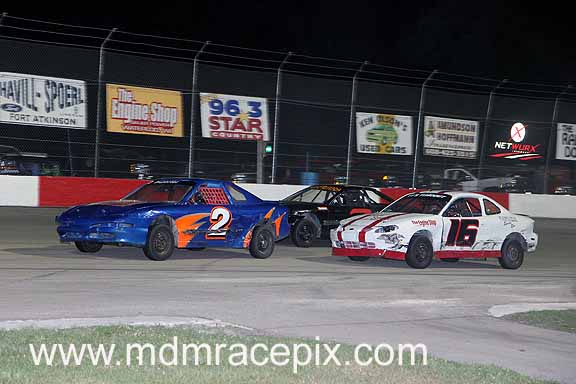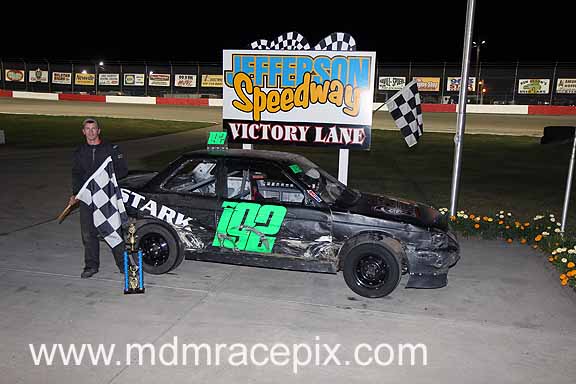 Jarlsberg Powers to Piggly Wiggly 50 Win
JEFFERSON, WI (Saturday, July 20, 2013) Jefferson's Kyle Jarlsberg started deep in the 22 car Late Model field and drove through traffic to pick up the Piggly Wiggly of Jefferson and Cambridge 50 lap feature win on Saturday night. Starting inside row eight, Jarlsberg motored to the front of the field of some of the finest pilots around to claim his second feature of the 2013 season.
Kyle Smith and Kyle Taylor paced the pack to green with Taylor holding a slight advantage to complete lap one. The duo remained side by side over the course of the opening laps. On lap four, they made slight contact as they raced down the backstretch resulting in Smith spinning to the infield as Taylor grabbed sole possession of the point with John Ovadal Jr up to second and Chad Stevens in third. The first of four cautions waved on lap six when Stevens got loose and spun in turn two. Taylor restarted as the leader with Ovadal running second and Chris Quam up to third. As racing got back underway, Ovadal launched his bid for the top spot. Ovadal drove under Taylor, clearing for the lead on lap seven with Quam trying to follow. Quam made the pass for second just before the second caution period slowed the field on lap 11. Ovadal maintained the lead through another yellow flag on lap 19 as the leaders lined up single file. Jarlsberg found himself in the top five by the halfway point of the race as he continued to move forward. Jarlsberg got by Stephen Scheel for third on lap 28 and by Quam for second three laps later. Jarlsberg set his sights on Ovadal out front as he began to close the gap on the leader. On lap 37, Ovadal got loose exiting turn four allowing Jarlsberg to slip under him as they battled for the lead. After racing door to door, Jarlsberg pulled his mount onto the point with six laps to go. A final caution on lap 48 set up a green-white-checkered finish, but Jarlsberg was up to the task as he held on to cross the stripe first for the win. Ovadal finished second with Quam, Trent Erdman and Scheel rounding out the top five.
Jim Tate Jr of Deforest captured his eighth Sportsman feature of the season as he also increased his advantage in the point standings. Tim Coley led early with Jason Kubicz in second and Jason Dunn third. Dunn slipped by Kubicz for second on lap three with Seth Lootans following into third two laps later. On lap 14, Coley spun by himself exiting turn four to force the sole caution period of the race. Dunn restarted as the leader with Robert Hansberry in second and Tate up to third. As racing resumed, Tate dropped to the low side at the same time Jason Thoma took to the high side. Joined by Hansberry in the middle, they raced three wide down the backstretch. Tate and Thoma charged forward alongside Dunn as they flew into turn three. Dunn began to slow with problems before the exit of turn four as Tate grabbed possession of the lead with Thoma pulling into second. Tate drove off from there to pick up the feature win with Thoma coming home in second. Steven Sauer finished third followed by Hansberry and Mark Deporter.
Madison's Mike Lambert pulled off a late race pass to pick up the win in the 20 lap International feature. Josh Kubicz took the initial lead on lap one as they entered turn one. Mark English, Jamie Shelley and Devin Wild raced three wide for second on the opening circuit with English claiming the position on lap two. Before the completion of the lap, Wild spun to bring out the first of two cautions. As racing resumed, English quickly dove to the inside of Kubicz to take over the top spot on lap three. Casey Strese followed into second with Chris Chenoweth up to third. Chenoweth slipped by Strese on lap seven as he looked to close on English at the front. By lap 13, Chenoweth was on the rear bumper of the leader as he searched for a way around. A final caution on lap 15 set up a five lap shootout to the finish with English showing the way ahead of Chenoweth and Lambert. Chenoweth once again began to pressure English once racing resumed with Lambert now to his outside. With two laps to go, Lambert mounted a run on the high side of English. Lambert charged past English as they raced past the white flag signifying the final lap. Lambert crossed under the checkers first to get the win with English holding off Chenoweth for second. Seth Reamer was fourth with Neil Higgins rounding out the top five.
In Hobby Stock action, it was James Helmer of Beaver Dam getting to the front and driving away with the win. Justin Kumbier took control of the top spot on lap one with Scott Riemer up to second. The top two drivers began to separate themselves from the pack as the battle raged for third behind them. By lap nine, Helmer was running in third with point leader Bobby Selsing Jr up to fourth. Helmer joined the leaders on lap 13 as he slipped past Riemer for second. A lap later, Helmer was on the low side of Kumbier and looking to lead. Helmer cleared for the top spot with ten laps to go while Selsing tried to follow into second. Selsing accomplished that goal on lap 19 with Tony Ciano in tow for third. Ciano applied heavy pressure to Selsing over the final laps while Helmer's lead continued to grow. Helmer cruised to the checkers for the win with Selsing finishing in second. Ciano spun exiting turn four on the final lap allowing Dustin Ward, Kumbier and Riemer to complete the top five.
Chris Gottschalk of Jefferson picked up his second straight feature win in the Road Warrior division by winning his 20 lap main event. Jason Haas and Jordan Lamb brought the field to green with Haas taking the early lead. Rodger Stephenson moved up to second on lap four with Tim Ellis in tow for third. Ellis got by Stephenson on lap six as he set his sights on Haas at the front. But a lap later, Ellis spun in turns one and two handing second back to Stephenson. Meanwhile, Gottschalk was making his way toward the front. Gottschalk was up to third by lap eight and around Stephenson for second on lap ten. Gottschalk drove under Haas, clearing for the lead on lap 12. One caution slowed the pace with six laps remaining, but Gottschalk stayed out front to see the checkers first for the win. Stephenson finished second followed by Bill Sweeney, Travis Schneeberg and Haas.
Waterloo's Kyle Stark picked up feature win number two in as many weeks by winning the 20 lap Bandit main event. Tyler Deporter led early from the pole with Josh Rusch in second. Nick Schmidt moved up to third on lap four as he tried the outside lane to get by Rusch for second. On lap eight, Schmidt got loose allowing Brandon DeLacy and Stark to slip past. Stark drove under DeLacy to claim second on lap nine and then crossed to the outside as he drew even with Deporter for the top spot. Stark cleared for the lead on lap 13 with DeLacy following into second. A caution on lap 18 set up a two lap shootout to the finish, but Stark held on to cross the stripe first for the win. DeLacy finished second with Schmidt, Josh Marx and Josh Lenz completing the top five.
Next Saturday, July 27, is a full program in all six divisions sponsored by Cambridge Auto Repair and Service. Time trials begin at 5pm with racing at 7pm. Jefferson Speedway is located halfway between Jefferson and Cambridge on Hwy 18. Please visit www.jeffersonspeedway.com for more information.
Jefferson Speedway Race Summary
Late Model-
Piggly Wiggly 50 lap Feature Results- 1) Kyle Jarlsberg, Jefferson 2) John Ovadal Jr, Watertown 3) Chris Quam, Stoughton 4) Trent Erdman, Fort Atkinson 5) Stephen Scheel, Lake Mills 6) Dale Nottestad, Cambridge 7) Tory Bagley, Stoughton 8) Shaun Scheel, Lake Mills 9) Ryan Zielski, Oconomowoc 10) Steve Dobbratz, Rio 11) Bruce Lee, Cambridge 12) Kevin Knuese, Brookfield 13) Jerry Eckhardt, Johnson Creek 14) Zack Riddle, Brooklyn 15) Kyle Smith, Lake Mills 16) Dylan Schuyler, Jefferson 17) Brandon Pendleton, Helenville 18) Kyle Taylor, Deerfield 19) Chad Stevens, Orfordville 20) Chuck Duncan, Milwaukee 21) Tyler Peterson, Lake Geneva 22) Craig Phillips, Edgerton
Last Chance- Ryan Zielski, Steve Dobbratz, Chuck Duncan, Kevin Knuese
Heat Winners- 1) Shawn Gunsolus 2) John Ovadal Jr 3) Tyler Peterson
Sportsman-
Feature Results- 1) Jim Tate Jr, Deforest 2) Jason Thoma, Jefferson 3) Steven Sauer, Waterloo 4) Robert Hansberry Jr, Beloit 5) Mark Deporter, Fort Atkinson 6) Seth Lootans, Kenosha 7) Terry Wangsness, Jefferson 8) Jim Taylor, Stoughton 9) Tim Coley, Madison 10) Jason Kubicz, Whitewater 11) Jamie Tate, Deforest 12) Jason Dunn, Sun Prairie
Heat Winners- 1) Robert Hansberry Jr 2) Jim Tate Jr
International-
Feature Results- 1) Mike Lambert, Madison 2) Mark English, Edgerton 3) Chris Chenoweth, Watertown 4) Seth Reamer, Waupun 5) Neil Higgins, Watertown 6) Jamie Shelley, Edgerton 7) Joe Cross, Sun Priaire 8) Dan Birkett, Jefferson 9) Matt McKinney, Fort Atkinson 10) Merek Pankow, Jefferson 11) Dylan Buckingham, Whitewater 12) Casey Strese, Jefferson 13) Josh Kubicz, Whitewater 14) Devin Wild, Jefferson 15) Tytus Helgestad, Jefferson
Heat Winners- 1) Joe Cross 2) Jamie Shelley
Hobby Stock-
Feature Results- 1) James Helmer, Beaver Dam 2) Bobby Selsing Jr, Edgerton 3) Dustin Ward, Columbus 4) Justin Kumbier, Fort Atkinson 5) Scott Riemer, Brookfield 6) Phil Wuesthoff, Beaver Dam 7) Cody Buchs, Mazomanie 8) Chester Williams, Waukesha 9) Tony Ciano, Janesville 10) Lucas Buckingham, Whitewater 11) Jeff LeFave, Fort Atkinson 12) Rodger Stephenson, Cambridge 13) Crystal O'Gorman, Lake In The Hills (IL) 14) Kevin Henderson, 15) Jim Wolf, Watertown 16) Erik Bennett, Beloit 17) Ryan Ostenson, 18) Dale Warner, Jefferson 19) Mike Manley, Fort Atkinson
Heat Winners- 1) James Helmer 2) Bobby Selsing Jr
Road Warrior-
Feature Results- 1) Chris Gottschalk, Jefferson 2) Rodger Stephenson, Cambridge 3) Bill Sweeney, Edgerton 4) Travis Schneeberg, Cottage Grove 5) Jason Haas, Jefferson 6) Tim Ellis, S.Beloit (IL) 7) Rob Lange, Jefferson 8) Jordan Lamb, Fort Atkinson 9) Mike Storkson, Evansville 10) Kenny Storkson, Evansville 11) Tadd Douglas, Jefferson 12) Bill Reynolds, Watertown 13) Chad Olds, Whitewater
Heat Winners- 1) Rob Lange 2) Chris Gottschalk
Bandit-
Feature Results- 1) Kyle Stark, Waterloo 2) Brandon DeLacy, Fort Atkinson 3) Nick Schmidt, Oak Creek 4) Josh Marx, Dousman 5) Josh Lenz, Lake Mills 6) Josh Rusch, Fort Atkinson 7) Derek Dixon, Janesville 8) Brandon Johnson, 9) Noah Pankow, Jefferson 10) Tyler Deporter, Fort Atkinson 11) Matt Rusch, Fort Atkinson 12) Keith Erickson, Columbus
Fast Qualifier- Josh Marx—14.334 seconds
Heat Winners- 1) Erik Will 2) Nick Schmidt