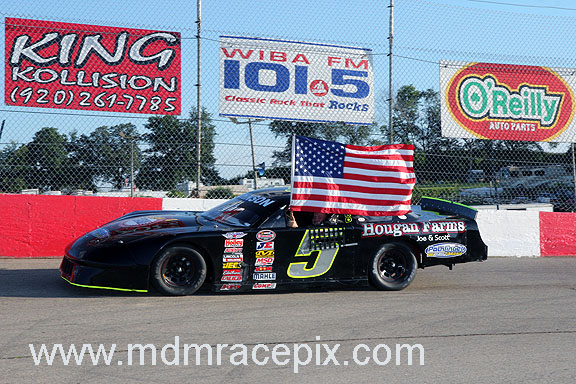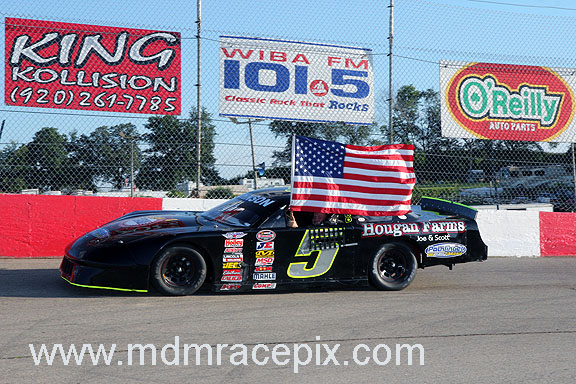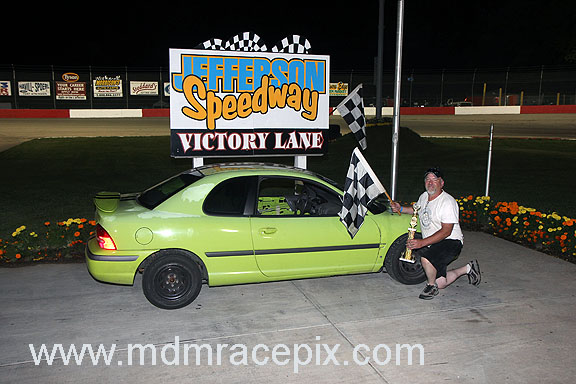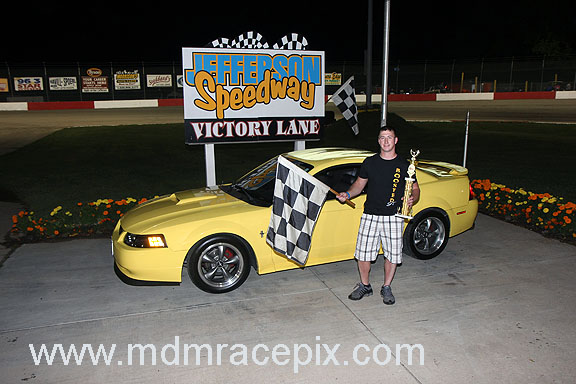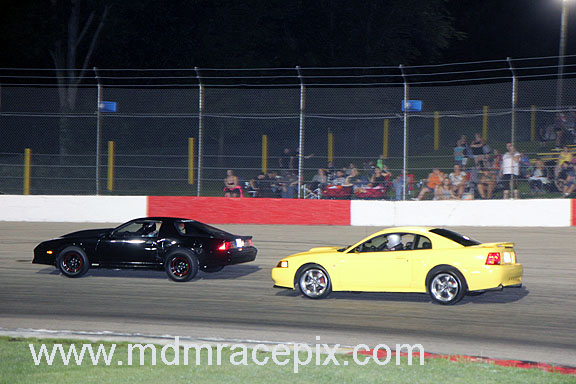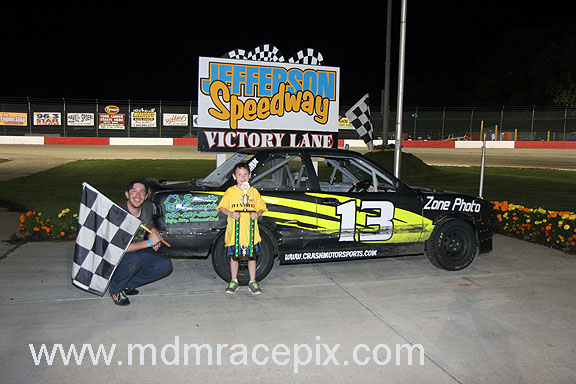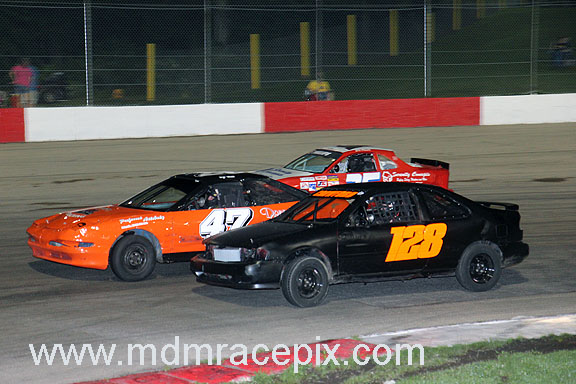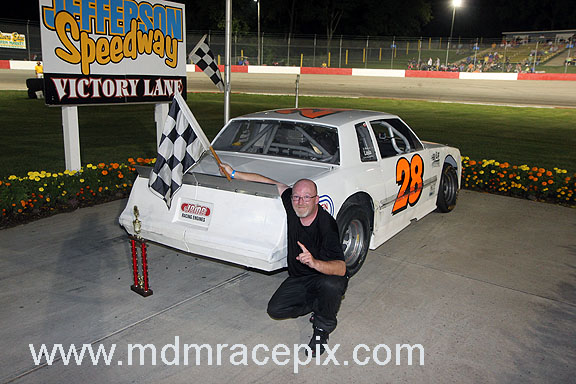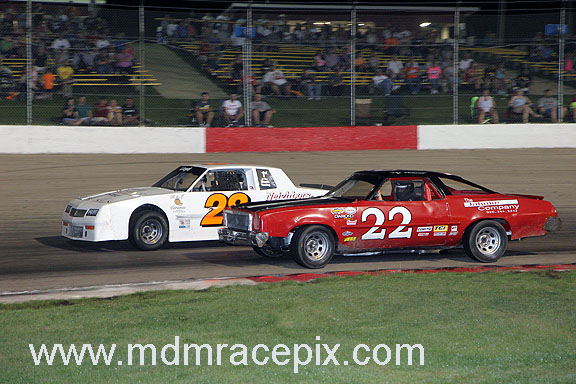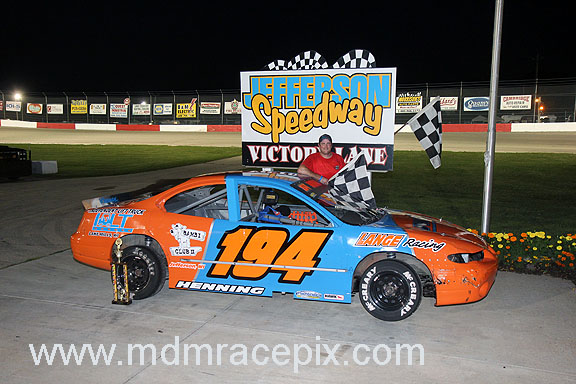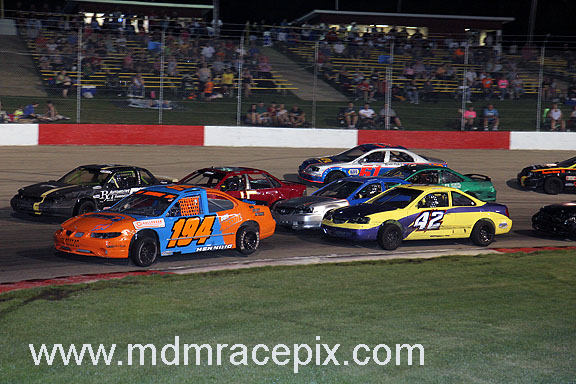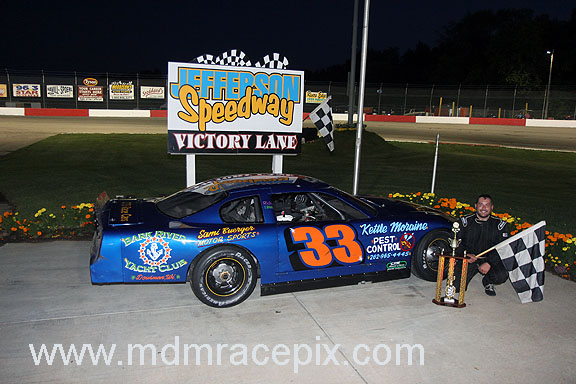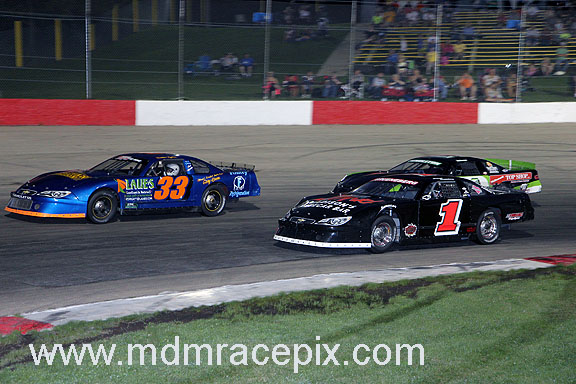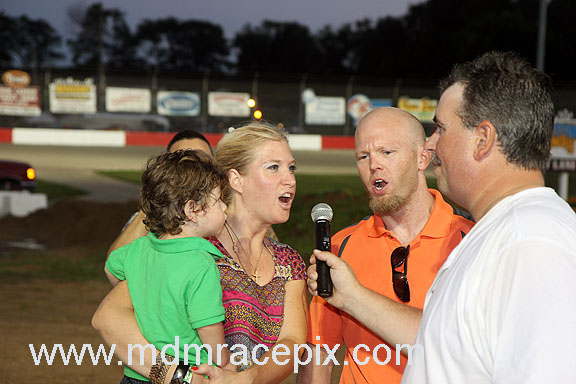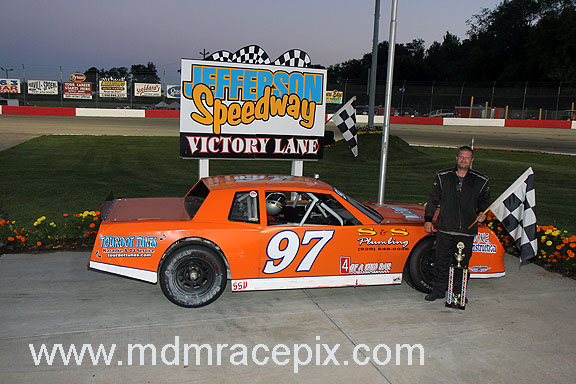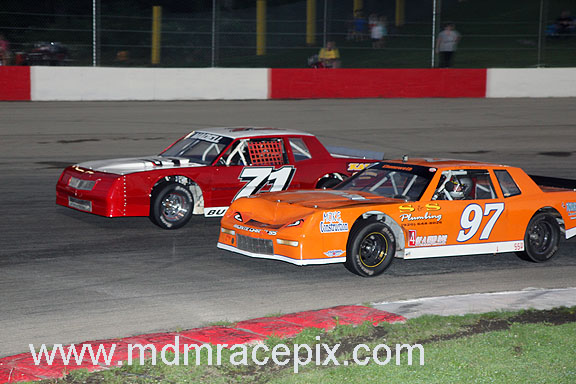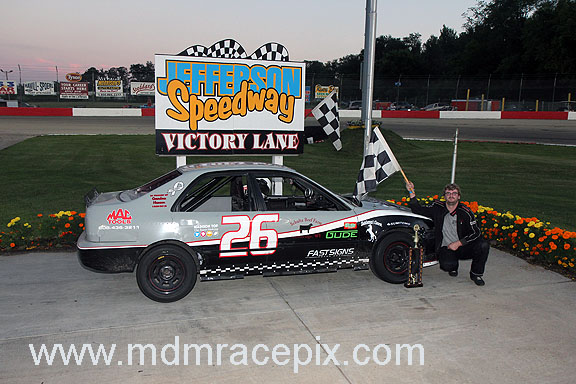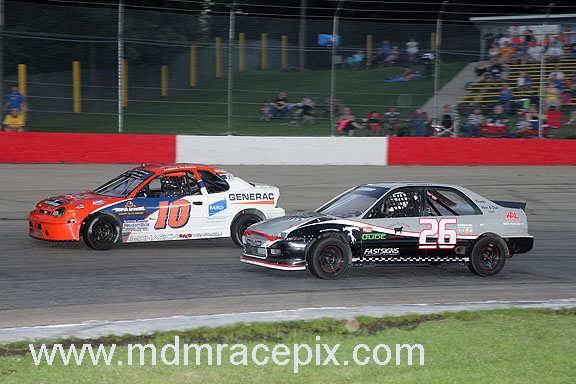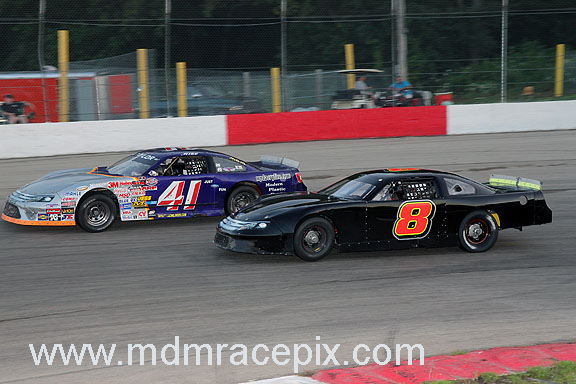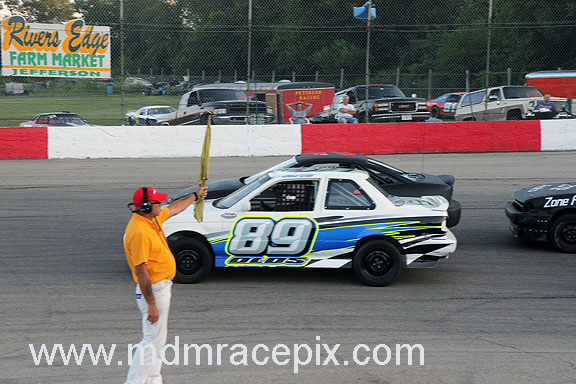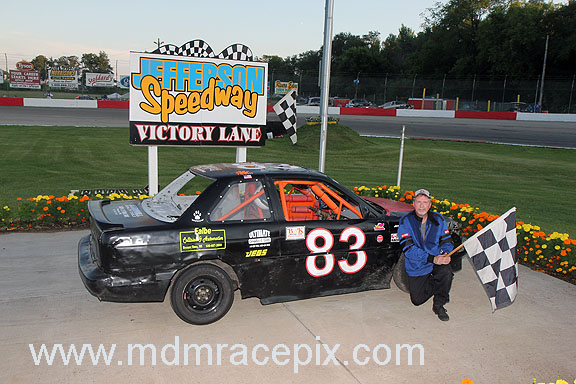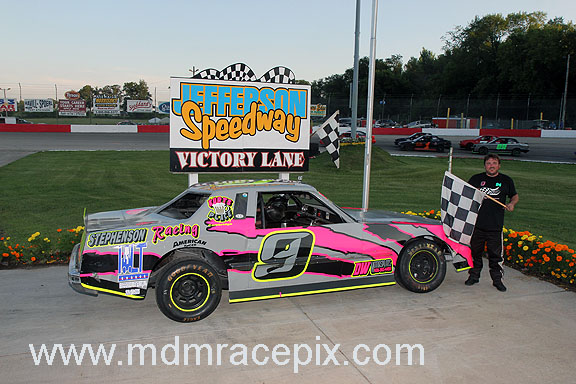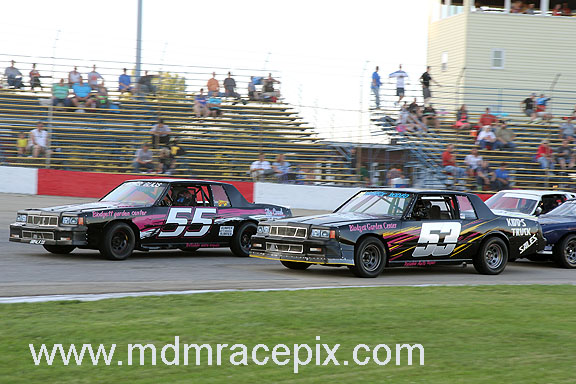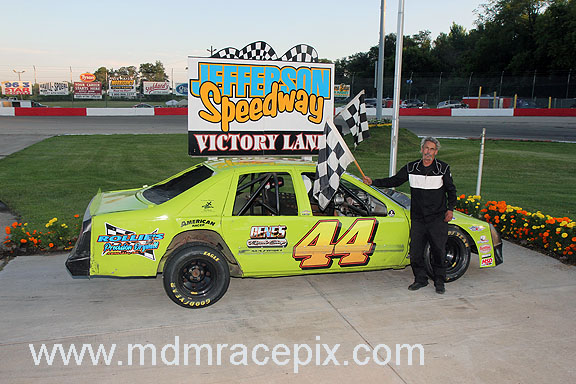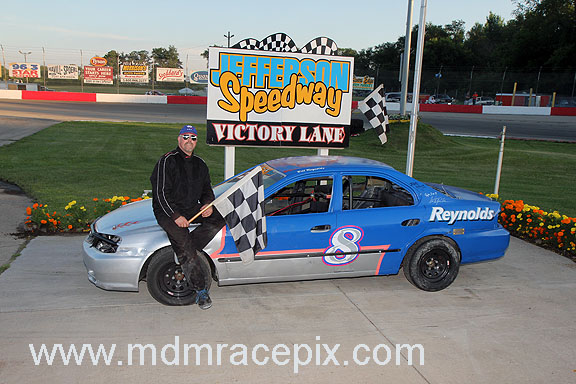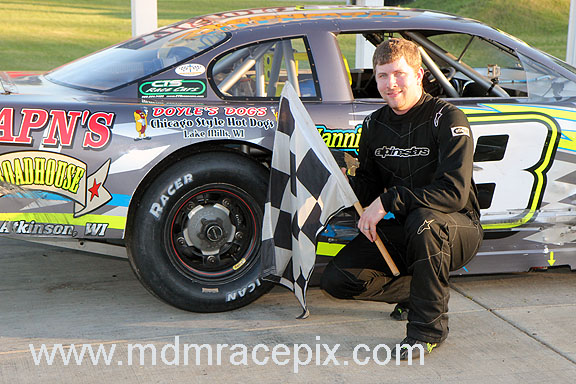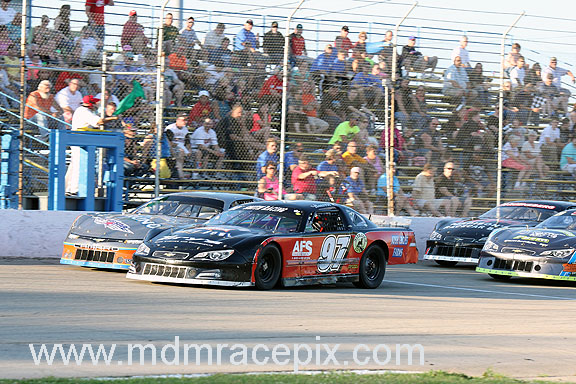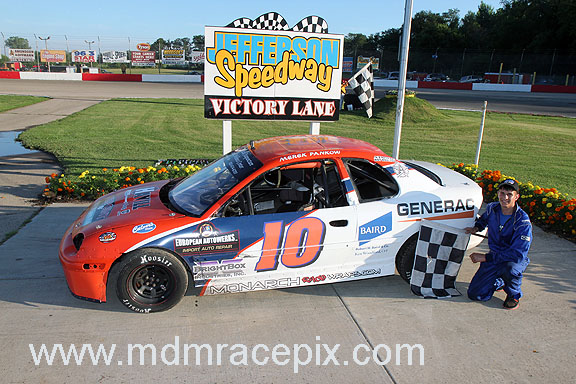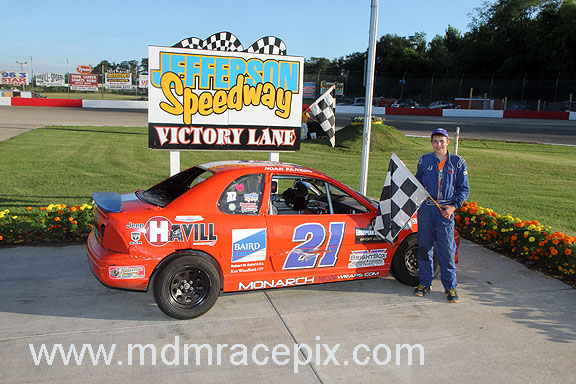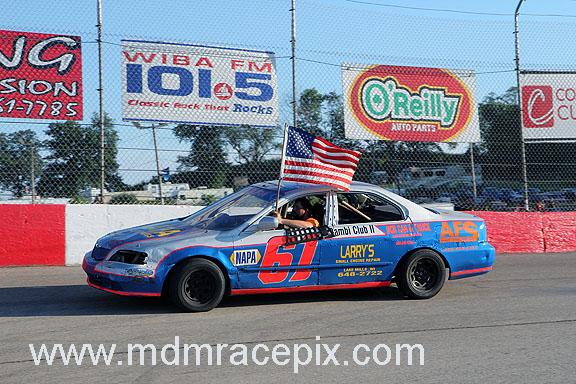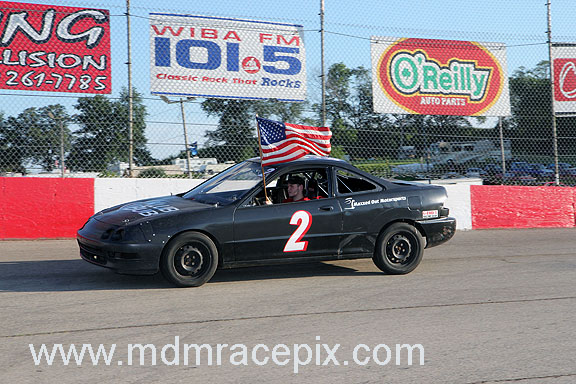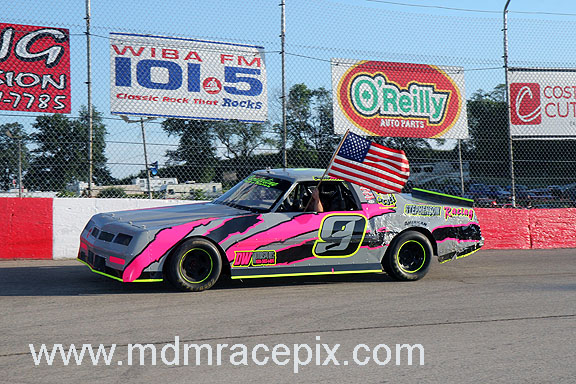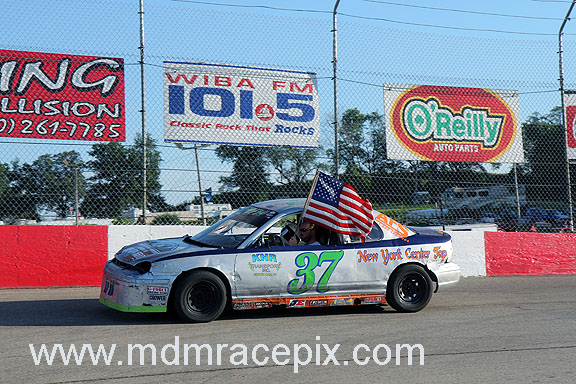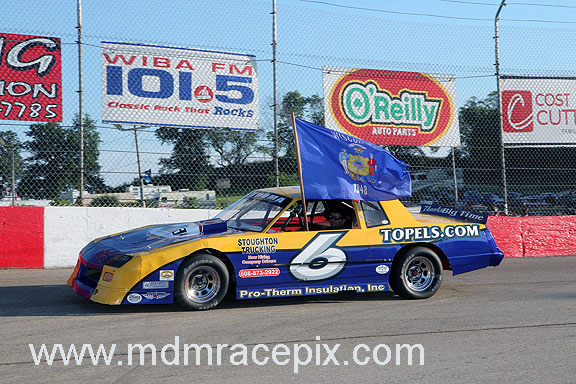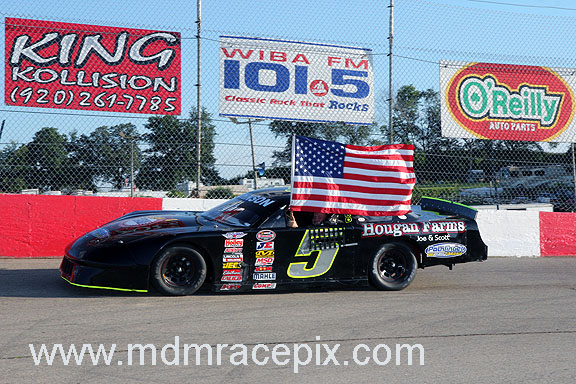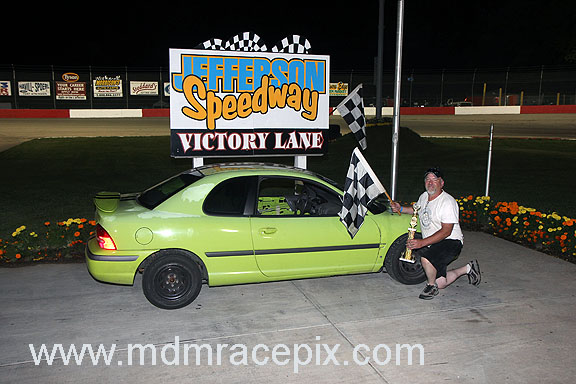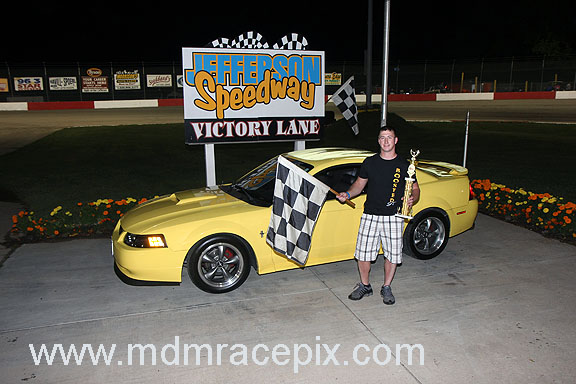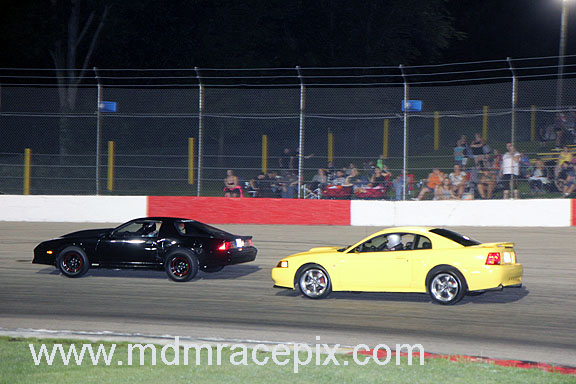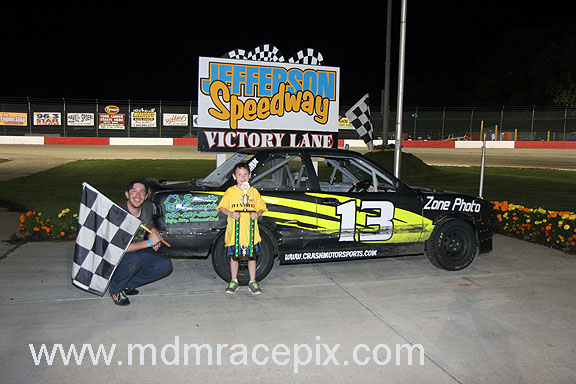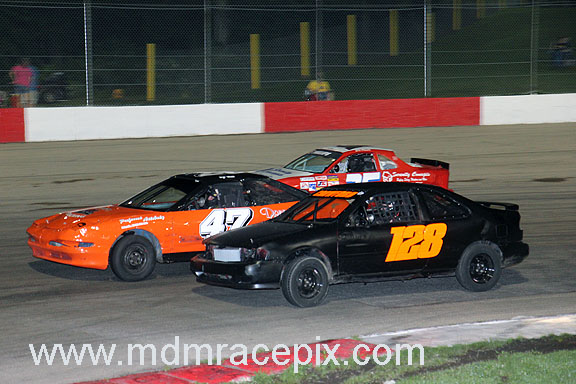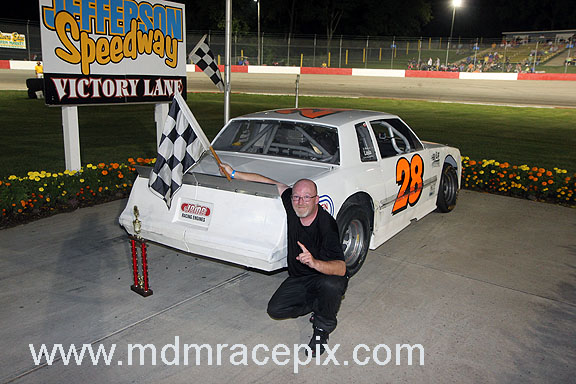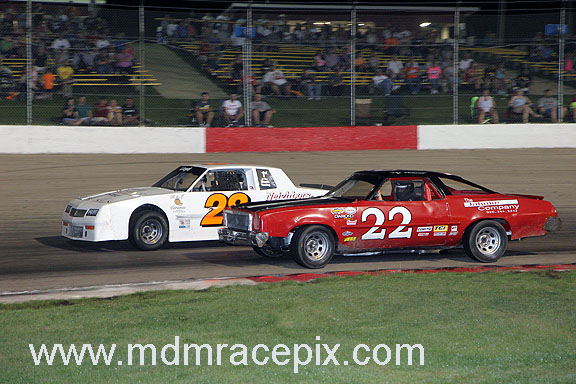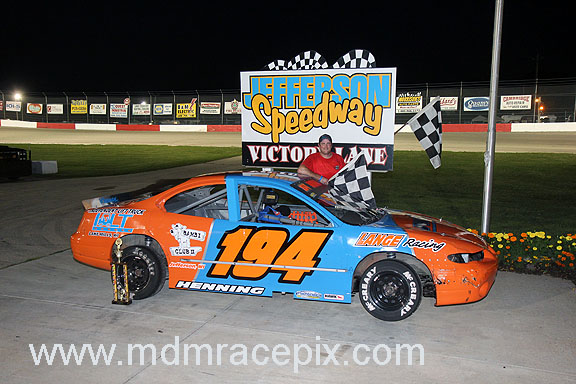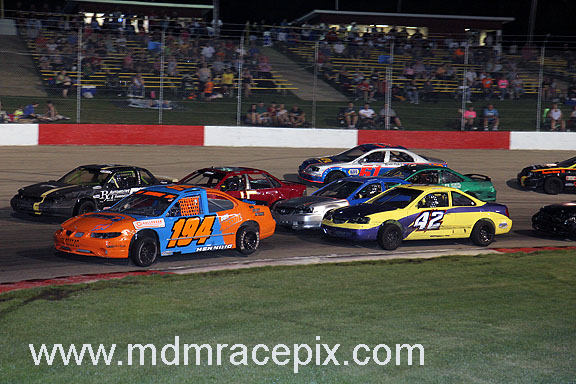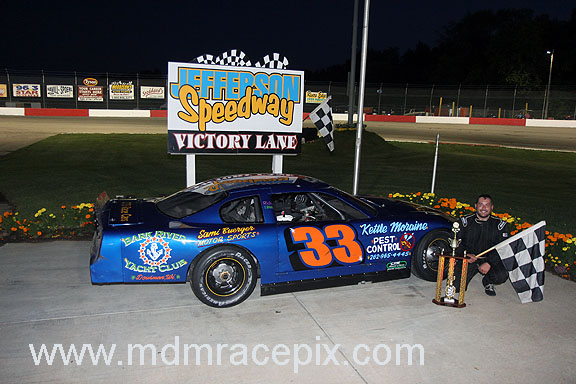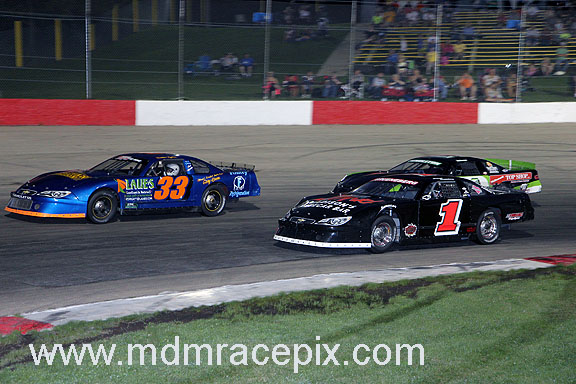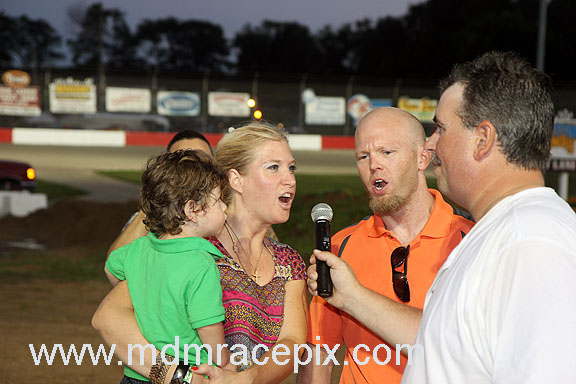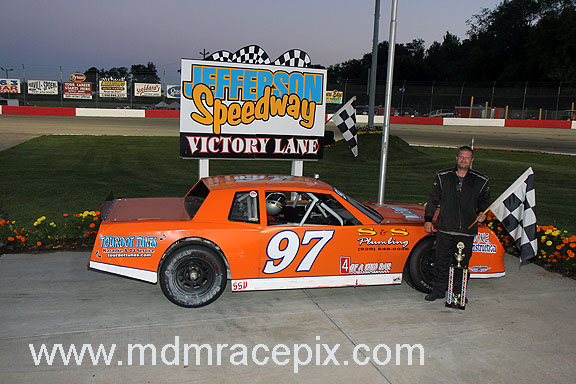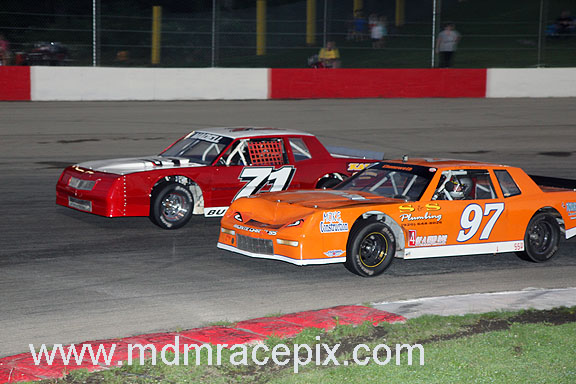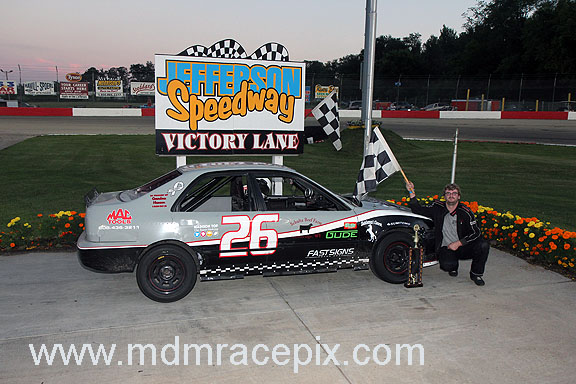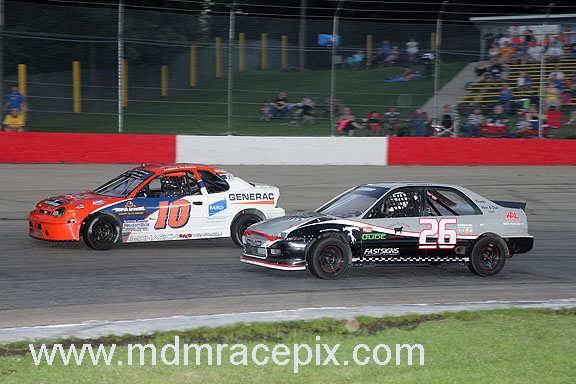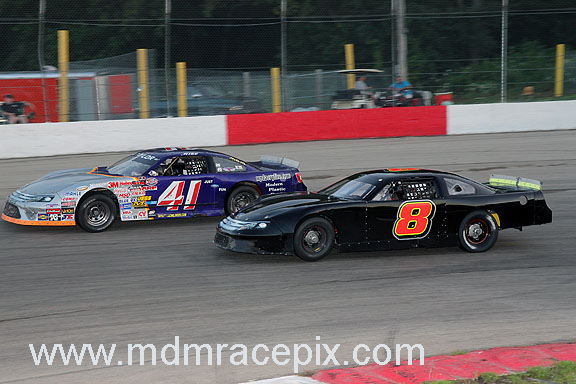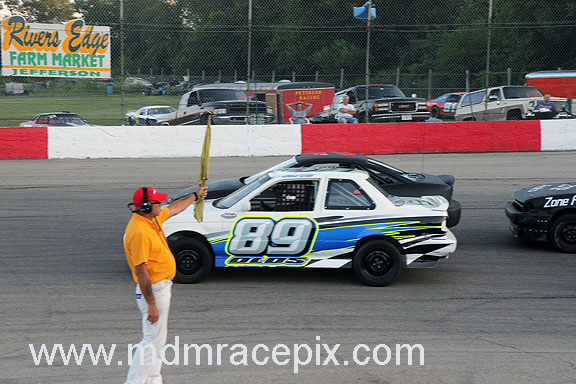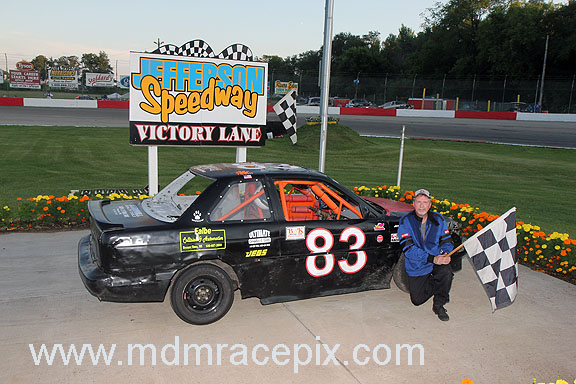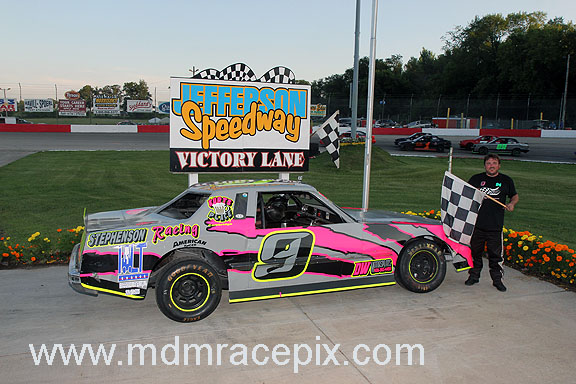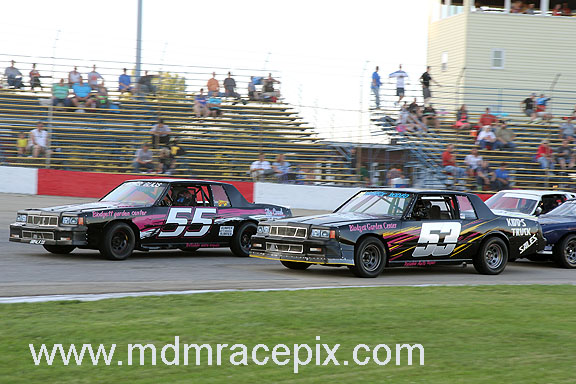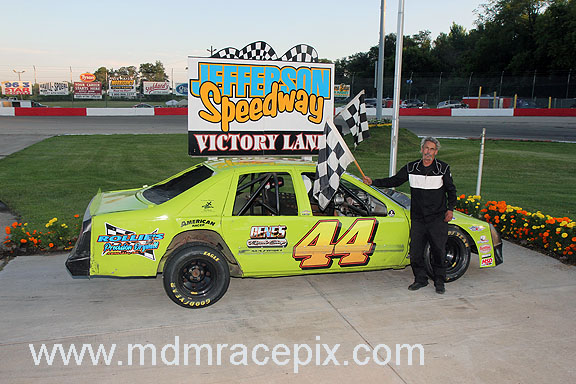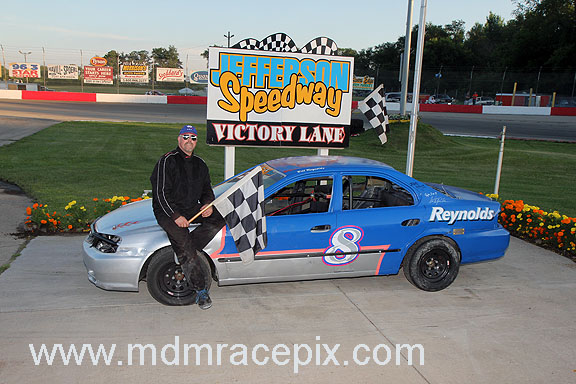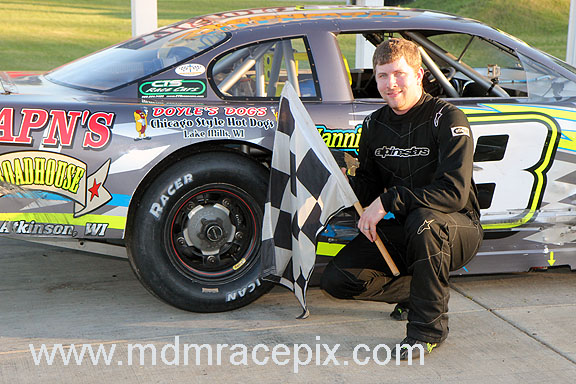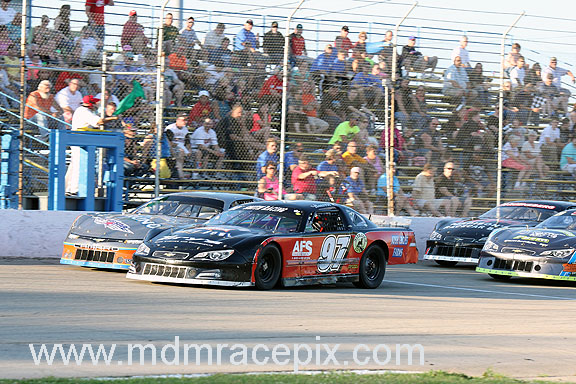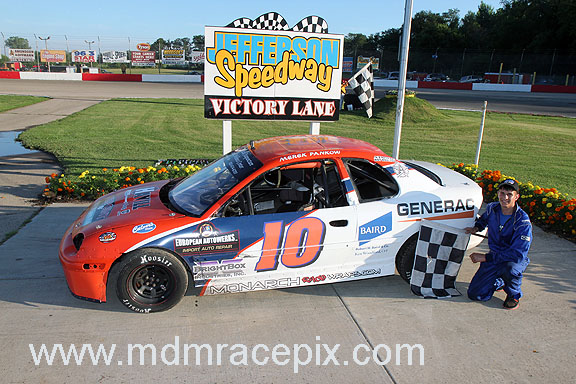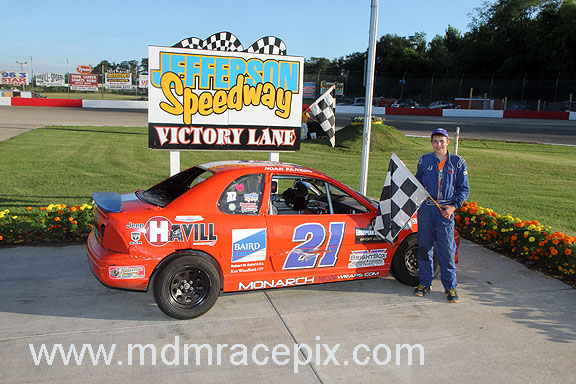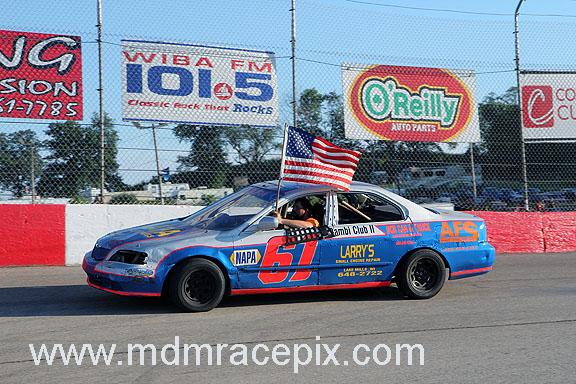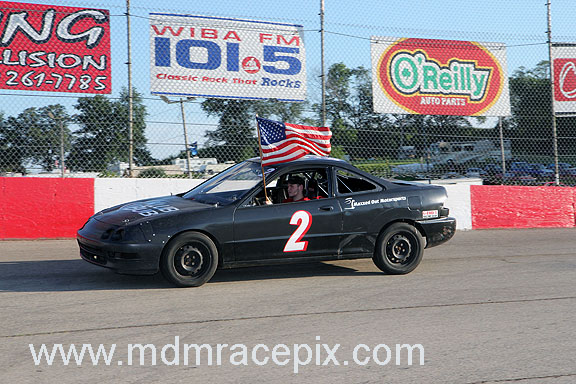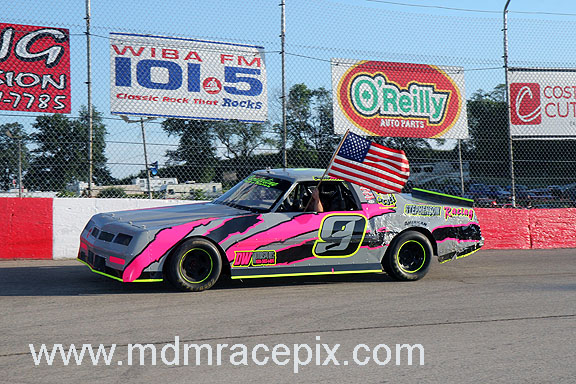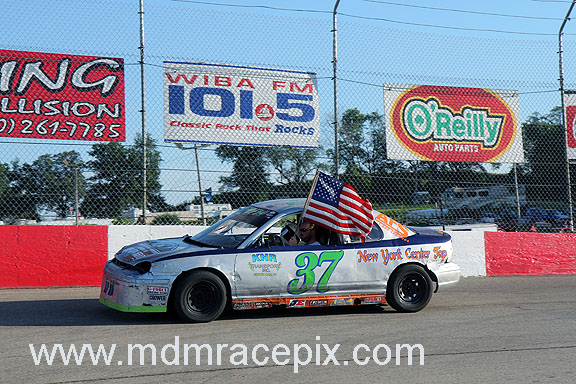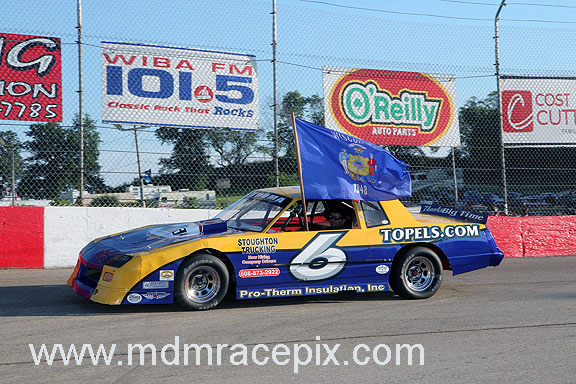 Schuyler Seizes Miller Lite 50
JEFFERSON, WI (Saturday, July 18, 2015)                                Jefferson's Dylan Schuyler got to the front of the Miller Lite 50 field and fended off several attempts to steal his position to bring home the victory. The win marks Schuyler's first feature victory of 2015 as he looks to close the gap in the standings on point leader, Casey Johnson.
Kyle Smith and Don Gaserude brought the stout field of Late Model pilots to the green with Smith taking control on lap one while the field bumped and banged behind him. Craig Phillips drove up to the second spot on lap two with Schuyler and Gaserude battling for third. Phillips quickly went to work on Smith, driving to his inside on lap three. The pair of drivers engaged in a see saw battle for the top spot until Phillips gained the advantage on lap 12. Schuyler followed Phillips into second with Michael Grueneberg up to third. On lap 16, Schuyler dove under Phillips through turns one and two, clearing a lap later to find himself out front. Grueneberg followed into second on lap 18 as the top three began to break away from the pack slightly. On lap 30, Grueneberg drew even with Schuyler as they raced out of turn two. Brandon Pendleton watched from third with Shaun Scheel in fourth and Casey Johnson up to fifth. Schuyler and Grueneberg continued to battle wheel to wheel while Johnson made his way forward, taking fourth from Scheel on lap 32. As the leaders raced side by side, Johnson closed in, making it a four way fight for position with ten laps to go. Schuyler regained control of the point on lap 41 with Johnson sliding up next to Grueneberg for second. Johnson cleared for second and immediately began to close in on Schuyler. Johnson caught the leader with one to go, but Schuyler stayed strong on the point to see the checkers first for the win. Johnson settled for second with Pendleton, Grueneberg and Alex Papini rounding out the top five.
Chris Chenoweth of Watertown picked up his second feature win of the season after winning the 25 lap Sportsman main event. Josh Madell and Ed Jackson led the field to green as they battle side by side. Jackson cleared for first briefly on lap two, but Madell returned to his inside a lap later. This time Madell moved out front with Jackson dropping back into a battle for second with Scott Hoeft. Hoeft took control of the runner up spot on lap eight while Chenoweth moved into the top five. After a three wide move with Terry Wangsness and Jackson, Chenoweth gained the third position setting his sights on Hoeft in second. Chenoweth drove under Hoeft entering turn one on lap 16. Chenoweth cleared for second before the lap was over and immediately set his sights on the leader, Madell. Chenoweth caught the leader with seven laps remaining, drawing even with Madell. After a brief door to door battle, Chenoweth cleared for the lead and cruised to the checkers to get the win. Madell finished second followed by Hoeft, Wangsness and Mark Deporter.
Mike Lambert of Fort Atkinson captured the 20 lap International feature event. After a major melee on the opening circuit eliminated a chunk of the field, Keith Bell grabbed the initial lead. Using a three wide maneuver, Merek Pankow motored past Joe Cross and Seth Reamer to grab second on lap two. A lap later, Pankow stole the top spot from Bell with Reamer and Lambert following into second and third respectively. Lambert dropped to the low side as he drove by Reamer to claim second. Lambert continued forward as he drew even with Pankow at the front. The duo fought wheel to wheel for several laps with neither willing to give an inch. Finally, Lambert gained enough momentum to clear Pankow and claim sole possession of the lead. Reamer filled the hole left by Lambert under Pankow as he also moved past for second. But Lambert was already on his way to the stripe to claim the win. Reamer was second followed by Pankow, Bell and Cross.
AJ Lloyd of Machesney Park, IL, claimed his second feature of the 2015 campaign after a late race pass netted him the victory.  Korey Bengsch took control of the 25 lap Hobby Stock feature from the pole with Jim Wolf trying to hang on to his outside. Wolf eventually dropped back into a three wide battle for second with Jeff LeFave and Dylan Buckingham. Buckingham used the high line to charge into second and slide up outside Bengsch for the lead. Buckingham cleared Bengsch for first on lap seven as he began to stretch his advantage. Meanwhile, Lloyd was making his way through the top five. Lloyd slipped past Wolf for third on lap 13, and cleared Bengsch for second on lap 15. Lloyd began to cut into Buckingham's lead, catching him with five laps remaining. Lloyd drove to the low side of the leader as they raced through turns three and four. After a two lap battle, Lloyd took control of the point on lap 22. Lloyd ran to checkers unchallenged to pick up the win. Buckingham finished second with Cody Buchs, Dustin Ward and Bengsch completing the top five.
In Road Warrior action, Craig Henning of Helenville got the front and ran away with the 20 lap feature win. Nick Newton led lap one from the pole. On lap three, Henning made it a three wide battle for second with Lucas Stevenson and Rodger Stephenson to his outside. Henning cleared for second and quickly drove up next to Newton looking to lead. Henning completed the pass on Newton on lap five with Bill Sweeney in tow for second. Henning ran to the checkers from there with Sweeney staying in his rear view mirror to grab second. Chris Gottschalk was third followed by Kenny Storkson and Bryan Gottschalk.
After losing the lead on the final lap last week, Josh Marx of Dousman got the front and stayed there to pick up the 20 lap Bandit feature win this week. Bill Kohn led lap one with Nick Schmidt and Marx following into second and third respectively on lap one. Schmidt drove past Kohn on lap two and Marx in his tracks for second. Marx wasted little time behind Schmidt, driving under him on lap four through turns one and two. Marx cleared for the lead a lap later and quickly opened up a large advantage. Dustin Yanke made his way up to second on lap eight, but Marx had the field covered on his way to the checkers for his first win of 2015. Yanke settled for second followed by Jamie Kohn, Adam Schook and Scott Crawford.
Next Saturday, July 25, is a full program of racing sponsored by Cambridge Auto Repair and Sales. Time trials begin at 5pm with racing at 7pm. Jefferson Speedway is located halfway between Jefferson and Cambridge on Hwy 18. Please visit www.jeffersonspeedway.com for more information.
JEFFERSON SPEEDWAY RACE SUMMARY
Late Model-
Feature Results- 1) Dylan Schuyler, Jefferson  2) Casey Johnson, Edgerton  3) Brandon Pendleton, Helenville  4) Michael Grueneberg, Madison  5) Alex Papini, Machesney Park (IL)  6) Craig Phillips, Edgerton  7) Luke Westenberg, Jefferson  8) Jason Erickson, Fort Atkinson  9) Trent Erdman, Fort Atkinson  10) Bruce Lee, Cambridge  11) Kyle Smith, Lake Mills  12) Jerry Eckhardt, Johnson Creek  13) Stephen Scheel, Lake Mills  14) Don Gaserude, Fort Atkinson  15) Roger Behlke, Jefferson  16) Shaun Scheel, Lake Mills  17) John Ovadal Jr, Watertown  18) Tiffany Desjarlais, Columbus
Fast Qualifier- Casey Johnson—14.191 seconds
Last Chance- Stephen Scheel, Jerry Eckhardt, Roger Behlke, Tiffany Desjarlais
Heat Winners- 1) Roger Behlke  2) Dylan Schuyler  3) Shaun Scheel
Sportsman-
Feature Results- 1) Chris Chenoweth, Watertown  2) Josh Madell, Mayville  3) Scott Hoeft, Watertown  4) Terry Wangsness, Jefferson  5) Mark Deporter, Fort Atkinson  6) Tony Ciano, Janesville  7) Jay Kalbus, Whitewater  8) Tim Coley, Madison  9) Jim Taylor, Stoughton  10) Ed Jackson, Madison  11) Russ Nicholson, Stoughton
Fast Qualifier- Jason Thoma—14.917 seconds
Heat Winners- 1) Russ Nicholson  2) Mark Deporter
International-
Feature Results- 1) Mike Lambert, Fort Atkinson  2) Seth Reamer, Waupun  3) Merek Pankow, Jefferson  4) Keith Bell, Brodhead  5) Joe Cross, Sun Prairie  6) Noah Pankow, Jefferson  7) Tyler Deporter, Fort Atkinson  8) Aaron Randell, Fort Atkinson  9) Mark English, Edgerton  10) Brandon DeLacy, Fort Atkinson  11) Jimmie Pankow, Jefferson  12) Neil Higgins, Watertown  13) Jason Uttech, Watertown
Fast Qualifier- Seth Reamer—16.394 seconds
Heat Winners- 1) Noah Pankow  2) Merek Pankow
Hobby Stock-
Feature Results- 1) AJ Lloyd, Machesney Park (IL)  2) Dylan Buckingham, Whitewater  3) Cody Buchs, Mazomanie  4) Dustin Ward, Waterloo  5) Korey Bengsch, Sun Prairie  6) Lucas Buckingham, Whitewater  7) Wayne Buchs, Mazomanie  8) Jim Wolf, Watertown  9) Jared Vike, Columbus  10) Boyd Eichelkraut, Stoughton  11) Jeff LeFave, Fort Atkinson  12) Jon Benninger, Sun Prairie
Fast Qualifier- Dustin Ward—15.810 seconds
Heat Winners- 1) Wayne Buchs  2) Dustin Ward
Road Warrior-
Feature Results- 1) Craig Henning, Helenville  2) Bill Sweeney, Aztalan  3) Chris Gottschalk, Jefferson  4) Kenny Storkson, Indianford  5) Bryan Gottschalk, Jefferson  6) Bill Reynolds, Watertown  7) Nick Newton, Lake Mills  8) Charles Novotny, Fort Atkinson  9) Rodger Stephenson, Cambridge  10) Anthony Accardy,   11) Lucas Stevenson, Beloit
Fast Qualifier- Chris Gottschalk—16.581 seconds
Heat Winners- 1) Bill Reynolds  2) Craig Henning
Bandit-
Feature Results- 1) Josh Marx, Dousman  2) Dustin Yanke, Fort Atkinson  3) Jamie Kohn, Madison  4) Adam Schook, Whitewater  5) Scott Crawford, Janesville  6) Nick Schmidt, Watertown  7) Jeremy Bredeson, Columbus  8) Chad Olds, Whitewater  9) Brody Chilvers, Milton  10) Dillon Scott, Rio  11) Bill Kohn, Madison  12) Lyle Phillips, Edgerton  13) DJ Hill, Fort Atkinson  14) Dylan Brown, Jefferson
Fast Qualifier- Brody Chilvers—17.242 seconds
Heat Winners- 1) Bill Kohn  2) Josh Marx