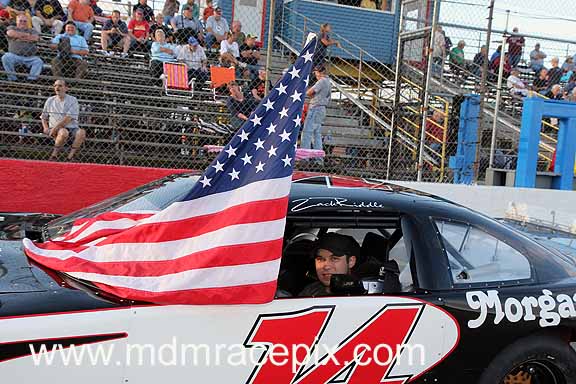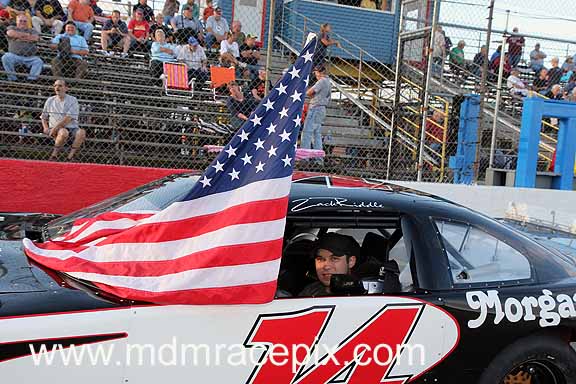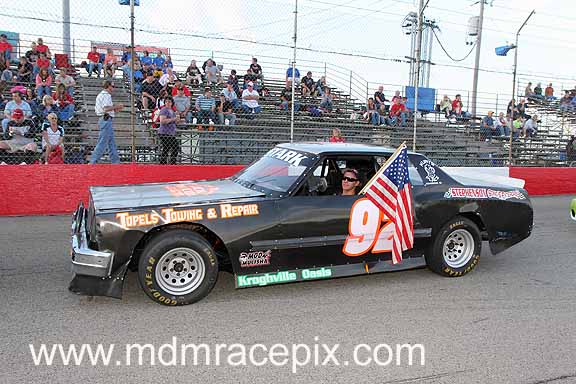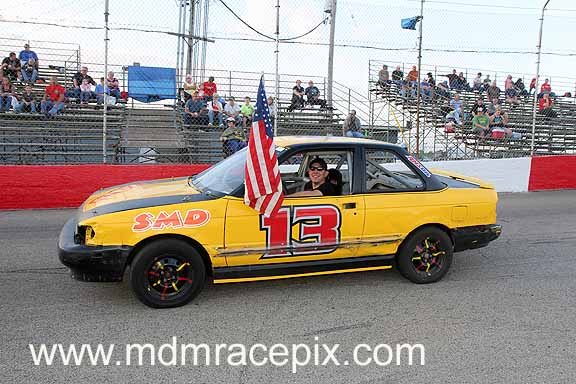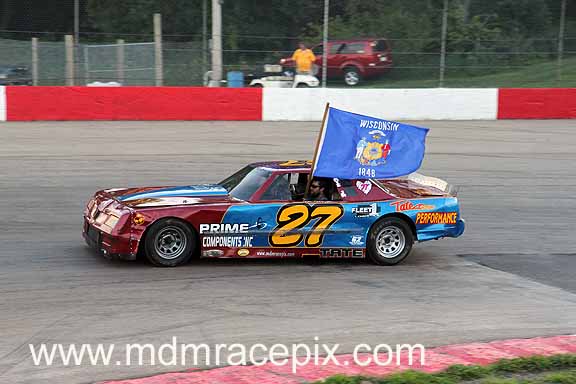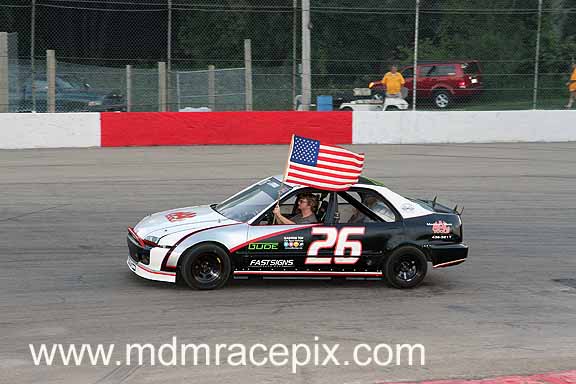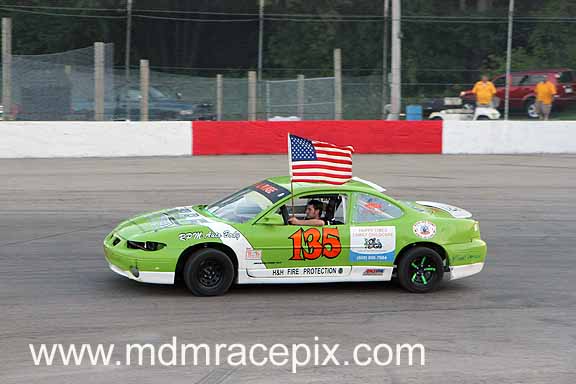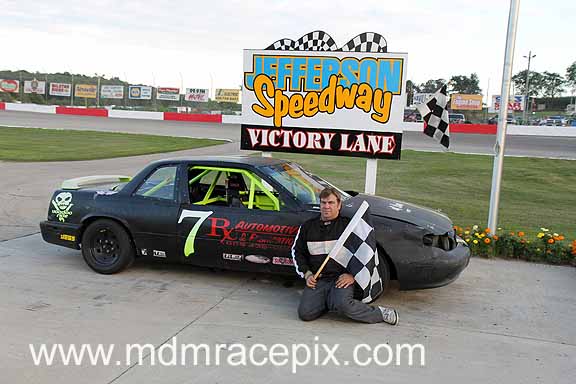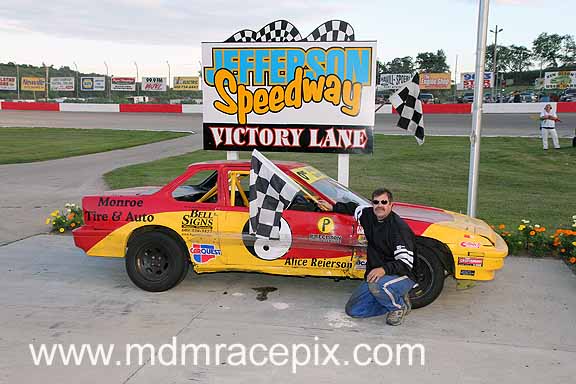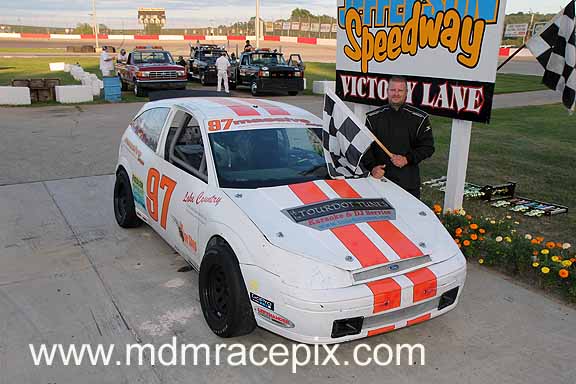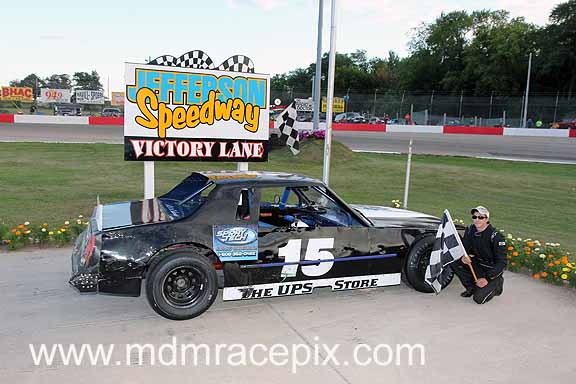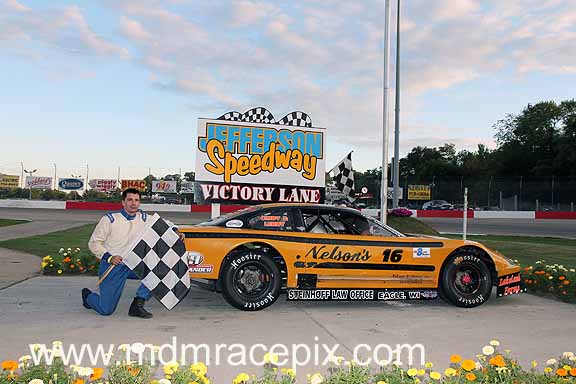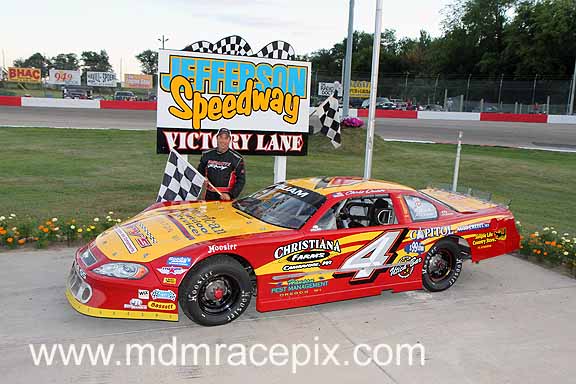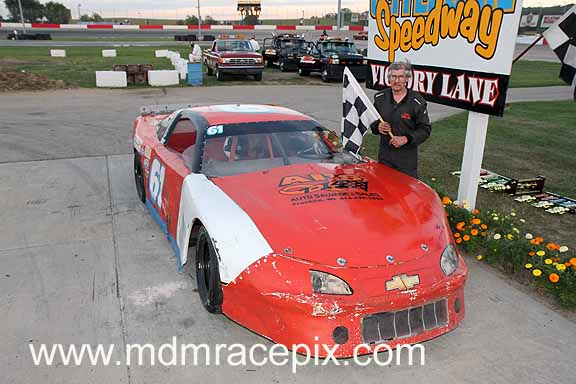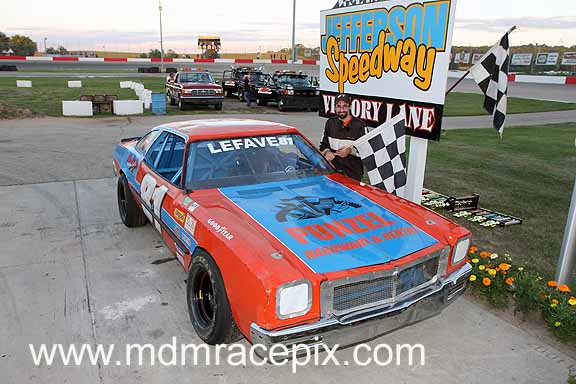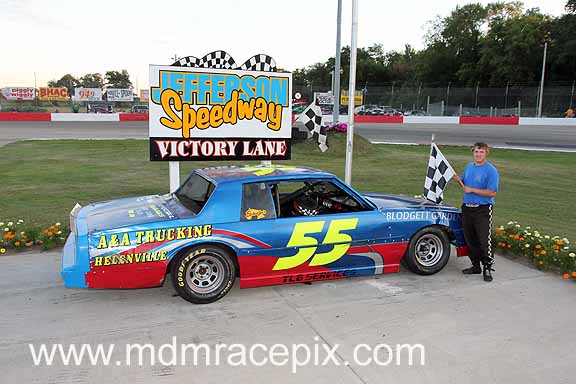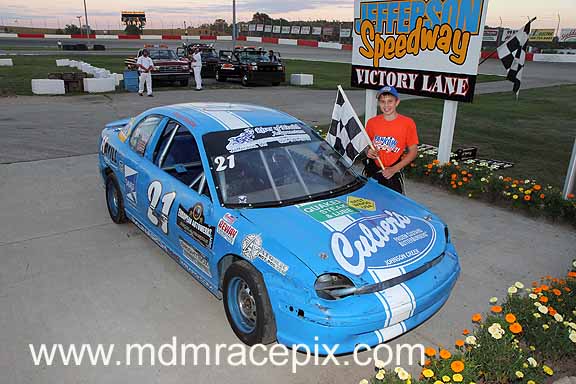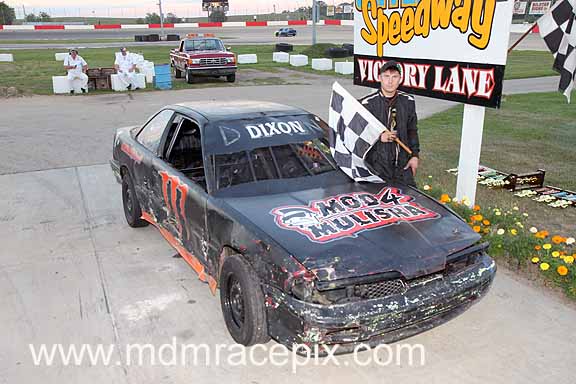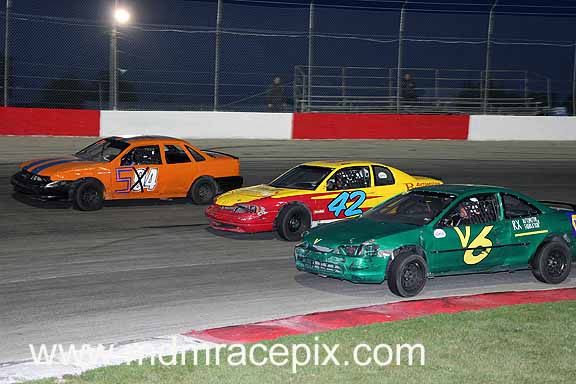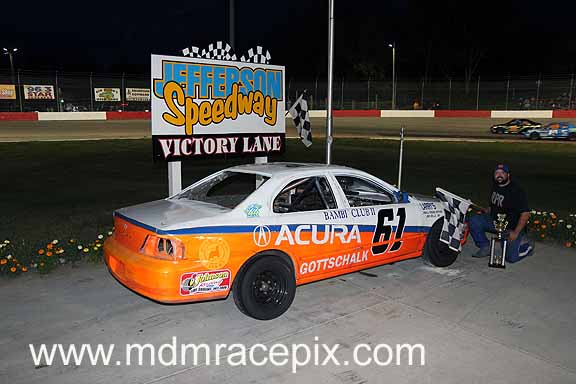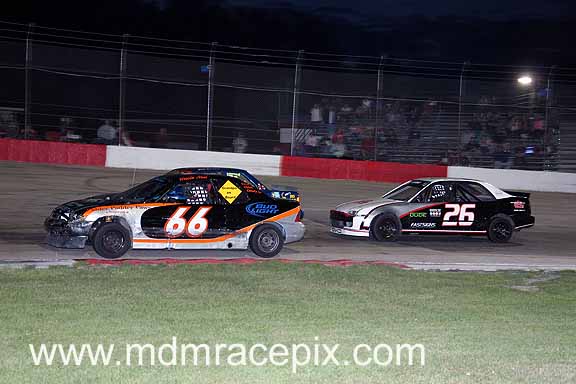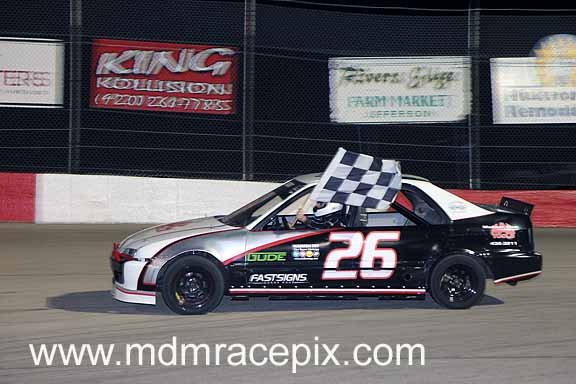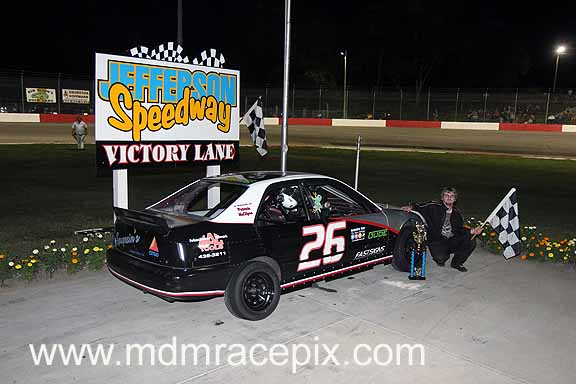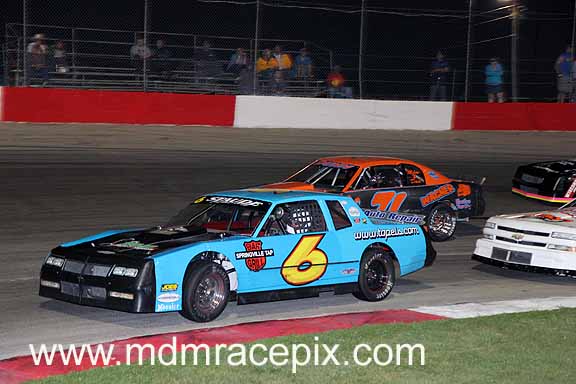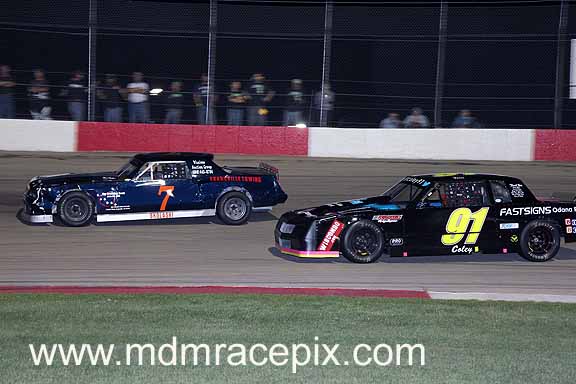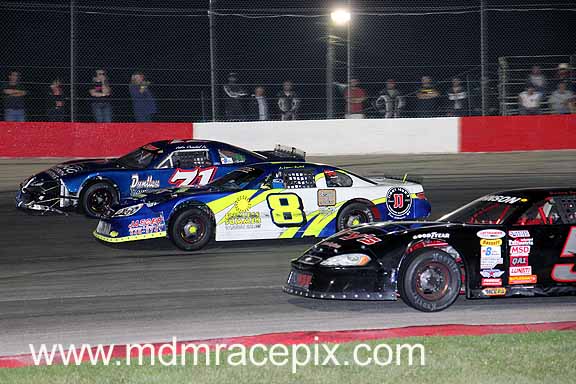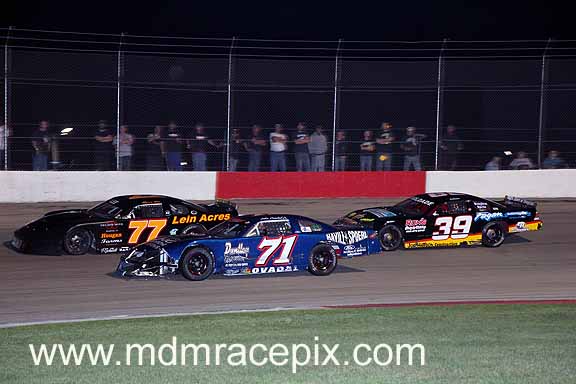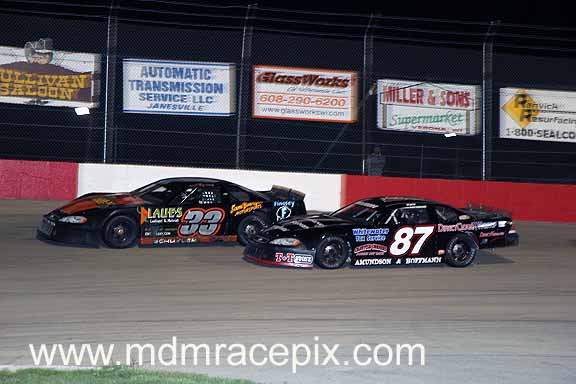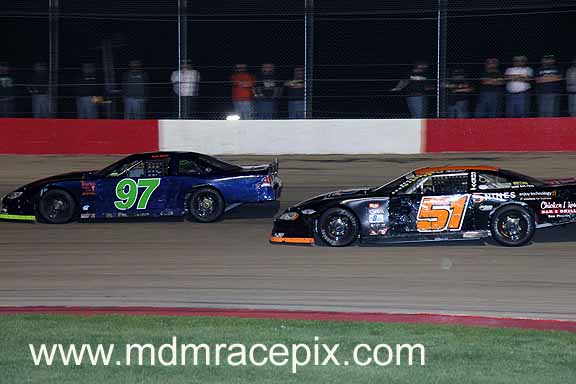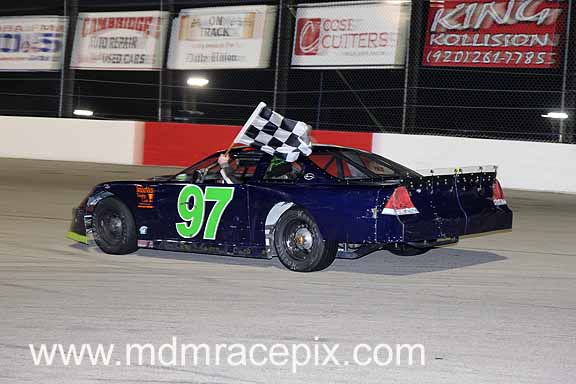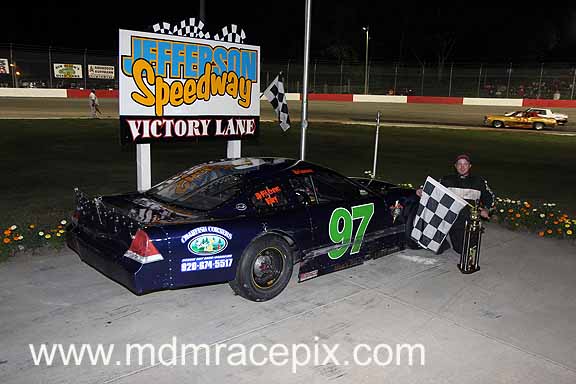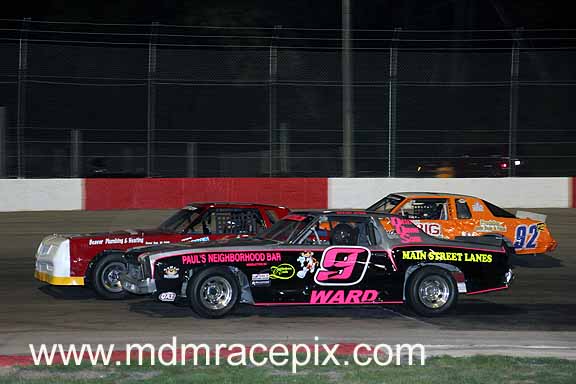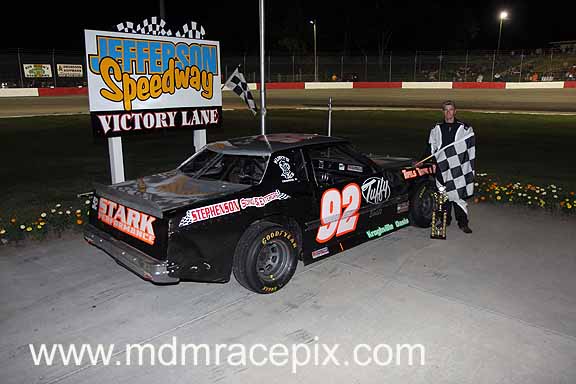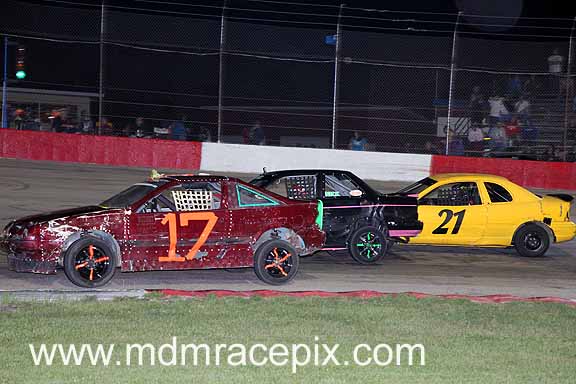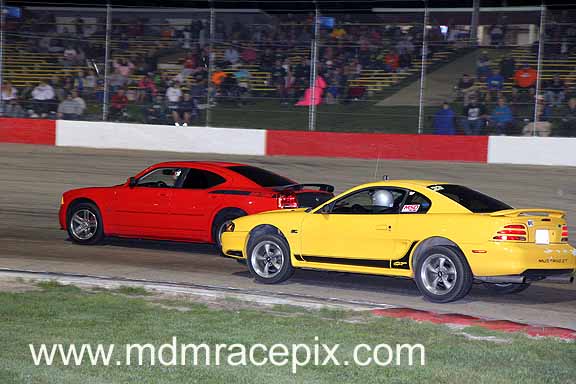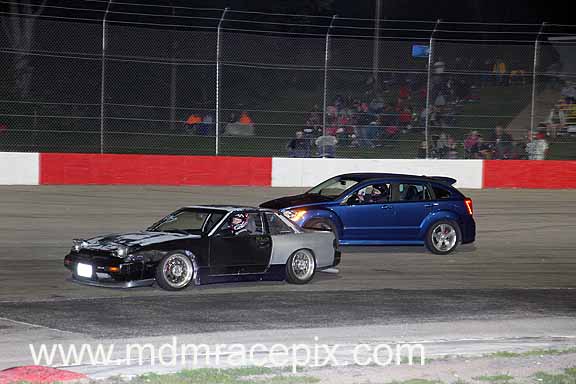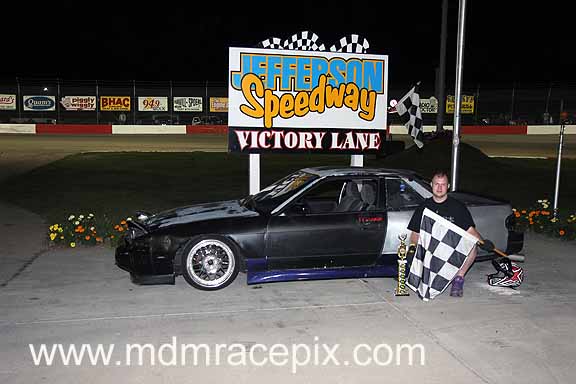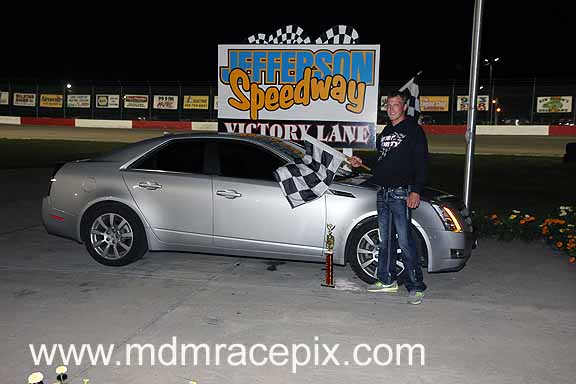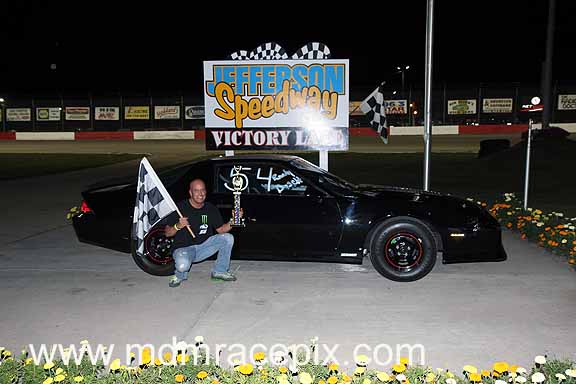 Kyle Smith Aces King Kollision 50
JEFFERSON, WI (Saturday, August 10, 2013) Kyle Smith of Lake Mills captured his first career Late Model feature victory by hanging on after a late restart in the King Kollision 50 lap main event. While Smith was grabbing the win, Dale Nottestad of Cambridge overtook Zack Riddle in the standings with only four weeks remaining until we crown a champion.
Bruce Lee and Smith paced the field to green as they battled side by side. The duo fought for the top spot until Smith grabbed control on lap five. Dylan Schuyler moved past Lee for second as the top two began to separate themselves from the pack. As the leaders pulled away, Trent Erdman and Dale Nottestad made their way into third and fourth respectively by lap 19. Nottestad began to apply heavy pressure on the low side of Erdman as they battled door to door with Kyle Jarlsberg watching from fifth. Lap after lap, Nottestad tried to clear Erdman. Finally, Nottestad made the pass for third on lap 34 with Jarlsberg in his tracks. Jarlsberg slipped by Nottestad just before the caution waved on lap 42, closing up the field for the final eight circuits. As racing resumed, Nottestad returned the favor on Jarlsberg, getting by for third and pulling alongside Schuyler. Nottestad cleared for second behind Smith with two laps to go. Nottestad tried to get a run on the low side of Smith as they raced down the backstretch one final time. But Smith held off his advances to cross under the checkers first for the win. Nottestad settled for second followed by Jarlsberg in third. Schuyler finished fourth with Casey Johnson rounding out the top five.
In Sportsman action, Jim Taylor of Stoughton was awarded the victory in the 30 lap feature following post race inspection Taylor and Jason Kubicz brought the field to green with Kubicz holding the slight advantage to complete lap one. Taylor powered by Kubicz on the second lap to claim sole possession of the top spot. Seth Lootans followed into second with Jason Dunn in tow for third. After an early caution on lap four, Will Rece and Jason Thoma moved into the top five with Taylor still showing the way. On lap 11, contact between Rece and Thoma resulted in Rece spinning to force the second caution period of the race. Both drivers were relegated to the rear for the restart as Tate began to shadow the top five. Tate found himself in fourth behind Dunn by lap 17. Dunn slipped by Lootans for second on lap 18 with Tate in tow for third. Tate wasted little time as he made his move to get by Dunn and set his sights on Taylor on the point. A final caution on lap 22 slowed his efforts as he lined up on Taylor's rear bumper for the final eight laps. As racing resumed, Tate began to look to the low side of Taylor for the lead. Tate got a great run under Taylor exiting turn two on lap 23. Tate cleared a lap later as he immediately pulled out to a large lead. Tate cruised on his way to crossing the stripe first. Following post race inspection, Tate was forced to vacate his finishing spot, handing the win to Taylor. Dunn was second followed by Lootans, Robert Hansberry and Thoma.
Madison's Mike Lambert charged to the front of the field on his way to winning the 20 lap International feature event. Dylan Buckingham led lap one from the pole with Keith Bell up to second. Bell drove to the low side of Buckingham on lap two, clearing for the top spot on lap four. Joe Cross made his way to second on lap five with Neil Higgins in his tracks for third. Higgins quickly drove under Cross to grab second on lap 10 and slid up next to Bell for the lead. Lambert joined the leaders as Higgins tried to clear Bell for the lead. Higgins completed the pass on lap 11 with Lambert following into second. Lambert drove to the high side as he drew even with Higgins looking to lead. Lambert pulled ahead of Higgins as they raced down the back stretch with three laps remaining. Lambert stayed out front as he saw the checkers first for the win. Higgins finished second followed by Chris Chenoweth, Bell and Casey Strese.
Waterloo's Kyle Stark made his debut in the Hobby Stock division and ran away with the 25 lap feature event. Jim Wolf led early as Stark took to the third groove as he charged towards the front. By lap three, Stark was already up to second using this outside as he looked to pressure Wolf. Stark stayed high as he pulled alongside Wolf on lap four. Stark cleared entering turn one on lap five and immediately began to stretch his advantage. Tony Ciano worked up to second on lap six with point leader Bobby Selsing Jr in tow for third. Ciano and Selsing waged an intense battle for second while Stark continued to dominate. At the checkers, it was Stark by a big margin. Ciano claimed second with Selsing settling for third. Chester Williams and Lucas Buckingham rounded out the top five.
Jefferson's Chris Gottschalk charged to the front and drove away to win the 20 lap Road Warrior feature event. Jason Haas and Jordan Lamb led the field to green with Lamb taking the early lead. Haas fell back to second with Gottschalk already up to third. Gottschalk slipped by Haas on lap three as he pulled up behind Lamb on the point. Gottschalk dropped down low entering three as he drew even with Lamb on lap four. Gottschalk cleared for the lead just before the caution waved for debris. Gottschalk restarted as the leader while Tadd Douglas sliced up to second with Bill Reynolds following for third. Gottschalk moved out to a large lead while Douglas and Reynolds fought for the runner up spot. Reynolds drove to the outside of Douglas in the closing laps as Gottschalk cruised to the win. Reynolds nipped Douglas for second with Bill Sweeney and Rob Lange completing the top five.
Nick Schmidt of Oak Creek was awarded the win following completion of the 20 lap Bandit feature event. Trent Reuth led early with Tyler Deporter up to second. Deporter quickly drove under Reuth entering turn three, clearing for the lead on lap two. Devon Dixon used the high side to fire up to second on lap three. Dixon continued on the outside as he drew even with Deporter for the lead. Dixon cleared on lap four and began to open up a large lead while Schmidt and Josh Marx drove up to second and third respectively. Dixon led the way over the final 15 laps as Schmidt held off Marx. Following post race inspection, Dixon was forced to vacate his position handing the win to Schmidt. Marx claimed second followed by Josh Rusch, Brandon DeLacy and Deporter.
Next Saturday, August 17, is Cost Cutters Back to School Night highlighted by a 50 lap Late Model feature plus a kid's school supply giveaway. Time trials begin at 5pm with racing at 7pm sharp. Jefferson Speedway is located halfway between Jefferson and Cambridge on Hwy 18. Please visit www.jeffersonspeedway.com for more information.
Jefferson Speedway Race Summary
Late Model-
King Kollision 50 lap Feature Results- 1) Kyle Smith, Lake Mills 2) Dale Nottestad, Cambridge 3) Kyle Jarlsberg, Jefferson 4) Dylan Schuyler, Jefferson 5) Casey Johnson, Stoughton 6) Trent Erdman, Fort Atkinson 7) Stephen Scheel, Lake Mills 8) Shaun Scheel, Lake Mills 9) Zack Riddle, Brooklyn 10) Brandon Pendleton, Helenville 11) John Ovadal Jr, Watertown 12) Bruce Lee, Cambridge 13) Jerry Eckhardt, Johnson Creek 14) Ryan Goldade, Stoughton 15) Luke Westenberg, Jefferson 16) Scott Patrick, Dousman 17) Shawn Gunsolus, Jefferson 18) Chris Quam, Stoughton
Fast Qualifier- Zack Riddle—14.518 seconds
Last Chance- Luke Westenberg, Shawn Gunsolus, Jerry Eckhardt, Scott Patrick
Heat Winners- 1) Luke Westenberg 2) Jerry Eckhardt 3) Chris Quam
Sportsman-
Feature Results- 1) Jim Taylor, Stoughton 2) Jason Dunn, Sun Prairie 3) Seth Lootans, Kenosha 4) Robert Hansberry, Beloit 5) Jason Thoma, Jefferson 6) Mark Deporter, Fort Atkinson 7) Will Rece, Stoughton 8) Terry Wangsness, Jefferson 9) Tim Coley, Madison 10) Jason Kubicz, Whitewater 11) Brandon Skolaski, Madison 12) Russ Nicholson, 13) Ken Hoff Jr, Jefferson 14) Jim Tate Jr, Deforest
Fast Qualifier- Jim Tate Jr—15.066 seconds
Heat Winners- 1) Will Rece 2) Jason Thoma
International-
Feature Results- 1) Mike Lambert, Madison 2) Neil Higgins, Watertown 3) Chris Chenoweth, Watertown 4) Keith Bell, Brodhead 5) Casey Strese, Jefferson 6) Joe Cross, Sun Prairie 7) Dan Birkett, Jefferson 8) Dylan Buckingham, Whitewater 9) Mike Storkson, Evansville 10) Seth Reamer, Waupun 11) Merek Pankow, Jefferson
Fast Qualifier- Mike Lambert—16.454 seconds
Heat Winners- 1) Keith Bell 2) Chris Chenoweth
Hobby Stock-
Feature Results- 1) Kyle Stark, Waterloo 2) Tony Ciano, Janesville 3) Bobby Selsing Jr, Edgerton 4) Chester Williams, Waukesha 5) Lucas Buckingham, Whitewater 6) Dustin Ward, Columbus 7) Cody Buchs, Mazomanie 8) Jim Wolf, Watertown 9) Phil Wuesthoff, Beaver Dam 10) Jeff LeFave, Fort Atkinson 11) Scott Riemer, Brookfield 12) Mike Manley, Fort Atkinson 13) Peter Shelley, Edgerton 14) Gary Paulick, Waukesha 15) Crystal O'Gorman, Lake In The Hills (IL) 16) Kevin Henderson,
Fast Qualifier- Kyle Stark—15.802 seconds
Heat Winners- 1) Jeff LeFave 2) Lucas Buckingham, Whitewater
Road Warrior-
Feature Results- 1) Chris Gottschalk, Jefferson 2) Bill Reynolds, Watertown 3) Tadd Douglas, Jefferson 4) Bill Sweeney, Edgerton 5) Rob Lange, Jefferson 6) Chad Olds, Whitewater 7) Brett Carson, Fort Atkinson 8) Jordan Lamb, Fort Atkinson 9) Jason Haas, Jefferson 10) Kenny Storkson, Evansville 11) Doug O'Grady, Jefferson 12) Travis Schneeberg, Cottage Grove 13) Rodger Stephenson, Cambridge
Fast Qualifier- Rob Lange—16.795 seconds
Heat Winners- 1) Rodger Stephenson 2) Chris Gottschalk
Bandit-
Feature Results- 1) Nick Schmidt, Oak Creek 2) Josh Marx, Dousman 3) Josh Rusch, Fort Atkinson 4) Brandon DeLacy, Fort Atkinson 5) Tyler Deporter, Fort Atkinson 6) Dennis Johnson, Lake Mills 7) Noah Pankow, Jefferson 8) Brian HIllringhouse, 9) Matt Rusch, Fort Atkinson 10) Adam Schook, 11) Trent Reuth, Fort Atkinson 12) Devon Dixon, Janesville
Fast Qualifier- Josh Marx—14.316 seconds
Heat Winners- 1) Noah Pankow 2) Brandon DeLacy