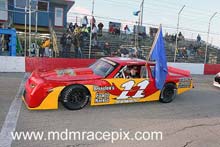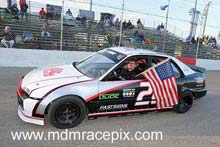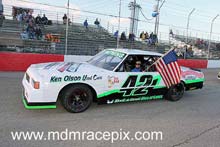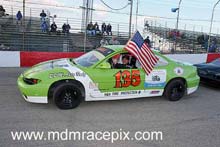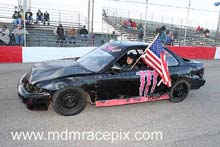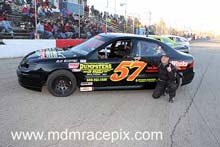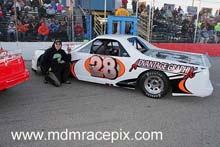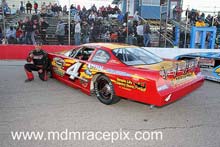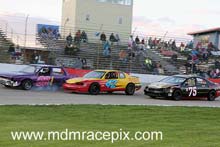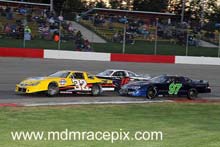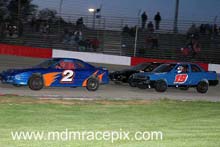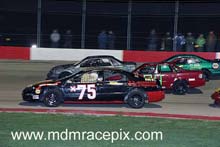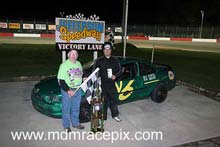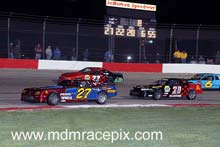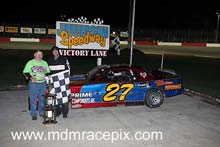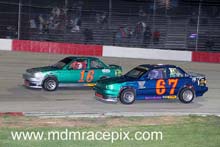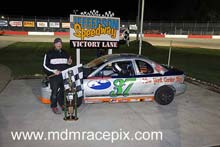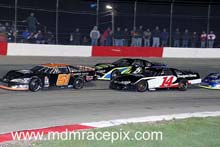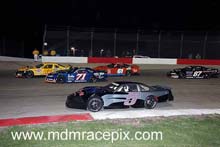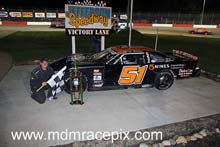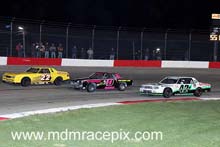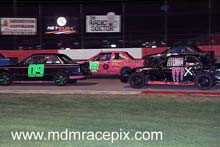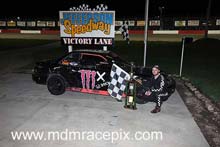 Nottestad Nabs Feature Win
JEFFERSON, WI (Saturday, May 11, 2013) On a chilly night at Wisconsin's Action Track, Dale Nottestad of Cambridge heated things up by charging to the front of the field and staying there to win the Newville Auto Salvage 50 lap Late Model feature. The victory marks Nottestad's first of the 2013 season after finishing off 2012 very strong by capturing the annual Wisconsin State Championships.
Tory Bagley and Dylan Schuyler led the field to green with Schuyler taking the early lead on lap one exiting turn four. Bagley dropped back to second with Roger Behlke running in third. On lap three Nottestad slid under Behlke into a battle for third. Nottestad claimed the spot on lap five and set his sights on Schuyler who had an eight car length advantage. Nottestad began reeling in the leader until finally catching him on lap 13. Nottestad dove under Schuyler entering turn as he drew even in a fight for the lead. A lap later, Nottestad moved into sole possession of top spot with Zack Riddle looking to follow into second. While Schuyler tried to hold off Riddle, Nottestad opened up a healthy lead over the field. Riddle eventually cleared for the second spot on lap 20 with Shaun Scheel in tow for third. The remainder of the caution free event saw Nottestad maintain his lead until crossing under the checkers to pick up the win. Riddle finished second followed by Shaun Scheel, Casey Johnson and Stephen Scheel.
Jim Tate Jr of Deforest made it three straight feature wins to open the new season after laying claim to the 25 lap Sportsman main event. Jay Kalbus led lap one from the pole with Joe DeCubellis in second and Kyle Chwala third. Chwala quickly maneuvered past DeCubellis to take over the second spot on lap two. Chwala continued to move forward, making his way past Kalbus for the lead on lap five and bringing along his teammate, Kody Hubred. Meanwhile, Tate was slicing his way through the pack and into the top five by lap six. Tate moved into fourth on lap ten as he set his sights the top three. On lap 15, Tate got past Jason Thoma for third and slid up alongside Hubred. A lap later, Chwala drifted high exiting turn two, allowing Tate to pounce. Tate motored past Hubred and Chwala, clearing for the top spot with eight laps to go. Hubred followed past Chwala, but Tate was already checking out from the pack on his way to the win. Hubred came home second with Thoma, Chwala and Terry Wangsness rounding out the top five.
Seth Reamer of Waupun got to the front of the field early in the 20 lap International feature and hung on to grab his first win of the season. Devin Wild took the initial lead on lap one from the front row with Dylan Buckingham trying to hang tough on the outside. Reamer slipped by Buckingham on lap four as he tried to sneak up alongside Wild on the point. On lap five, Wild drove way high entering turn one allowing Reamer to fire past into the lead. Reamer drove out to a commanding lead while Neil Higgins and Buckingham battled for second. Higgins claimed the position on lap seven with Jamie Shelley in tow for third. Reamer continued to show the way as Shelley moved forward into a fight with Higgins for second. Shelley eventually claimed the position on lap 17, but Reamer was already well on his way to picking up the checkers and the win. Shelley was second followed by Higgins, Mike Lambert and Mark English.
The always entertaining Hobby Stocks lived up to their billing once again, this time with Waukesha's Chester Williams coming home on top after the 25 lap feature. Jamie Tate and Craig Mertes battled wheel to wheel to open up the action on the front row. Tate was forced to retire from the event on lap three due to her machine leaking fluids onto the racing surface. Mertes claimed the lead with Lucas Buckingham second and Tony Ciano third. Buckingham moved past Mertes on lap five with Ciano in tow for second and James Helmer coming along in third. On lap ten, Ciano made his move around Buckingham, stealing the top spot for himself. Helmer followed into second as Bobby Selsing joined the leaders on lap 15. Selsing drove to the outside of Helmer as they raced side by side behind Ciano. On lap 18, Selsing tried to dive under Ciano entering turn three. Selsing and Helmer made contact sending Selsing around and collecting Ciano in the process. All three drivers were relegated to the rear following the caution handing the lead back to Buckingham with Williams right behind in second. As racing resumed, Buckingham tried to hold off Williams with only eight laps remaining. Williams got a run on the low side of Buckingham on lap 22. The duo raced door to door past the white flag with Dustin Ward watching from third. At the stripe, it was Williams by a narrow margin over Buckingham for the win. Ward was third with Phil Wuesthoff and Ciano rounding out the top five.
Bill Reynolds of Watertown claimed his second feature win of the season in the 20 lap Road Warrior main event. Chester Williams led lap one with Rodger Stephenson right behind in second. Stephenson tried to look to the low side of Williams on lap three with Travis Schneeberg watching from third. Reynolds joined the leaders on lap six, driving to the outside of Schneeberg. Williams reclaimed the point on lap seven, allowing Reynolds to draw even outside of Stephenson for second. Reynolds cleared for the position on lap nine and immediately dropped to the low side of Williams as he looked to lead. After a brief side by side battle, Reynolds took over the top spot on lap 13 as he pulled away from the pack. Bill Sweeney made a late race charge to second, but Reynolds had the field covered on his way to the checkers for the win. Sweeney was second followed by Rob Lange, Williams and Tim Ellis.
The final event of the evening was the 20 lap Bandit feature event. Dennis Johnson of Lake Mills claimed his first career feature win following post race inspection. Tyler Deporter grabbed control of the lead on lap one with Dennis Johnson up to second and Josh Marx running third. Marx drove to the outside of Johnson on lap five looking for second. Marx moved past Johnson as he tried to pull even with the early leader. On lap ten, Marx lost grip and began to fall back allowing Dixon to take a shot on the outside of Deporter. Dixon inched into the lead just as the caution waved on lap 11 for debris. Dixon restarted as the leader, and as racing resumed, he pulled out to a large lead. Johnson found his way to second with four laps to go, but Dixon was already on his way to crossing the stripe first. Following post race inspection, the Dixon was forced to vacate his finishing position, handing the win to Johnson. Dave Schmidt, Brandon DeLacy, Nick Schmidt and Marx completed the top five.
Next Saturday, May 18, is a full program of racing in all six divisions with time trials beginning at 5pm and racing at 7pm. Jefferson Speedway is located halfway between Jefferson and Cambridge on Hwy 18. Please visitwww.jeffersonspeedway.com for more information.
Jefferson Speedway Race Summary
Late Model-
Newville Auto Salvage 50 lap Feature Results- 1) Dale Nottestad, Cambridge 2) Zack Riddle, Brooklyn 3) Shaun Scheel, Lake Mills 4) Casey Johnson, Stoughton 5) Stephen Scheel, Lake Mills 6) Dan Jung, Iron Ridge 7) Roger Behlke, Jefferson 8) Dylan Schuyler, Jefferson 9) Trent Erdman, Fort Atkinson 10) Kyle Jarlsberg, Jefferson 11) Jerry Eckhardt, Johnson Creek 12) Tory Bagley, Stoughton 13) John Ovadal Jr, Watertown 14) Chris Quam, Stoughton 15) Craig Phillips, Edgerton 16) Chad Stevens, Orfordville 17) Tyler Peterson, Lake Geneva 18) Tim Sargent, S.Beloit (IL)
Fast Qualifier- Zack Riddle—14.344 seconds
Consi- Jody Krueger, Andy Brinkmann, Tom Jasinski
Last Chance- Craig Phillips, Tim Sargent, Tyler Peterson, Chris Quam
Heat Winners- 1) Kyle Smith 2) Chad Stevens 3) Dan Jung
Best Appearing Car- Chris Quam
Sportsman-
Feature Results- 1) Jim Tate Jr, Deforest 2) Kody Hubred, Cambridge 3) Jason Thoma, Jefferson 4) Kyle Chwala, Johnson Creek 5) Terry Wangsness, Jefferson 6) Steven Sauer, Waterloo 7) Joe DeCubellis 8) Seth Lootans, Kenosha 9) Mark Deporter, Fort Atkinson 10) Jason Dunn, Sun Prairie 11) Jim Taylor, Stoughton 12) Jay Kalbus, Whitewater
Fast Qualifier- Steven Sauer—15.029 seconds
Heat Winners- 1) Jim Taylor 2) Jason Thoma
Best Appearing Car- Mark Deporter
International-
Feature Results-1) Seth Reamer, Waupun 2) Jamie Shelley, Edgerton 3) Neil Higgins, Watertown 4) Mike Lambert, Madison 5) Mark English, Edgerton 6) Chris Chenoweth, Watertown 7) Casey Strese, Jefferson 8) Dylan Buckingham, Whitewater 9) Joe Cross, Sun Prairie 10) Dan Birkett, Jefferson 11) Merek Pankow, Jefferson 12) Keith Bell, Brodhead 13) Tytus Helgestad, Jefferson 14) Devin Wild, Jefferson
Fast Qualifier- Mike Lambert—16.323 seconds
Heat Winners- 1) Dylan Buckingham 2) Mark English
Best Appearing Car- Mark English
Hobby Stock-
Feature Results- 1) Chester Williams, Waukesha 2) Lucas Buckingham, Whitewater 3) Dustin Ward, Columbus 4) Phil Wuesthoff, Beaver Dam 5) Tony Ciano, Janesville 6) Craig Mertes, Antioch (IL) 7) James Helmer, Beaver Dam 8) Bobby Selsing Jr, Edgerton 9) Jim Wolf, Watertown 10) Brandon Mertes, Antioch (IL) 11) Mike Manley, Fort Atkinson 12) Nick Smalley, Antioch (IL) 13) Kevin Henderson, 14) Erik Bennett, Beloit 15) Jeff LeFave, Fort Atkinson 16) Jamie Tate, Deforest 17) Crystal O'Gorman, Lake In The Hills (IL)
Fast Qualifier- Bobby Selsing Jr—15.662 seconds NEW TRACK RECORD
Last Chance- Mike Manley, Nick Smalley, Erik Bennett, Kevin Henderson
Heat Winners- 1) Craig Mertes 2) Phil Wuesthoff
Best Appearing Car- Dustin Ward
Road Warrior-
Feature Results- 1) Bill Reynolds, Watertown 2) Bill Sweeney, Edgerton 3) Rob Lange, Jefferson 4) Chester Williams, Waukesha 5) Tim Ellis, S.Beloit (IL) 6) Rodger Stephenson, Cambridge 7) Travis Schneeberg, Cottage Grove 8) Brett Carson, Jefferson 9) Jared Larson, Jefferson 10) Kenny Storkson, Evansville 11) Jordan Lamb, Fort Atkinson 12) Chad Olds, Whitewater
Fast Qualifier- Rob Lange—16.750 seconds
Heat Winners- 1) Brett Carson 2) Bill Reynolds
Best Appearing Car- Rob Lange
Bandit-
Feature Results- 1) Dennis Johnson, Lake Mills 2) Dave Schmidt, Cudahy 3) Brandon DeLacy, Stoughton 4) Nick Schmidt, Oak Creek 5) Josh Marx, Dousman 6) Keith Erickson, Columbus 7) Devon Dixon, Janesville 8) Josh Rusch, Fort Atkinson 9) Tyler Deporter, Fort Atkinson 10) Noah Pankow, Jefferson 11) Derek Dixon, Janesville
Fast Qualifier- Derek Dixon—14.317 seconds
Heat Winners- 1) Tyler Deporter 2) Keith Erickson
Best Appearing Car- Tyler Deporter