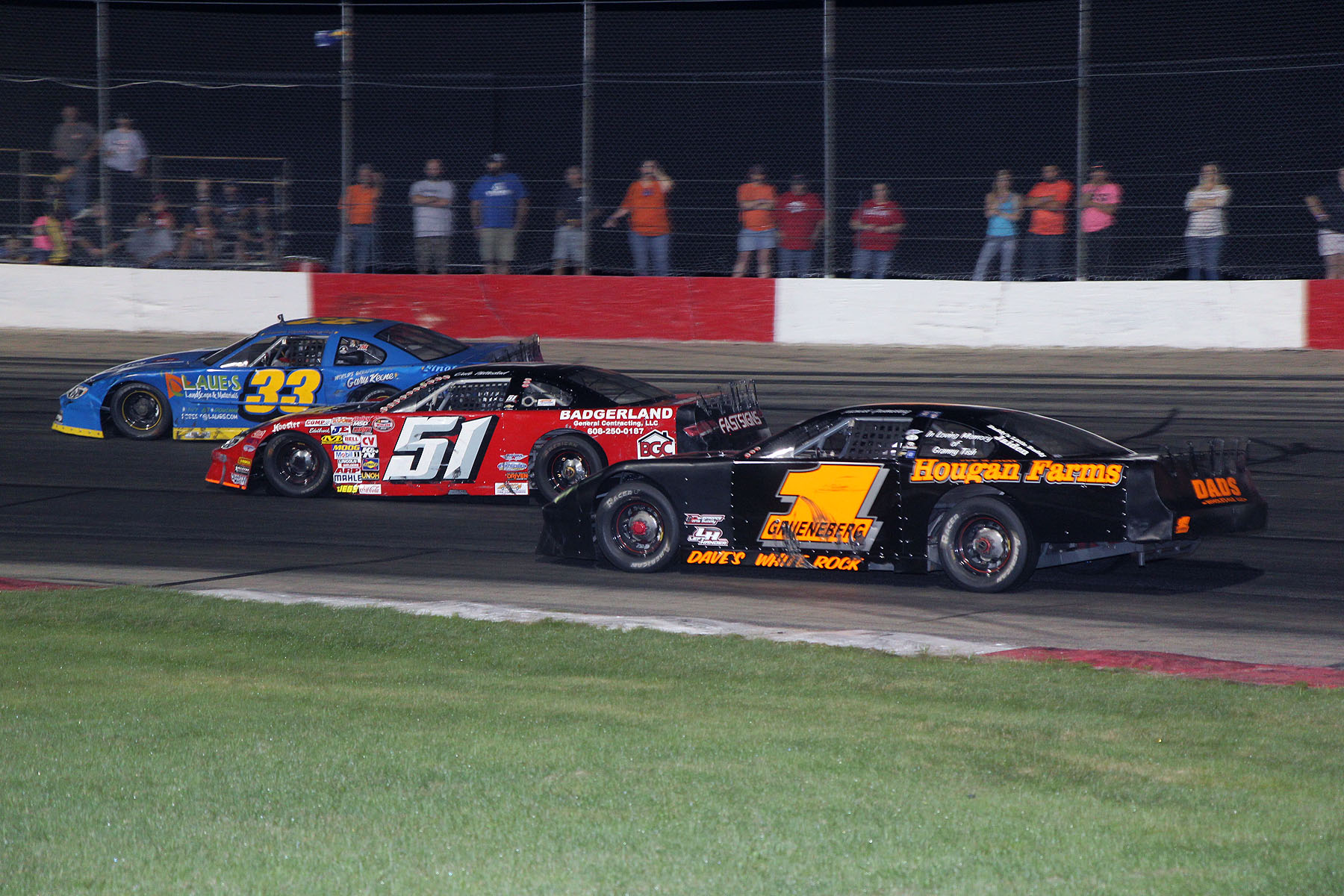 Red Hot Championship Battles Settled This Saturday
CAMBRIDGE, WI (Tuesday, September 4, 2018) It's come down to this. Since late April, the teams and drivers have been working to put themselves in position to possibly take home a championship. Plenty of ups and downs have lead to early September and the end of the 2018 racing season is around the corner. As we head into Season Championship Night presented by Griffin Ford Lincoln of Fort Atkinson, there are battles that need to be settled. Several division titles are still up for grabs with only one more night of racing to determine the season champions.

The Late Model division once again has come down to the final week of racing to determine who will wear the crown. Four time and defending champion, Dale Nottestad of Cambridge, sits atop the standings with a 26 point lead over Michael Grueneberg of Wisconsin Dells. " My approach to Saturday night will be the same as every other night, to go out and run the best we can, stay out of trouble and try to win," stated Nottestad when asked about his approach to championship night. " We will prepare like we always do at the shop, go over everything and make sure we've got the best prepared car we can." Nottestad is looking to be the first Late Model pilot to accrue 5 titles. "After winning number four last year we set a goal to come back and go for number five. Jefferson is one of the most competitive and toughest places to win, Would mean a lot to me and my team to win number five, I wouldn't be able to do it without my awesome crew and sponsors."
Meanwhile, Grueneberg is in search of his first Late Model championship. After leading the standings for a large portion of the season, Grueneberg is preparing for one last good run to get back on top, ""We have a plan and a schedule that we'll stick to this week, like every other week, to prepare our car to be the best it can be. We'll throw a few things at her to try and improve our qualifying effort and hope to grab a couple points there. Other than that, probably just take a deep breath and a minute to enjoy the incredible ride it's been." Unlike his closest two competitors, Grueneberg hasn't tasted Late Model gold yet. But capturing the title would be special for he and his team. ""Winning the Championship would mean the world to us! It would be the ultimate reward for working our butts off week in and week out to prepare and improve the car over the past four years." Grueneberg continued, "I feel we're one of the best prepared and hardest working teams out there. It would be great to share the title with everyone that has given so much time and effort towards our goal."
Lurking in third is Watertown's John Ovadal Jr. Ovadal is fresh off his first feature win of the season and is looking to ride the wave of momentum into championship night. But he knows it's going to be a tall task. "Well, to have a chance at the championship, a quick time and a feature win would be great! But with the level of competition I'm running against, it's a long shot. I've done it before though, run hard and no mistakes and you never know!" The thought of acquiring a second title is something that drives Ovadal. " Winning another championship would be like a dream come true. It's been a long time since the first and it would almost be like a confirmation that I am a good racer. The guys that help me are not just crew guys, they are my best friends. They are like family to me, and giving them a gift like that would be amazing. It would justify all the hard work we've all done." The battles on the track should be intense this Saturday night as we close out the 50th season of operation at Jefferson Speedway under Tucker Family ownership.
In the Sportsman division, Watertown racer, Chris Chenoweth, owns a 101 point advantage over Jason Thoma of Jefferson. Chenoweth merely needs to take the green flag on Saturday night to wrap up his first Sportsman championship. Chenoweth has been consistent all season long, scoring five feature wins along the way. His feature win on the final night of the Badgerland Challenge Series, a four race event held between Jefferson Speedway and Madison International Speedway, helped give his home track the overall win in the series. Chenoweth most recently captured the overall title in the Sportsman Challenge Series, a three night event held at Jefferson Speedway. Chenoweth already owns one title at Wisconsin's Action Track, taking the International track championship in 2014. He appears poised to pick up his second division title in 2018.
Another tight battle amongst more than one contender exists in the International division. Watertown's Scott Hoeft holds down the top spot with Fort Atkinson's Mike Lambert only 35 points back in second and Edgerton's Mark English 3 points further back. Hoeft is looking to finish strong and clinch his third International title. "We definitely didn't think we would be in this position headed into Championship Night. We have 3 guys that have won championships before so it's going to be intense," said Hoeft. It's been a seesaw battle on the track and in the point standings all season for the International class. And Hoeft knows that will hold true this Saturday night as well, "What a great battle all year. All 3 of us have held the point lead at some point this season. It would mean a ton to win our 3rd Championship. Mike and Mark are fierce competitors and the gloves are pretty much off at this point. Hopefully we bring a good piece and can hold them off for the Championship."
Lambert is trying to rebound from a season he'd rather forget in 2017. A hard wreck cut short his bid for a fourth title as well as a second back to back campaign. "After last year's accident I knew I wanted to come back but I didn't know how this year would go. My dad did everything he could to build me a winning car. Being able to come back and win a championship would mean a lot to me and my family," stated Lambert.
One of the most decorated International racers in track history is Edgerton's Mark English. English is looking to gain a record sixth championship in the division. "I'm going to prepare the car the same as every week and show up Saturday to win. All I can do is make sure we run as good as possible and hope for the best," said English. "A chance for my sixth championship has been a rough two years trying to get. We've run good enough but seems like engine problems have been the issue. I'm going to try everything I can to win it but I'm probably going to need a little luck on my side. Scotty and Mike are also running good so Saturday should be interesting."
Yet another very close competition in the standings resides in the Hobby Stock class. Jim Tate Jr of Doylestown owns the top spot in the standings. Sitting in second, 17 points behind, is Beaver Dam's Phillip Wuesthoff. Tate already has three Hobby Stock championships under his belt at Jefferson Speedway. Adding a fourth would be a welcome accomplishment. "We have had great success in the hobby stocks and sportsman classes, winning championships in both. At the end of the day we do it because we love it and will continue to work towards another in 2019," exclaimed Tate. Wuesthoff has one championship in the Bandit division, but is in search of his first Hobby Stock crown. Waukesha's Chester Williams remains in striking distance with Scott and Bud Riedner rounding out the top five.
In Road Warrior action, Fort Atkinson's Chris Gottschalk looks to put a bow on his fourth championship in the division including his third in a row. With a nearly 100 point advantage over Bill Sweeney, his chances look strong. Nick Schmidt of Watertown also holds an almost 100 point lead in the Bandit division standings as he looks to clinch his third title and his first since 2014.
After the dust settles on Griffin Ford Lincoln of Fort Atkinson Championship Night, who will be standing tall as track champion? The best way to know is to get out to Wisconsin's Action Track and see it unfold for yourself! All the action kicks off on Saturday, September 8, with time trials at 5pm and the first green flag of the night at 7pm. Jefferson Speedway is located halfway between Jefferson and Cambridge on Hwy 18. Please visit jeffersonspeedway.com for more information.