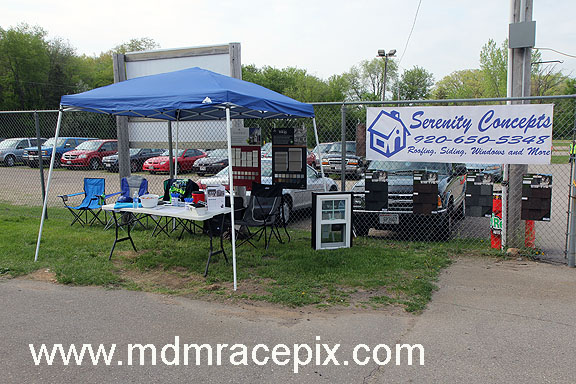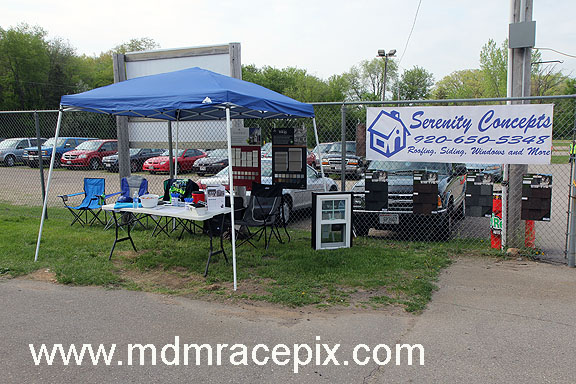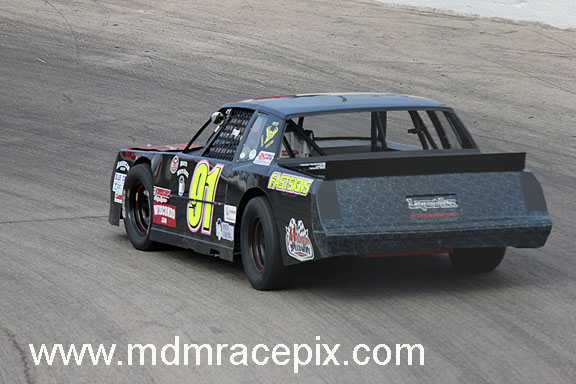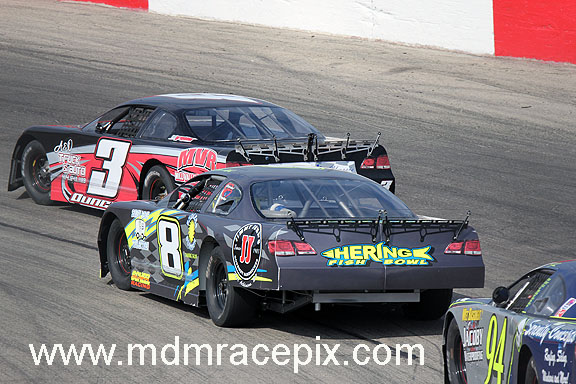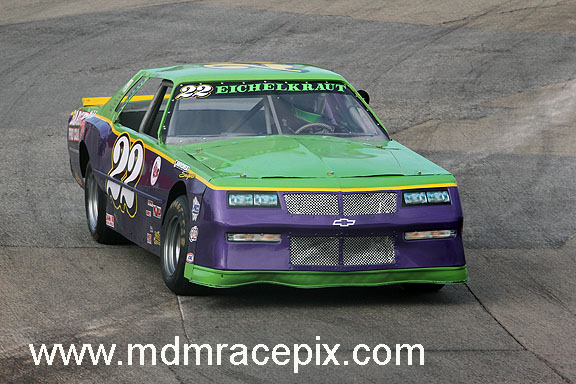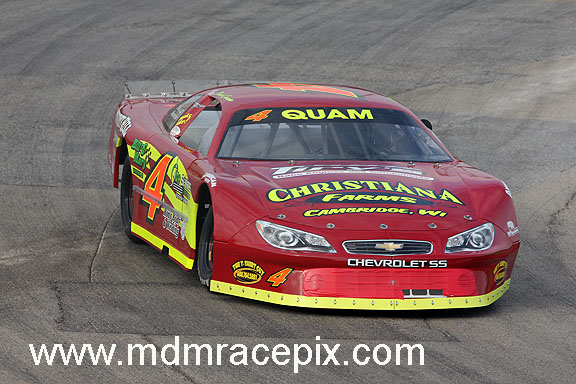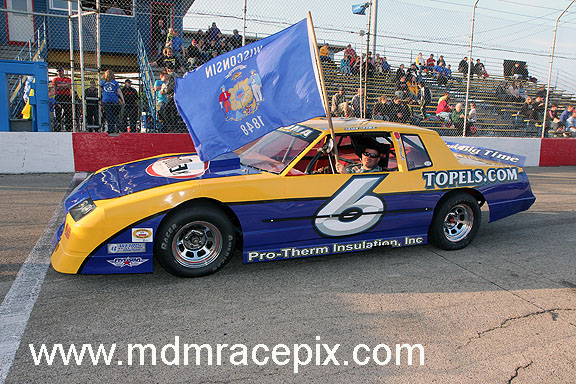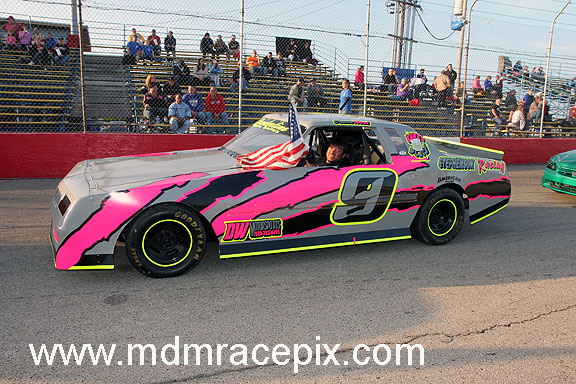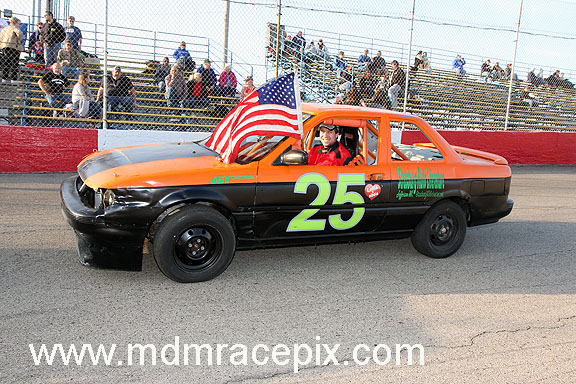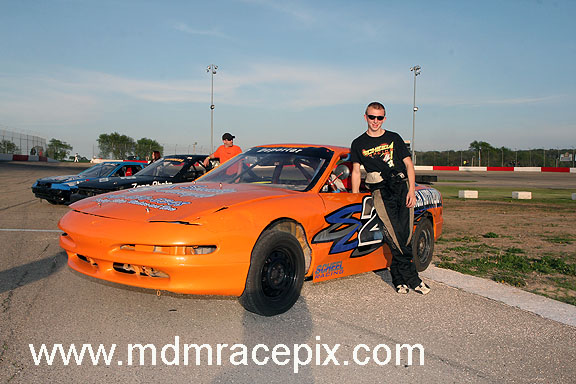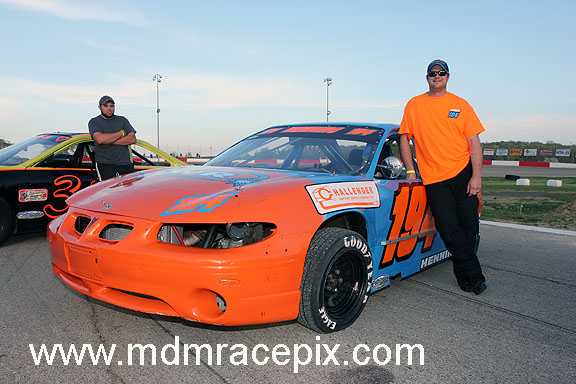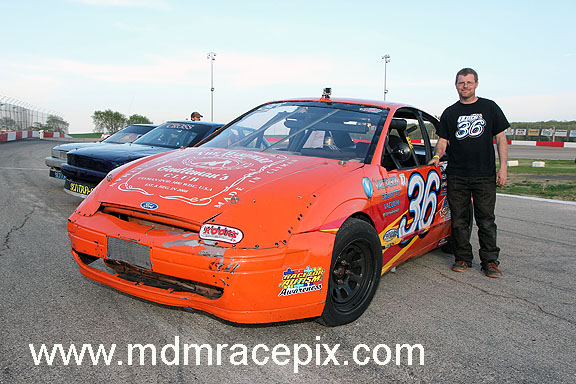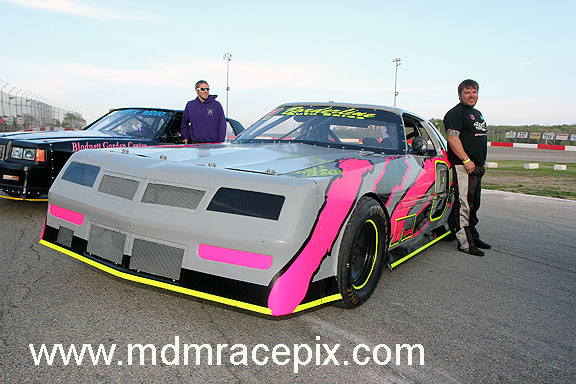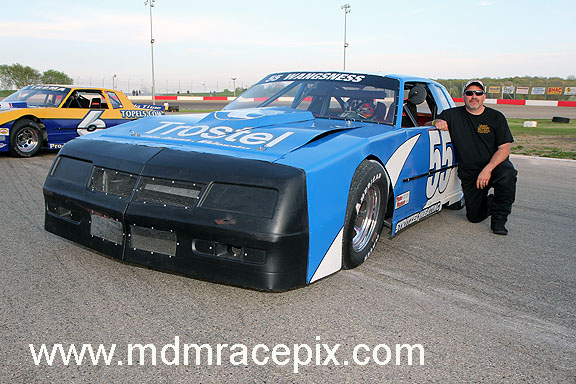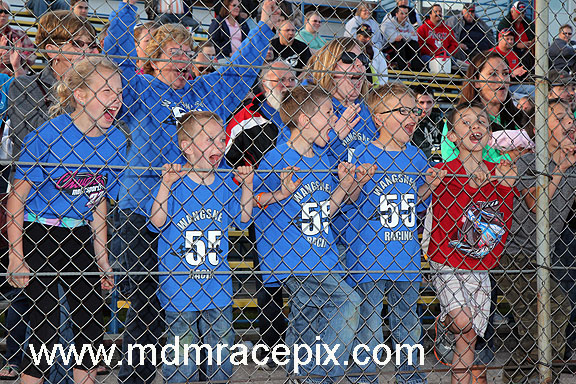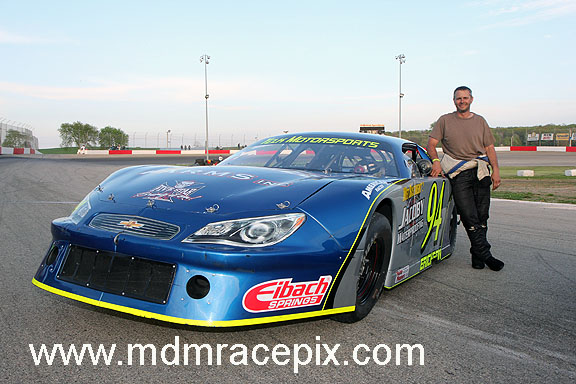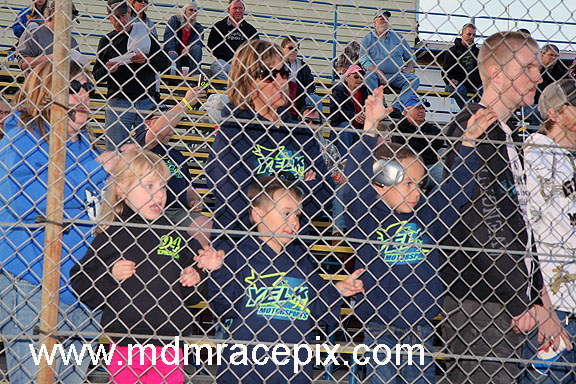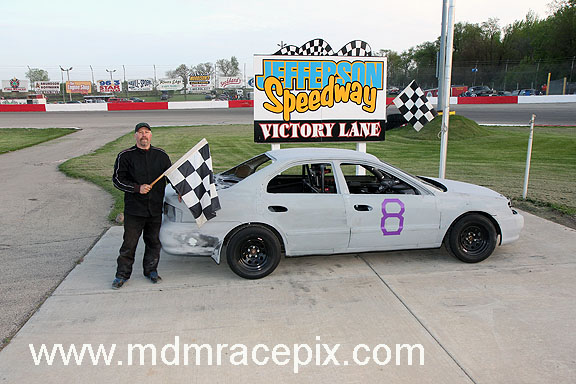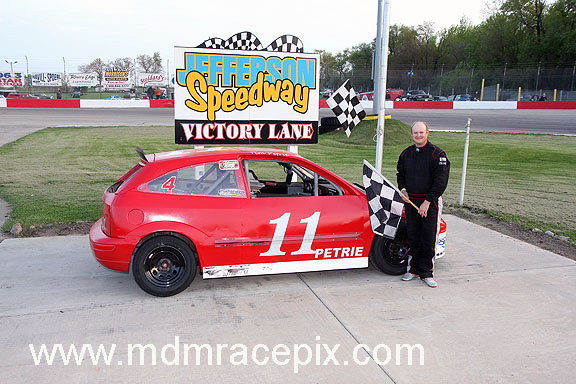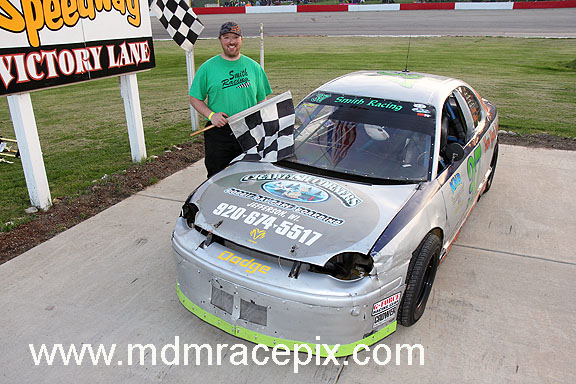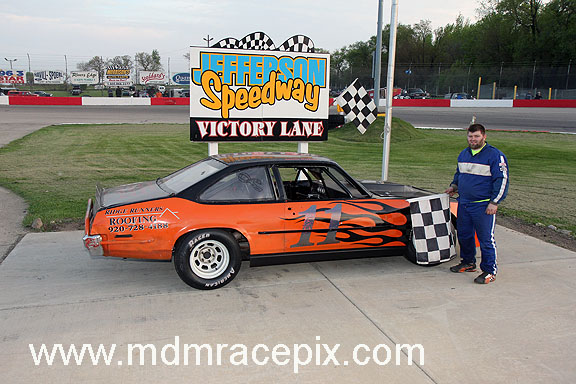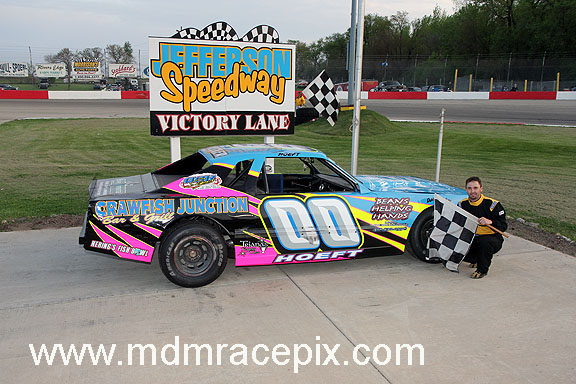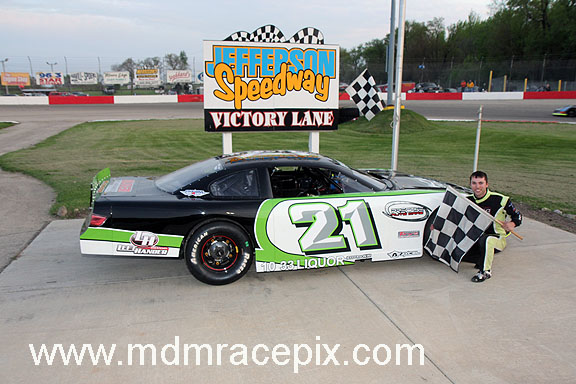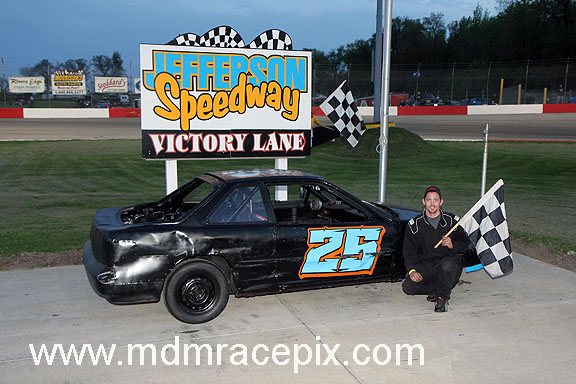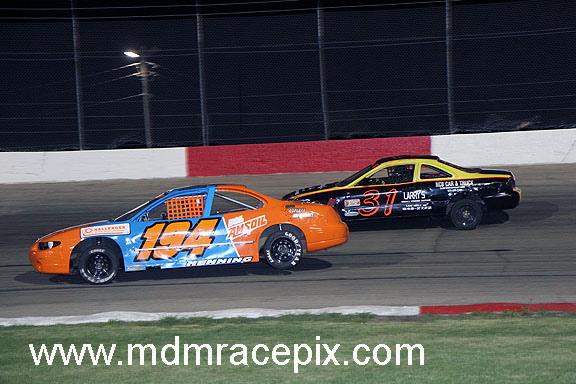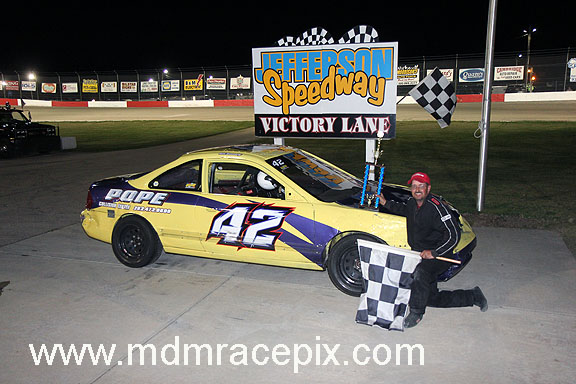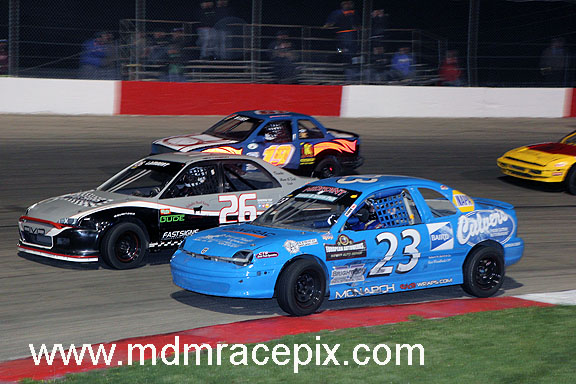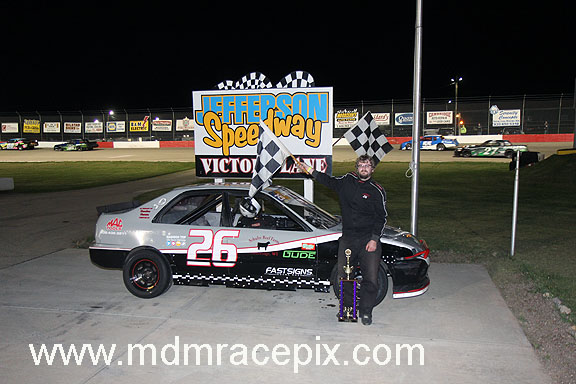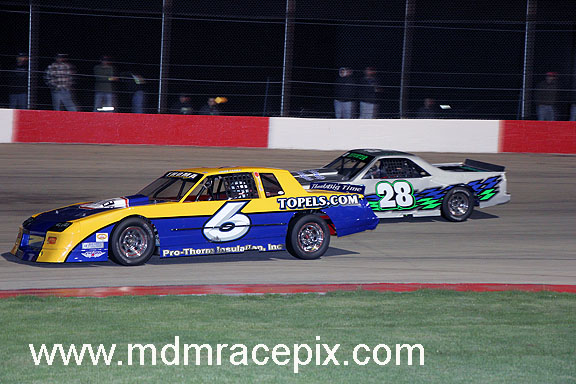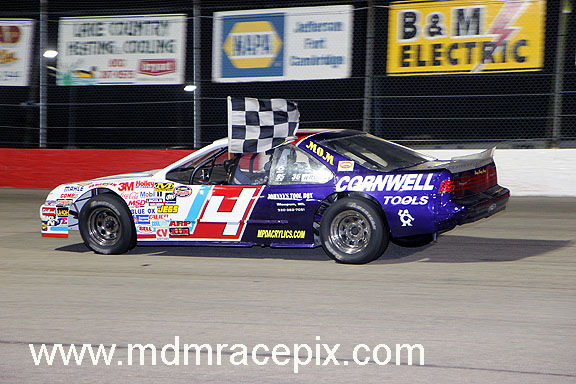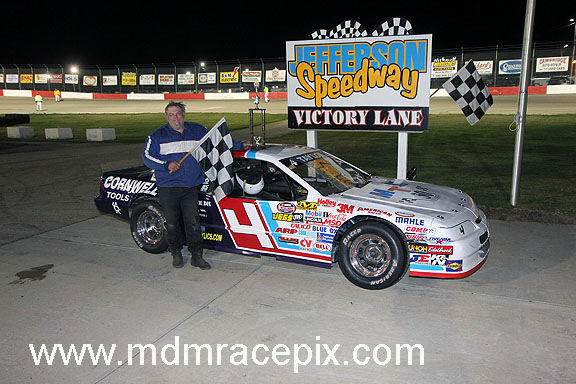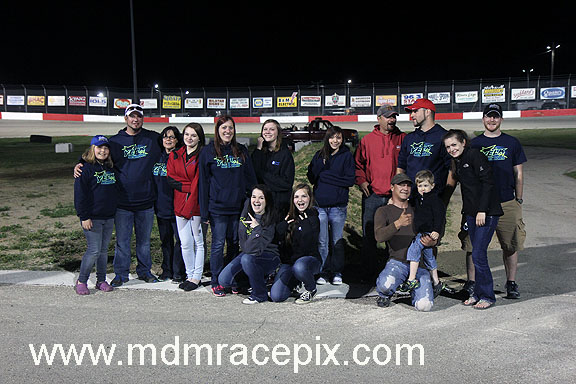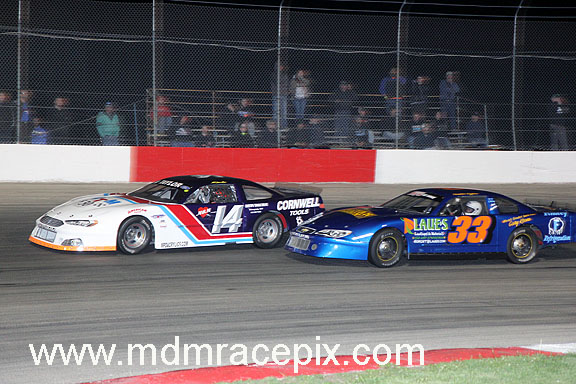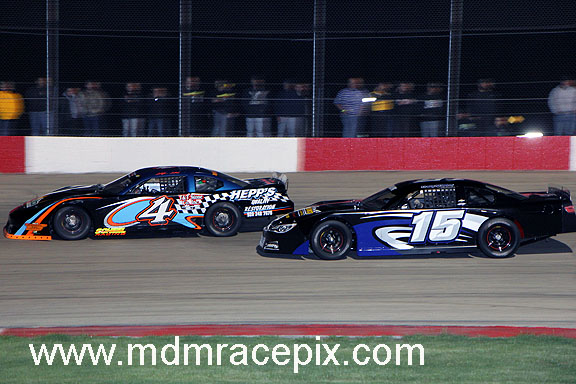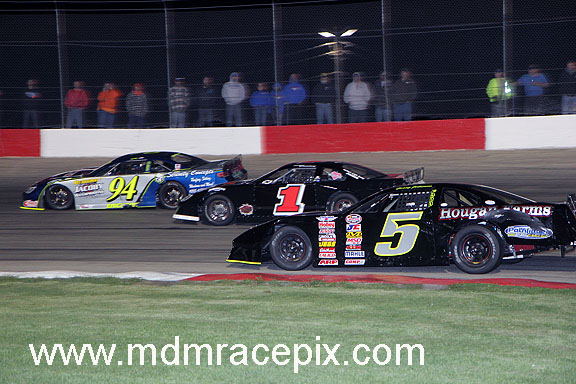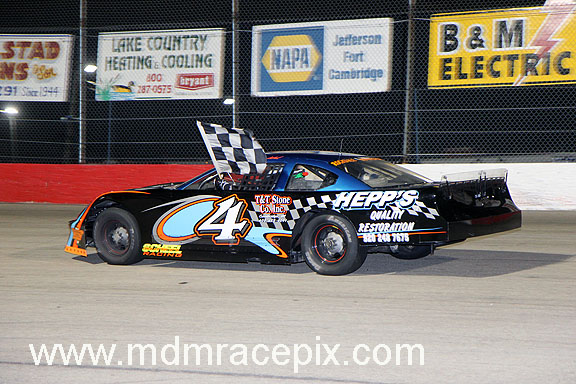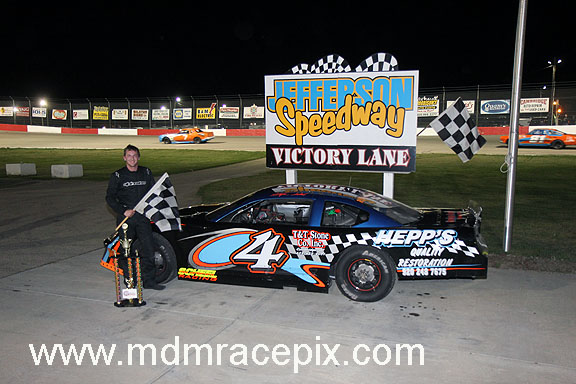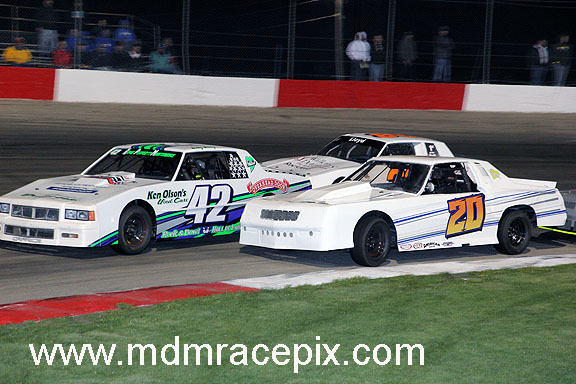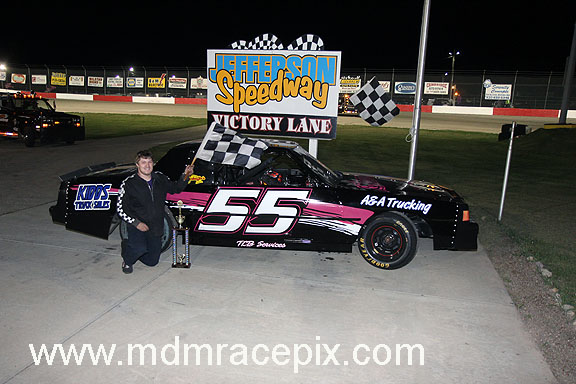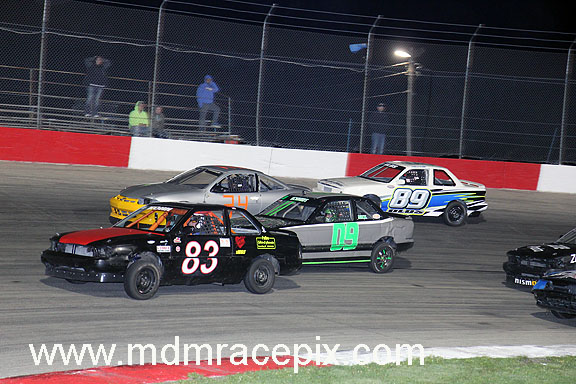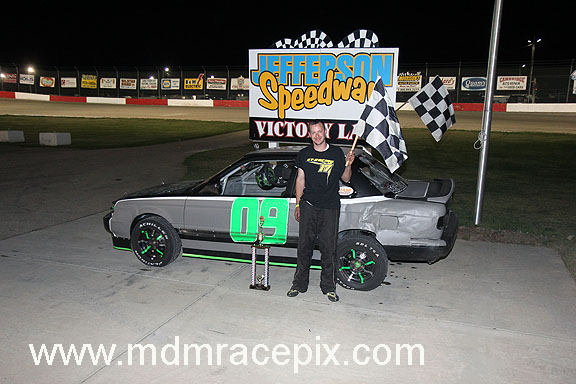 Scheel Captures Serenity Concepts 50
JEFFERSON, WI  (Saturday, May 9, 2015) Stephen Scheel of Lake Mills took top honors at Jefferson Speedway on Saturday night by winning the Serenity Concepts 50 lap Late Model main event. Scheel grabbed the lead early and held off a hard charging Craig Phillips to claim the victory.
Tyler Peterson and Chris Quam paced the field of hot shoes to the drop of the green. Quam held a slight advantage as they completed lap one. Quam cleared for control of the lead on lap two with John Ovadal Jr following into second and Stephen Scheel in third. The first of three cautions waved on lap four when Ovadal spun exiting turn four. Ovadal escaped major damaged as he was relegated to the rear of the field on the restart. As racing resumed, Scheel moved up to challenge Quam for the top spot. On lap five, Scheel got under Quam entering turn three as the leaders raced side by side. Scheel moved past Quam for sole possession of the lead a lap later with Quam back to second followed by Phillips in third. Phillips went to work on Quam for the second spot, getting to his inside on lap 13. After a four lap battle, Phillips claimed the runner up spot on lap 17. The leaders raced single file while several battles for position raged behind them. The second caution slowed the field on lap 29 when Kyle Smith spun exiting turn four. Once racing resumed, Scheel and Phillips began to break away from the rest of the pack with Phillips remaining tight on Scheel's rear bumper. Phillips continued to apply heavy pressure to the leader with Scheel keeping him at bay with each passing lap. A final caution on lap 46 set up a four lap shootout to the checkers, but Scheel remained in control to cross the stripe first for the win. Phillips settled for second followed by Dylan Schuyler, Casey Johnson and Quam.
Stoughton's Jim Taylor led all 30 laps of the Sportsman main event to claim his first win of 2015. Taylor took control of the point on lap one from the pole with Mike Storkson dropping into second. On lap three, Mike Winters moved past Scott Hoeft for the third spot with Tony Ciano right behind in fourth. Winters got alongside Storkson for second on lap eight while Ciano watched closely from fourth. Winters cleared for second on lap ten with Ciano still in his tracks. Ciano quickly went to work on the new second place machine, driving under Winters and stealing the position on lap 12. Ciano spent the remainder of the caution free feature race trying to run down Taylor. But Taylor stayed strong out front to see the checkers first and claim the win. Ciano was second with Jay Kalbus, Terry Wangsness and Jason Thoma rounding out the top five.
Madison's Mike Lambert claimed the 20 lap International feature event. Gary Stark Jr took the early lead from the front row while Keith Bell and Brandon DeLacy battled for second behind him. Stark began to stretch his advantage while the fight for second between DeLacy and Bell was joined by Merek Pankow. While Stark grew his lead, Pankow battled up to second with Lambert in his tracks for third. Lambert drove to the high side of Pankow, claiming second on lap ten. Lambert began to reel in Stark who was enjoying a healthy advantage. Lambert chipped away at Stark's lead until finally catching him with six laps to go. Lambert again drove to the outside, clearing for the top spot on lap 15 and driving away to the checkers for the win. Stark finished second followed by Seth Reamer, Pankow and DeLacy.
In Hobby Stock action, it was Lucas Buckingham of Whitewater leading flag to flag to capture the 25 lap feature event. Jim Wolf and Buckingham led the field to green with Buckingham leading lap one by a nose. A quick caution on lap two handed sole possession of the lead to Buckingham with Wolf running second and Wayne Buchs in third. Buchs went to work on Wolf as racing restarted. After a brief battle, Buchs claimed the position behind Buckingham. The battle for third through sixth got hot and heavy as AJ Lloyd, Bobby Selsing Jr and Dustin Ward were trying to make their way to the front. Buckingham continued to show the way with Buchs right behind in second. As they flew towards the white flag, Wolf and Selsing made heavy contact resulting in both drivers being forced to slow. Ward pounced on the opening as he slid into third with Selsing regaining control and Wolf falling back into the field. Buckingham charged across the stripe to see the checkers first with Buchs on his bumper for second. Ward was third followed by Selsing and Dylan Buckingham.
Bill Sweeney of Aztalan was the winner of the 20 lap Road Warrior feature event. Lucas Stephenson and Charles Novotny led the field to green with Stephenson taking the early lead. After an early caution on lap two, Stephenson and Novotny restarted side by side with Bill Reynolds and Tom Dorn right behind. Stephenson regained the point on the restart with Reynolds sliding up to second. Reynolds charged past Stephenson to take the lead with Sweeney already up to second on lap four. Sweeney drove to the high side of Reynolds on lap five, clearing for the position as they entered turn three. Craig Henning followed Sweeney around Reynolds on lap seven as the leaders began to pull away from the rest of the pack. Sweeney remained in control of the race as he cruised to the checkers for the win. Henning was second with Kenny Storkson, Bryan Gottschalk and Dorn completing the top five.
In Bandit feature action, it was Nick Schmidt of Watertown taking top honors in the 20 lap affair. Bill Kohn led early from the front row with a jumble of drivers fighting for second behind him. Schmidt slid into control of the second spot on lap three as he drove alongside Kohn for the lead. Schmidt took the position a lap later with Josh Marx in tow for second. After a caution on lap nine, Schmidt restarted alongside Marx with Schmidt regaining the point on lap ten. Jamie Kohn moved up to battle with Marx for second on lap 11 with Kohn taking the position for himself on lap 13. Kohn moved up to take a shot at the leader, but Schmidt kept him at bay to see the checkers first and get the win. Following post-race inspection, Adam Schook was awarded second with Dustin Yanke, Tyler Deporter and Bill Kohn rounding out the top five.
Next Saturday, May 16, is a full program of racing in all six divisions highlighted by the Stoddard's Meat Market 50 lap Late Model feature. Time trials begin at 5pm with racing at 7pm. Jefferson Speedway is located halfway between Jefferson and Cambridge on Hwy 18. Please visit www.jeffersonspeedway.com for more information.
JEFFERSON SPEEDWAY RACE SUMMARY
Late Model – Feature Results- 1) Stephen Scheel, Lake Mills  2) Craig Phillips, Edgerton  3) Dylan Schuyler, Jefferson  4) Casey Johnson, Edgerton  5) Chris Quam, Stoughton  6) Trent Erdman, Fort Atkinson  7) Kyle Taylor, Deerfield  8) Michael Grueneberg, Madison  9) Luke Westenberg, Jefferson  10) John Ovadal Jr, Watertown  11) Tyler Peterson, Lake Geneva  12) Duke Long, West Bend  13) Kyle Smith, Lake Mills  14) Jerry Eckhardt, Johnson Creek  15) Brandon Pendleton, Helenville  16) Jason Erickson, Fort Atkinson  17) Shaun Scheel, Lake Mills  18) Chuck Duncan, Milwaukee
Fast Qualifier- Jason Erickson—14.303 seconds
Last Chance- Brandon Pendleton, Casey Johnson, Duke Long, Chuck Duncan
Heat Winners- 1) Brandon Pendleton  2) Shaun Scheel  3) John Ovadal Jr
Beat Appearing- Jason Erickson
Sportsman – Feature Results- 1) Jim Taylor, Stoughton  2) Tony Ciano, Janesville  3) Jay Kalbus, Whitewater  4) Terry Wangsness, Jefferson  5) Jason Thoma, Jefferson  6) Mike Winters, Sun Prairie  7) Andy Welter, Cedarburg  8) Adam Bleskan, Menomonee Falls  9) Mike Storkson, Evansville  10) Russ Nicholson, Madison  11) Scott Hoeft, Watertown  12) Tom Schuette, Fort Atkinson  13) Mark Deporter, Fort Atkinson  14) Joe Shelby, Slinger  15) Jason Kubicz, Whitewater  16) Tim Coley, Madison
Fast Qualifier- Jason Thoma—14.782 seconds NEW TRACK RECORD
Last Chance- Jason Kubicz, Joe Shelby, Russ Nicholson, Adam Bleskan
Heat Winners- 1) Jason Kubicz  2) Scott Hoeft
Best Appearing- Terry Wangsness
International – Feature Results- 1) Mike Lambert, Madison  2) Gary Stark Jr, Waterloo  3) Seth Reamer, Waupun  4) Merek Pankow, Jefferson  5) Brandon DeLacy, Fort Atkinson  6) Keith Bell, Brodhead  7) Neil Higgins, Watertown  8) Dan Birkett, Jefferson  9) Tim Petrie, Whitewater  10) Jason Uttech, Watertown  11) Joe Cross, Sun Prairie  12) Noah Pankow, Jefferson  13) Trent Rueth, Fort Atkinson
Fast Qualifier- Mike Lambert—16.446 seconds
Heat Winners- 1) Tim Petrie  2) Seth Reamer
Best Appearing- Jason Uttech
Hobby Stock – Feature Results- 1) Lucas Buckingham, Whitewater  2) Wayne Buchs, Mazomanie  3) Dustin Ward, Waterloo  4) Bobby Selsing Jr, Johnson Creek  5) Dylan Buckingham, Whitewater  6) AJ Lloyd, Loves Park (IL)  7) Jeff LeFave, Fort Atkinson  8) Jared Vike, Columbus  9) Boyd Eichelkraut, Stoughton  10) Joey Thomas, Rockford (IL)  11) Jon Benninger, Windsor  12) Jim Wolf, Watertown  13) Cody Buchs, Mazomanie  14) Eric Bennett, Beloit  15) Korey Bengsch, Sun Prairie
Fast Qualifier- Dustin Ward—15.716 seconds
Heat Winners- 1) Lucas Buckingham  2) Jared Vike
Best Appearing- Dustin Ward
Road Warrior – Feature Results- 1) Bill Sweeney, Aztalan  2) Craig Henning, Helenville  3) Kenny Storkson, Evansville  4) Bryan Gottschalk, Jefferson  5) Charles Novotney, Fort Atkinson  6) Lucas Stephenson, Beloit  7) Bill Reynolds, Watertown  8) Chester Williams, Waukesha  9) Tom Dorn, Fort Atkinson
Fast Qualifier- Kenny Storkson—16.770 seconds
Heat Winners- 1) Bill Reynolds  2) Bill Sweeney
Best Appearing- Craig Henning
Bandit – Feature Results- 1) Nick Schmidt, Watertown  2) Adam Schook, Whitewater  3) Dustin Yanke, Fort Atkinson  4) Tyler Deporter, Fort Atkinson  5) Bill Kohn, Madison  6) Devon Dixon, Janesville  7) DJ Hill, Fort Atkinson  8) Tara Belz, Sun Prairie  9) Chad Olds, Whitewater  10) Ryan Ostenson, Beloit  11) Jamie Kohn, Madison  12) Josh Marx, Dousman
Fast Qualifier- Jamie Kohn—17.158 seconds
Heat Winners- 1) Ryan Ostenson  2) Nick Schmidt
Best Appearing- Tyler Deporter