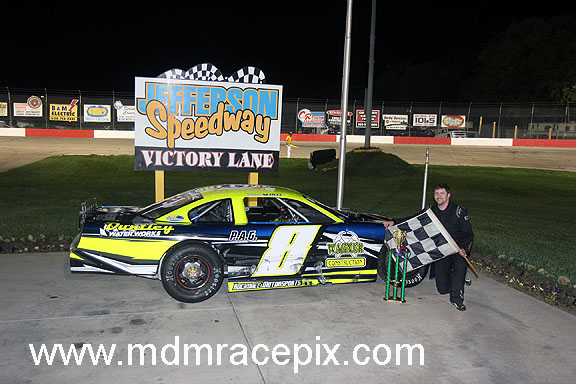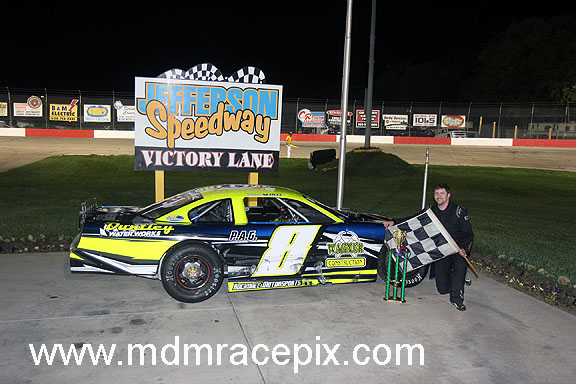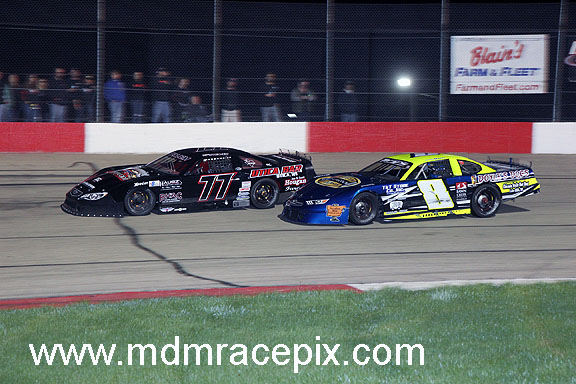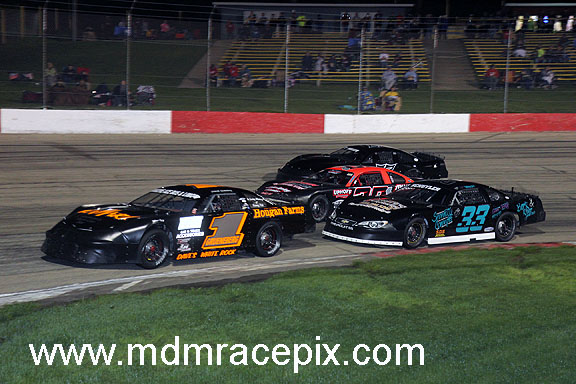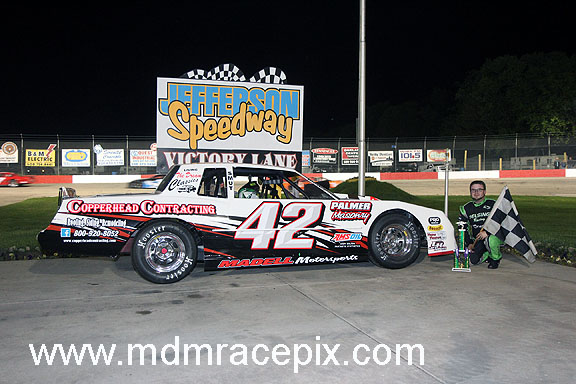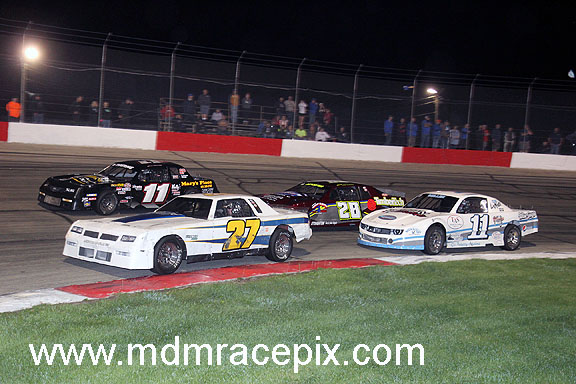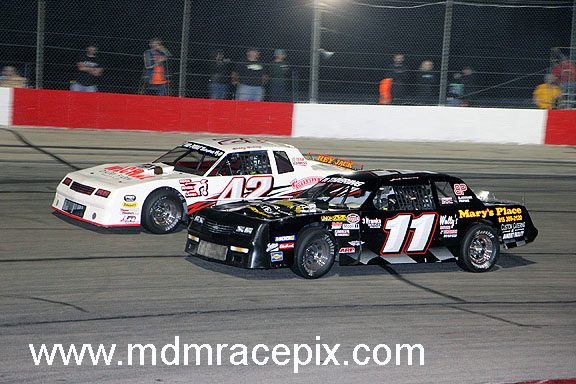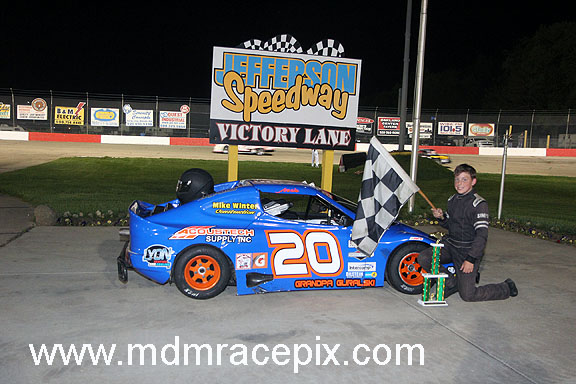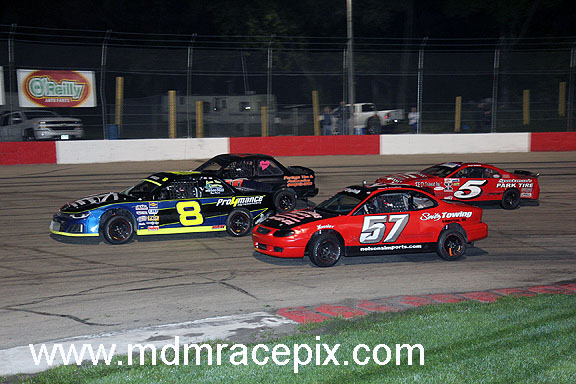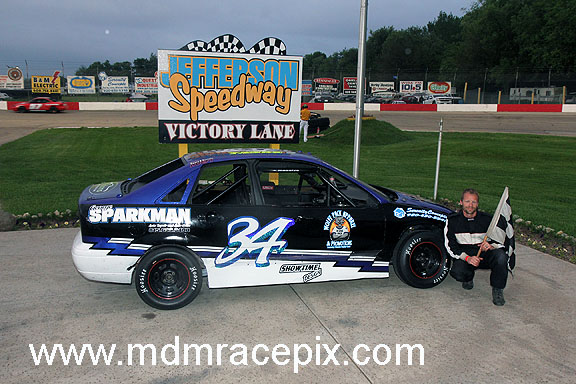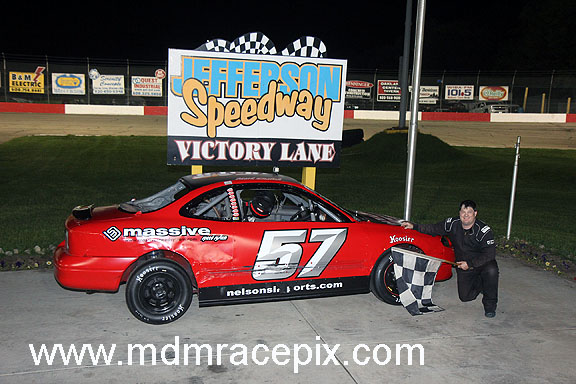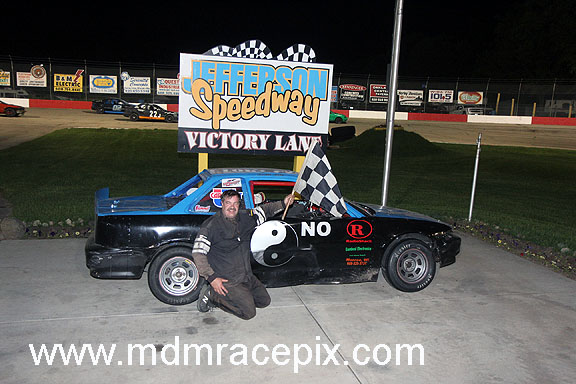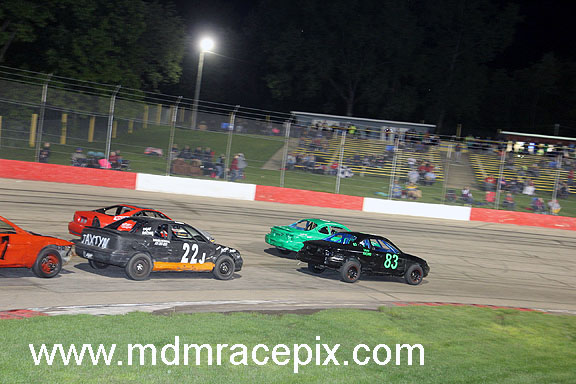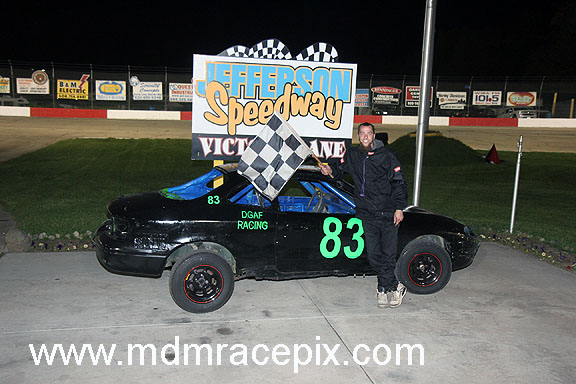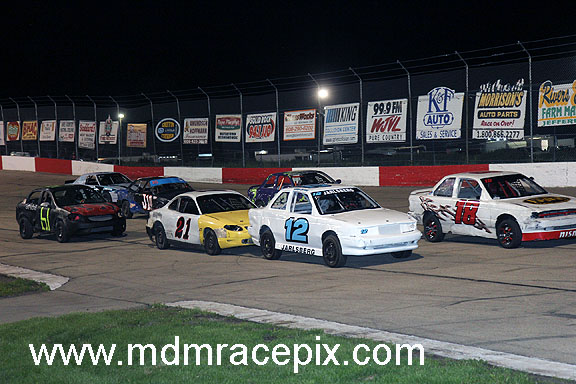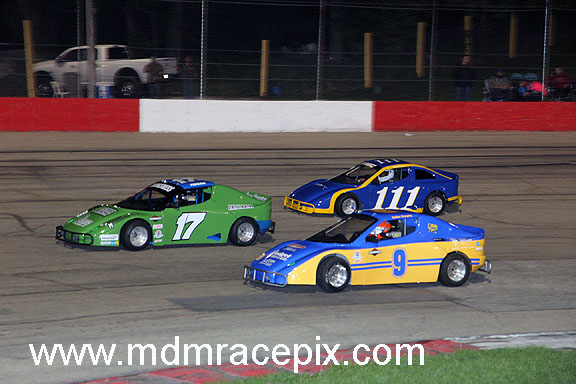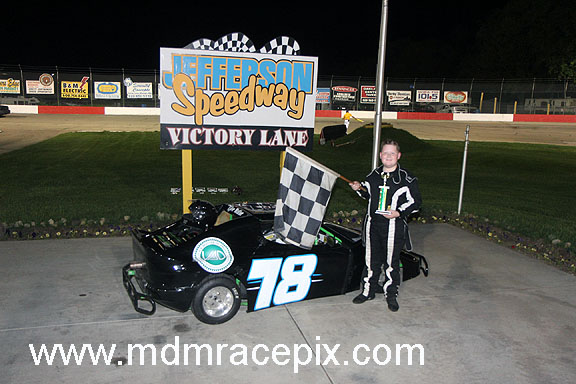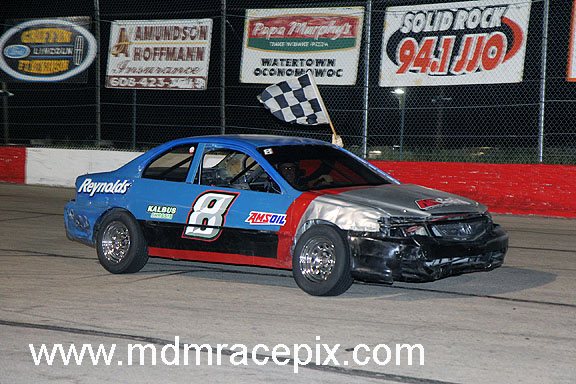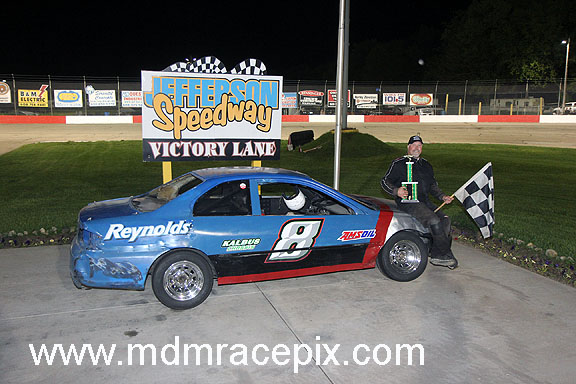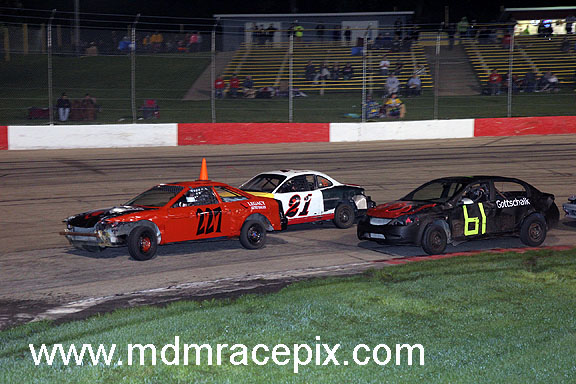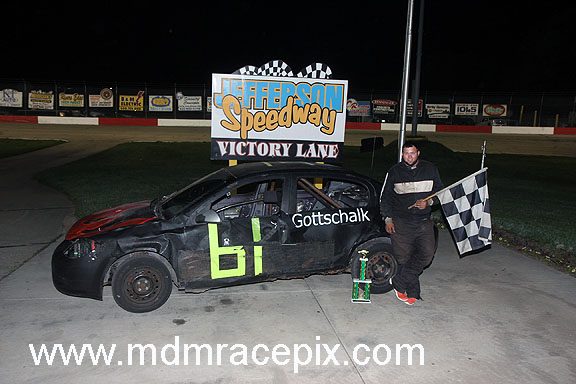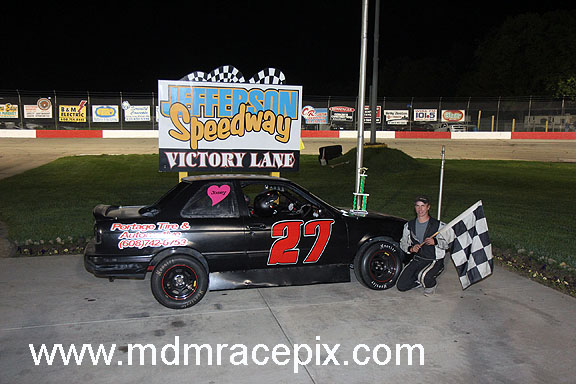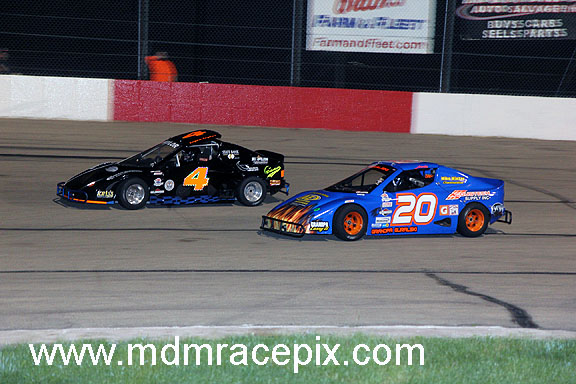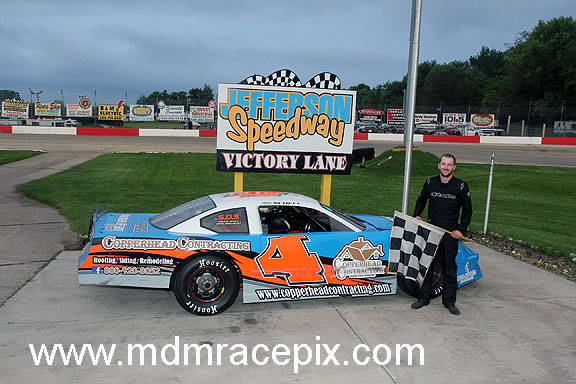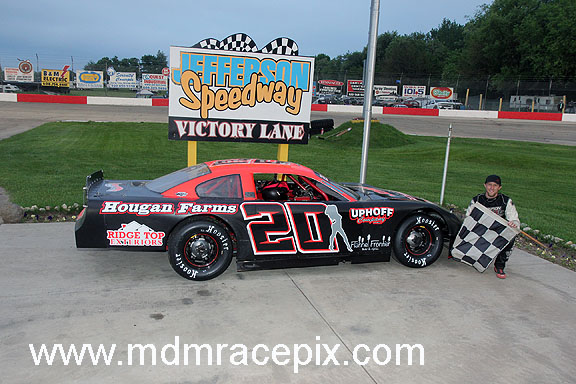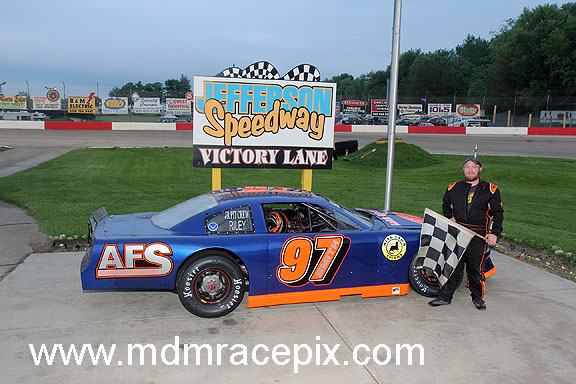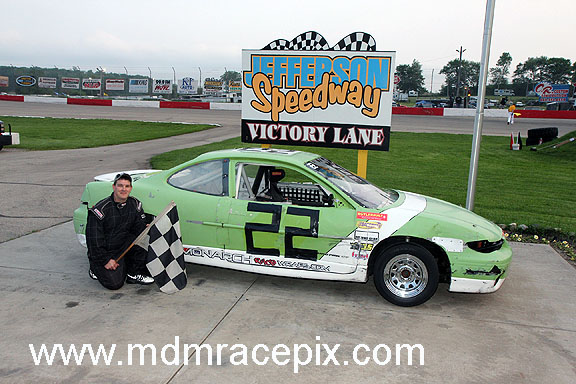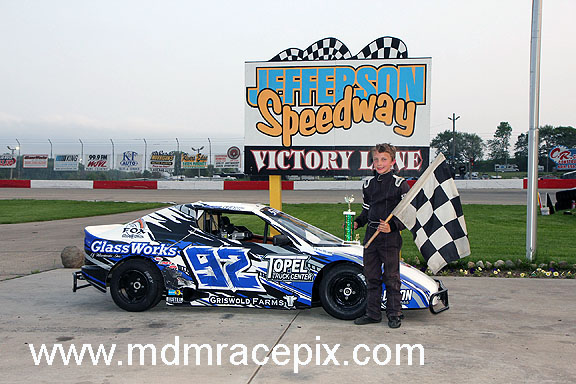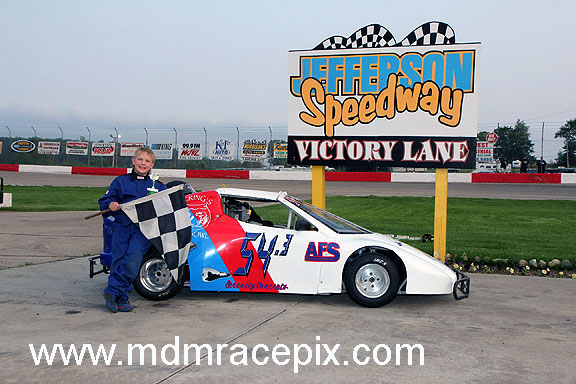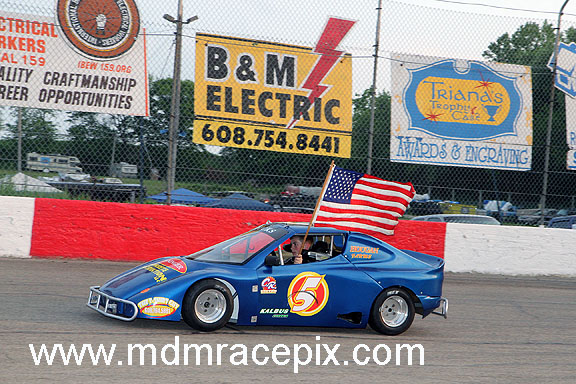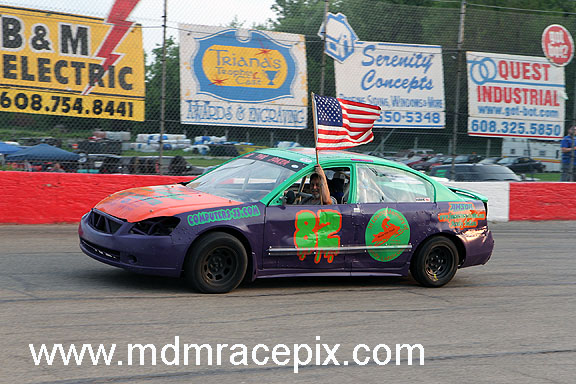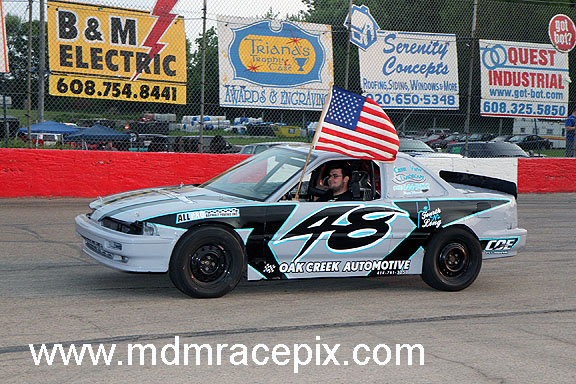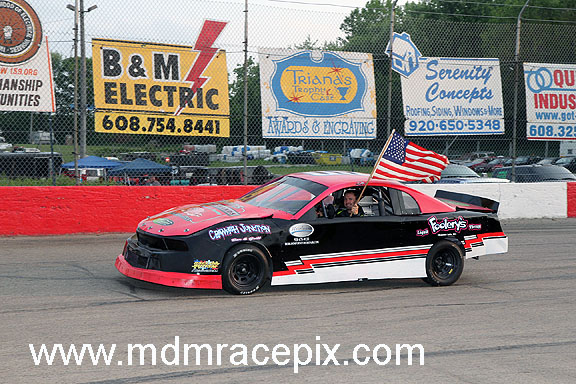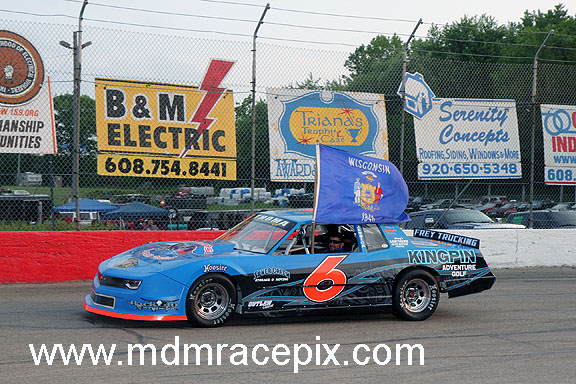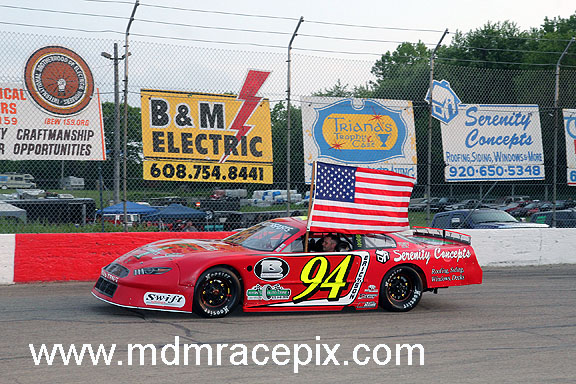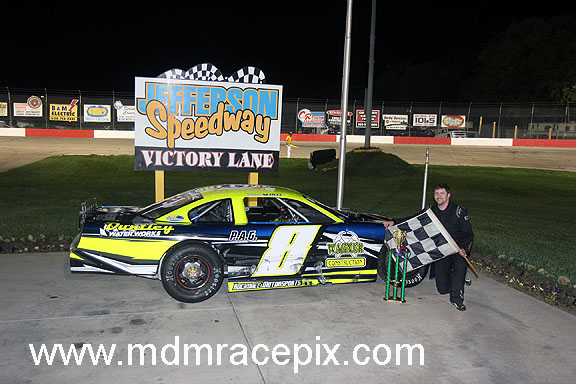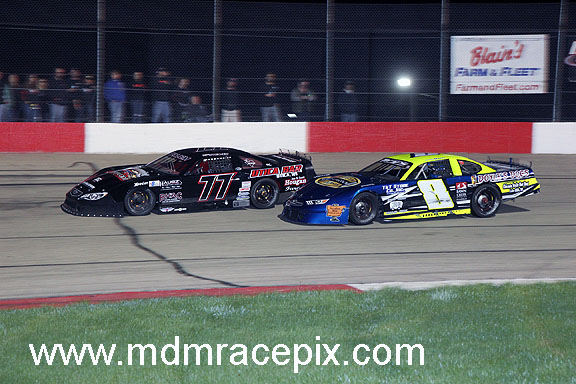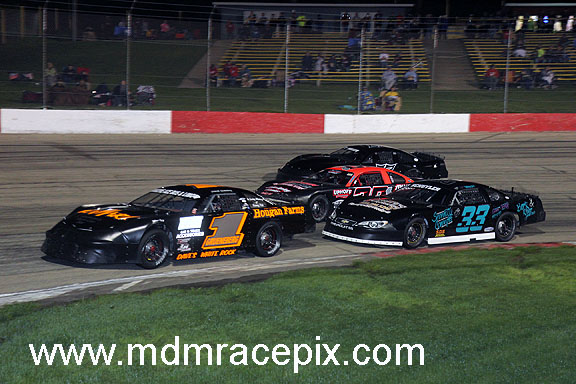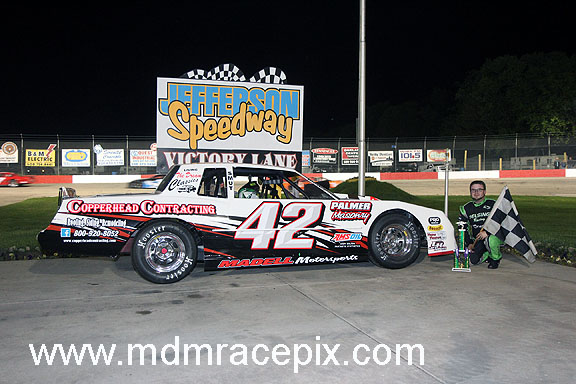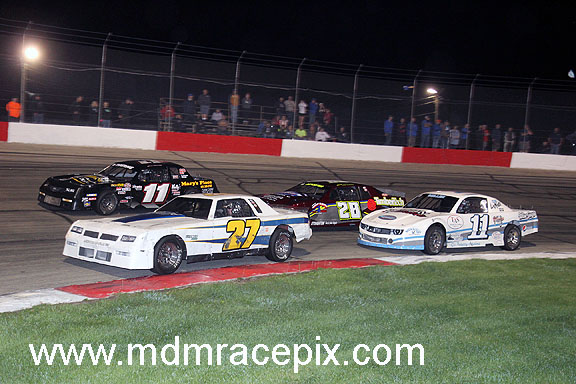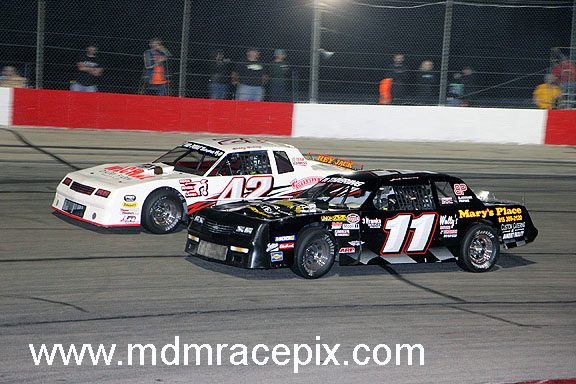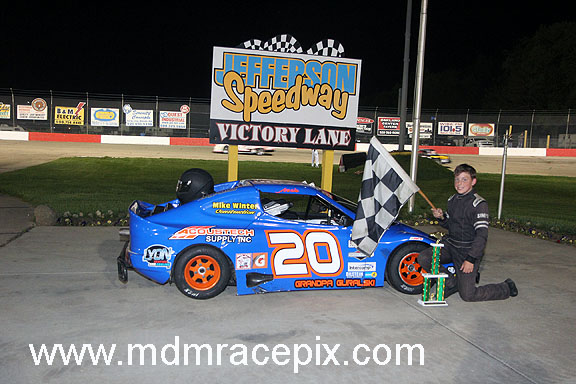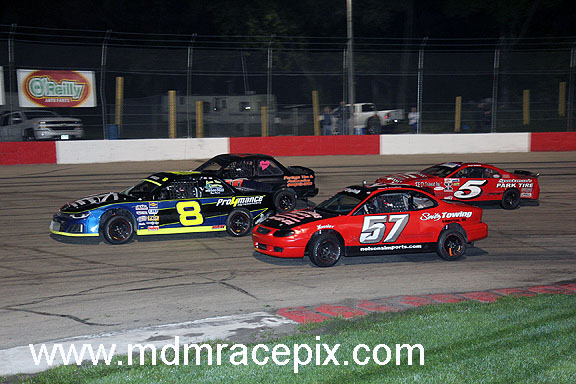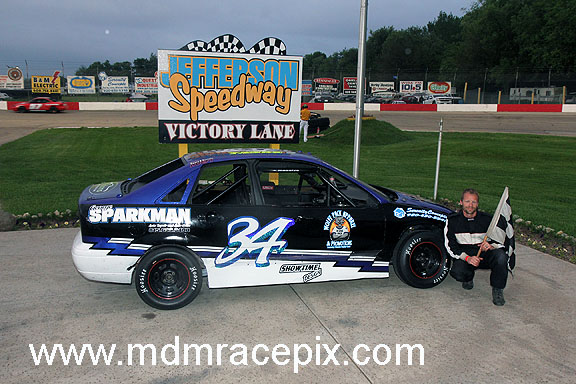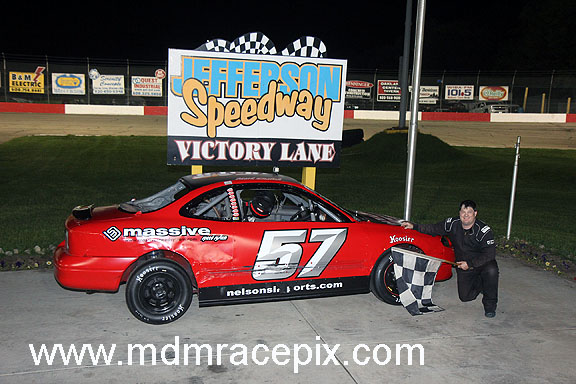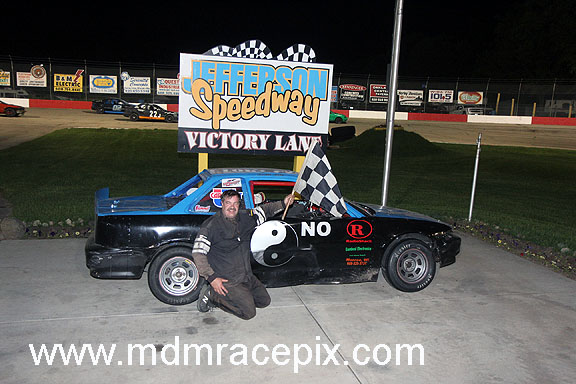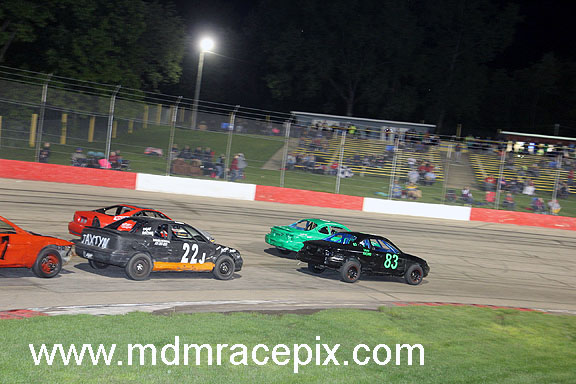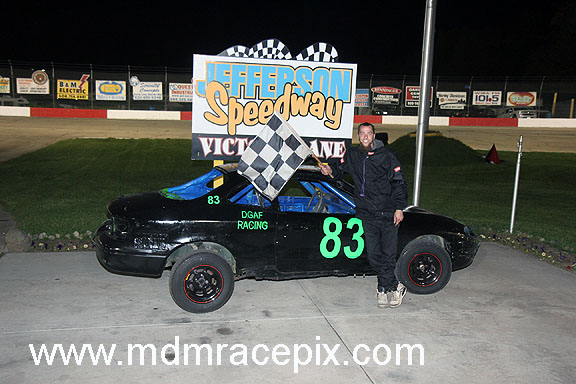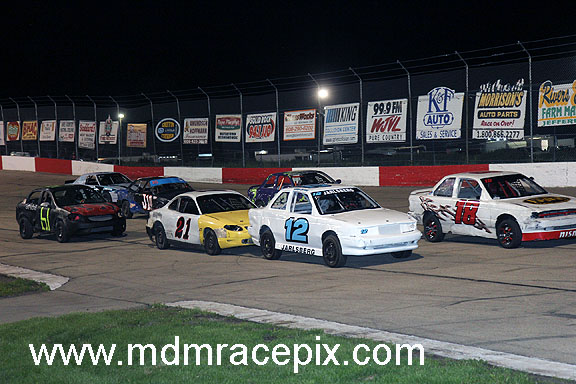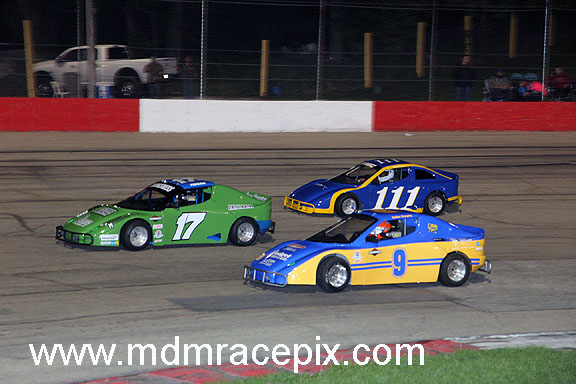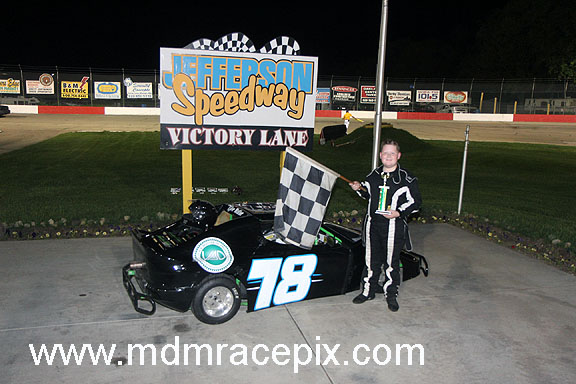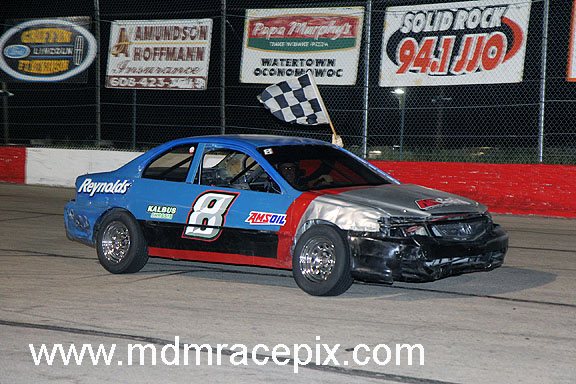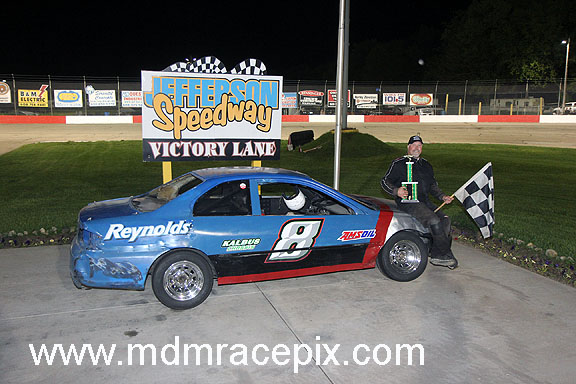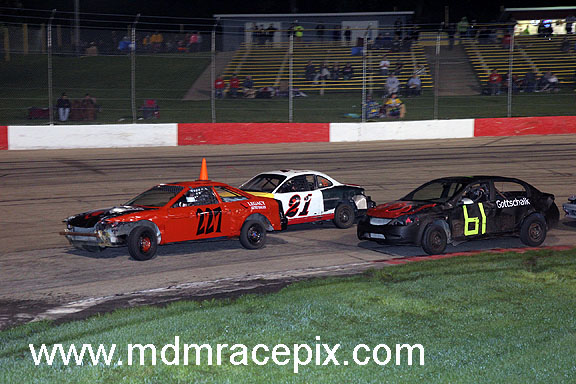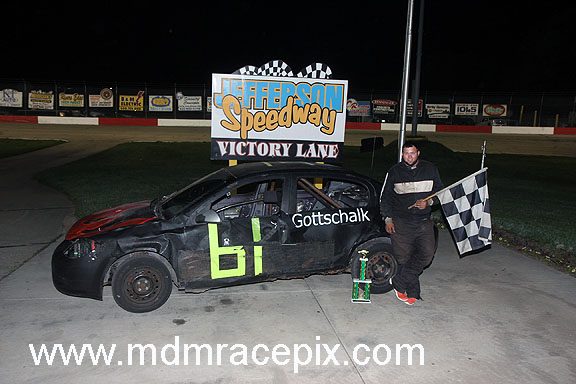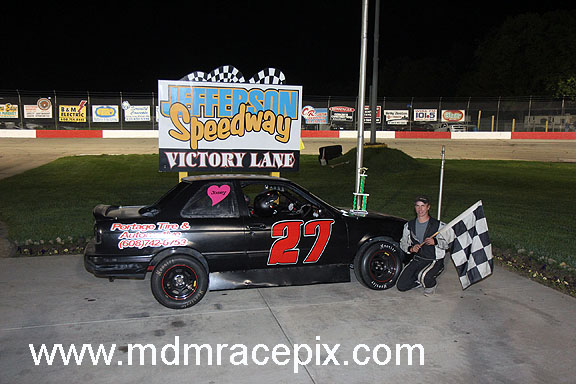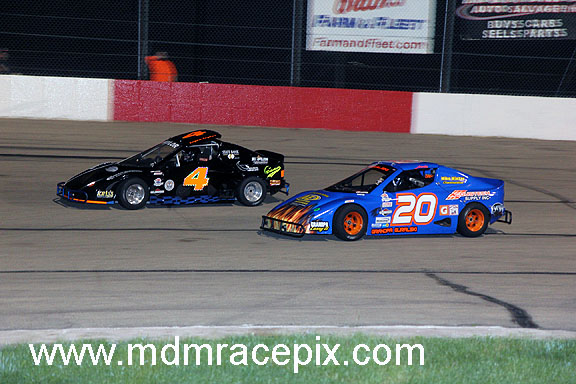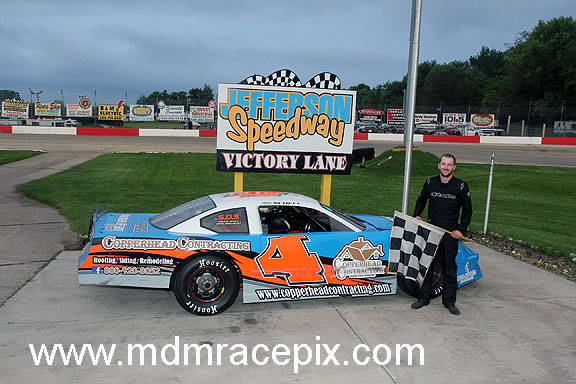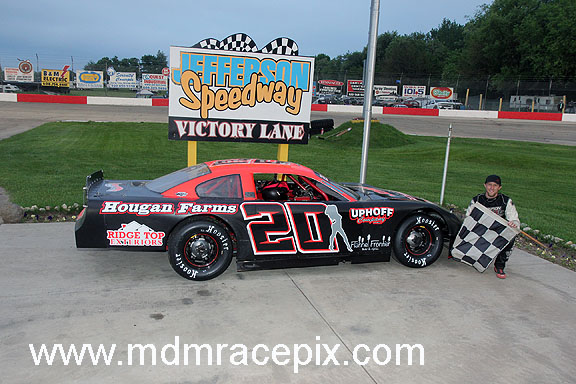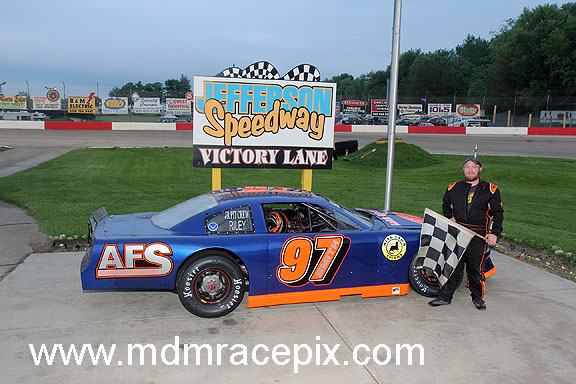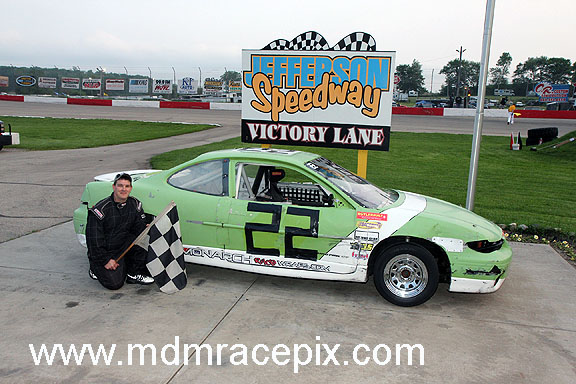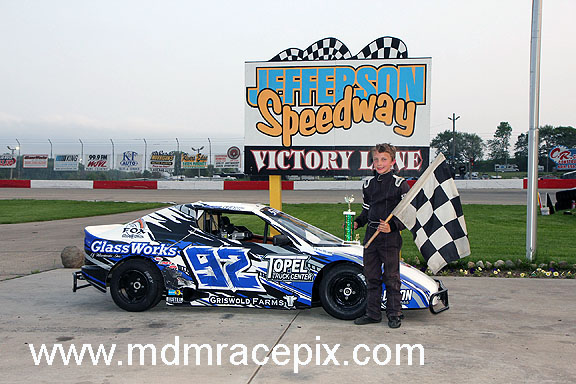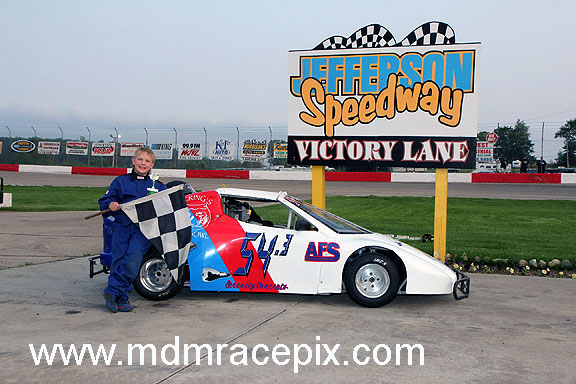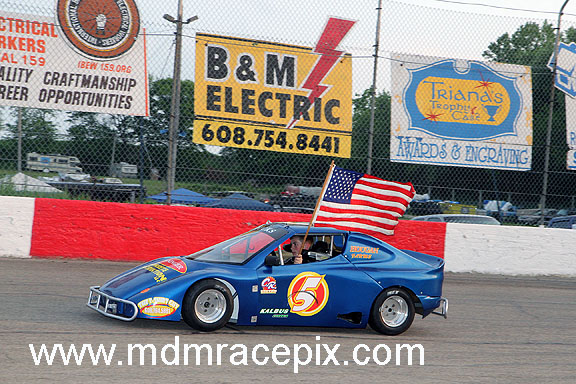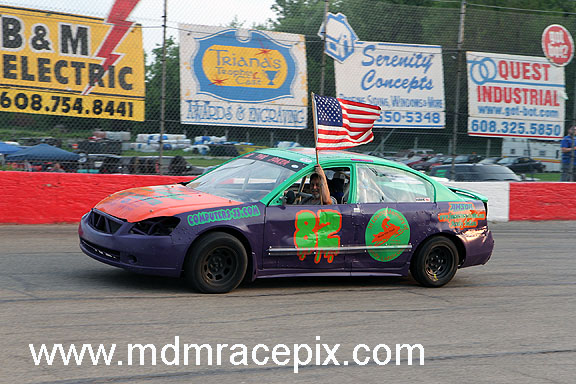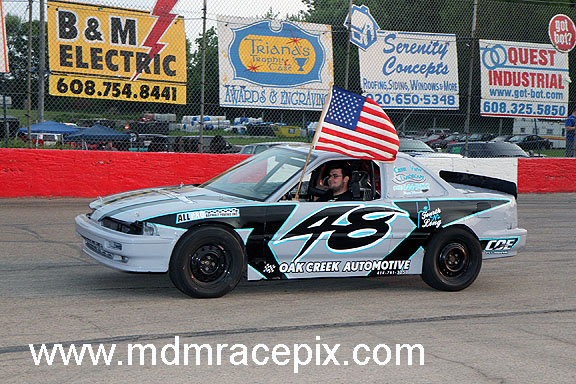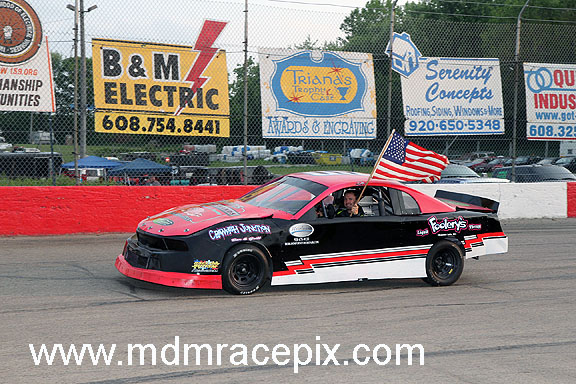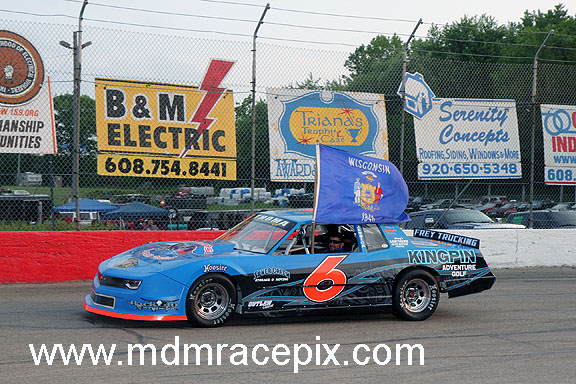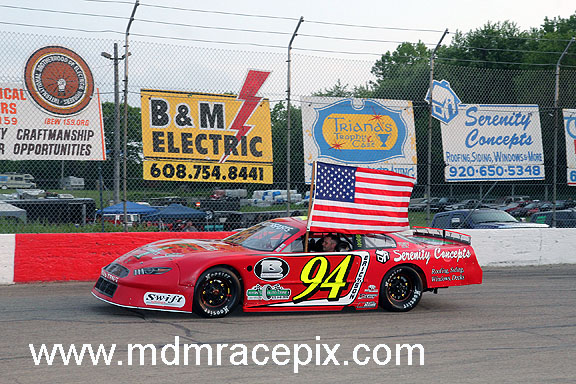 Shaun Scheel Charges to B&M Electric Feature Win
CAMBRIDGE, WI (Saturday, June 1, 2019)            Another spectacular night of racing entertainment sought to warm up the fans on a cool, damp evening in south central Wisconsin. An exciting finish to the B&M Electric 50 lap Late Model main event ended with Lake Mills pilot, Shaun Scheel parked in victory lane. The win caps a strong start to the 2019 campaign for Scheel, who is looking to build towards his first championship in Jefferson Speedway's premier division.
Craig Phillips and Stephen Scheel paced the field to green with Scheel grabbing the early lead on lap one as they raced into turn three. Phillips dropped in line behind Scheel while Will Rece slid into third. Rece moved past Phillips on lap five, bringing Riley Stenjem along for third. Shaun Scheel entered the top four on lap ten, getting by Phillips for the position. Two laps later, Stenjem made a move to get to second as he passed Rece. Stenjem completed the pass on lap 20, setting his sights on Stephen Scheel at the point. While Stenjem closed on the leader, Shaun Scheel slipped past Rece to claim third on lap 22. As the leaders approached the halfway point of the feature, lapped traffic entered the equation. The traffic aided Stenjem to get a good run on Stephen Scheel and take over the top spot. Shaun Scheel followed Stenjem to get past his brother, Stephen, and claim second. Stenjem began to attempt to pull away from the new runner up driver. Lapped traffic once again aided Stenjem as it briefly held up Shaun Scheel in his quest to catch the leader. By lap 34, Scheel was clear of the traffic and looking for a way to close the gap on the leader. His efforts were aided by a caution on lap 42 when Stephen Scheel spun into turn one after contact with Rece. The yellow erased Stenjem's large advantage, as he paced the pack back to green with Shaun Scheel now filling up his rear view mirror. As racing resumed, Scheel went right to work searching for a lane to get by Stenjem. With seven laps to go, Scheel peeked under Stenjem through turns three and four. Scheel got a good run down the front stretch, drawing even with Stenjem as they flew into turn one. The duo raced wheel to wheel over the final laps with neither competitor giving an inch. On lap 48, Stenjem got loose entering turn one allowing Scheel to gain the advantage down the back stretch. Stenjem used a cross over move to dive under Scheel through turns three and four on the same circuit. The pair traded paint several times as they raced past the white flag to being the final lap. More bumping and banging filled the final tour of the quarter mile. At the stripe, it was Scheel holding a half car advantage to score the win. Stenjem settled for second with Dale Nottestad, Jason Erickson and Michael Grueneberg rounding out the top five.
Fort Atkinson's Bobby Selsing Jr led every lap of the 30 lap Sportsman feature to capture the win. Leading the field to green alongside Josh Thiering, Selsing took control of the top spot on lap one. Jim Taylor moved up to challenge Thiering for second with Thiering holding him off. Taylor spun on lap nine after contact with Chris Jones to force the caution and slow the pace. Selsing led the field back to green with Jay Kalbus moving up to challenge Thiering for second. Selsing began to stretch his lead while Kalbus went work on Thiering. Kalbus cleared for the spot on lap 13 while Thiering stayed close. Thiering attempted to get back to second, but Kalbus rebuffed his advances to hold the position. Selsing cruised to the checkers to pick up the win with Kalbus coming home in second. Bryce Miller won a good battle for third, nipping Mark Deporter at the line for the spot. Jason Thoma completed the top five.
James Junget of Rio claimed the win in the 20 lap International feature event. Josh Rusch claimed the early lead on lap one with Jason Uttech quickly up to second. Todd Buckley motored by Uttech on lap seven and moved up behind the leader. Diving to the low side, Buckley slipped past Rusch on lap 11 to gain the lead. A lap later, contact between Rusch and Uttech forced Uttech to the infield while Rusch began to fall off the pace. The yellow eventually waved as Rusch slowed drastically on the backstretch. Buckley and Junget lead the field back to green with Junget moving ahead on the restart. Buckley fought back under Junget while Mark English watched intently from third. English got tired of waiting and three his machine on the low side to make it a three way battle for first. . Junget emerged with the spot with just four laps to go. Junget held his advantage through the checkers to score the win. English edged Buckley for second with George Sparkman and Scott Hoeft rounding out the top five.
Watertown's Bill Reynolds dominated the 15 lap Road Warrior feature to get the victory. Jasper Gronert lead lap one with Reynolds quickly up to second. Reynolds immediately looked to the low side of Gronert, drawing even on lap two. By lap three, Reynolds was out front and pulling away. Bill Sweeney got by for second, but was unable to close the gap on Reynolds. At the checkers, it was Reynolds for the win followed by Sweeney, Mark Dewey, Jordan Lamb and AJ Accardi.
Bryan Gottschalk of Fort Atkinson claimed the win in the 20 lap Bandit feature event. Rianne Remsik and Mike Kinney led the field to green with Kinney taking the initial lead. James Bell followed up to second on lap two and immediately went to work on Kinney. Bell took over the lead on lap four while Josh Lenz moved into second. After the first of two cautions on lap nine, Bell returned to the lead with Gottschalk now up to challenge for the top spot. Gottschalk flew by Bell to grab the lead with Lenz in his tracks for second. With two laps to go, the final yellow waved setting up a green/white/checkered finish. As racing resumed, Gottschalk reclaimed the lead while Matt Urban charged up to second. Gottschalk held the advantage to the checkers with Urban finishing second. Lenz was third followed by Nick Newton and Chris Matz.
Wausau's Jevin Guralksi claimed another Bandolero feature event at Jefferson Speedway after winning the 15 lap feature on Saturday night. After early cautions, Karter Stark took control at the front while Logan Taylor charged up to second. After another yellow on lap three, Stark continued to show the way with Taylor trying to challenge. On lap five, while racing side by side, contact between Stark and Taylor resulted in Taylor moving out front as Stark began to fall off the pace. Guralski rocketed up to second and began to challenge Taylor. Guralski motored under Taylor after another caution on lap ten. Guralski claimed the lead, holding it through two more yellows to secure the win. Taylor came home in second followed by Michael Guderski, Chase Wangsness and Robbie Rucks.
Next Saturday, June 8, is a full program of racing with time trials at 5pm and racing at 7pm. Jefferson Speedway is located halfway between Jefferson and Cambridge on Hwy 18. Please visit jeffersonspeedway.com for more information.
JEFFERSON SPEEDWAY RACE SUMMARY
Late Model-
Qualifying
| | | | |
| --- | --- | --- | --- |
| Pos | Start Number | Competitor | Best Lap |
| 1 | 94E | Jason Erickson | 14.112 |
| 2 | 51N | Dale Nottestad | 14.23 |
| 3 | 8S | Shawn Scheel | 14.272 |
| 4 | 20H | Kody Hubred | 14.326 |
| 5 | 77S | Riley Stenjem | 14.339 |
| 6 | 37R | Seth Reamer | 14.353 |
| 7 | 1G | Michael Gruenberg | 14.367 |
| 8 | 15R | Will Rece | 14.388 |
| 9 | 4SC | Stephan Scheel | 14.413 |
| 10 | 79P | Craig Phillips | 14.447 |
| 11 | 81G | Don Gaserude | 14.461 |
| 12 | 33S | Dylan Schuyler | 14.516 |
| 13 | 7W | Emery Waldron | 14.519 |
| 14 | 3D | Chuck Duncan | 14.546 |
| 15 | 61E | Jerry Eckhardt | 14.561 |
| 16 | 47M | David Malisch | 14.603 |
| 17 | 97S | Kyle Smith | 14.637 |
| 18 | 74S | Joe Shelby | 14.776 |
| 19 | 91 | Cole Thomas | 14.824 |
| 20 | 99K | Lincoln Keeser | 14.877 |
Heat Races
| | | |
| --- | --- | --- |
| Pos | Start Number | Competitor |
| 1 | 97S | Kyle Smith |
| 2 | 99K | Lincoln Keeser |
| 3 | 3D | Chuck Duncan |
| 4 | 61E | Jerry Eckhardt |
| 5 | 47M | David Malisch |
| 6 | 7W | Emery Waldron |
| 7 | 91 | Cole Thomas |
| 8 | 74S | Joe Shelby |
| | | |
| --- | --- | --- |
| Pos | Start Number | Competitor |
| 1 | 20H | Kody Hubred |
| 2 | 79P | Craig Phillips |
| 3 | 51N | Dale Nottestad |
| 4 | 37R | Seth Reamer |
| 5 | 33S | Dylan Schuyler |
| 6 | 15R | Will Rece |
| | | |
| --- | --- | --- |
| Pos | Start Number | Competitor |
| 1 | 4SC | Stephan Scheel |
| 2 | 94E | Jason Erickson |
| 3 | 77S | Riley Stenjem |
| 4 | 8S | Shawn Scheel |
| 5 | 1G | Michael Gruenberg |
| 6 | 81G | Don Gaserude |
Feature
| | | |
| --- | --- | --- |
| Pos | Start Number | Competitor |
| 1 | 8S | Shawn Scheel |
| 2 | 77S | Riley Stenjem |
| 3 | 51N | Dale Nottestad |
| 4 | 94E | Jason Erickson |
| 5 | 1G | Michael Gruenberg |
| 6 | 20H | Kody Hubred |
| 7 | 37R | Seth Reamer |
| 8 | 33S | Dylan Schuyler |
| 9 | 81G | Don Gaserude |
| 10 | 4SC | Stephan Scheel |
| 11 | 15R | Will Rece |
| 12 | 7W | Emery Waldron |
| 13 | 97S | Kyle Smith |
| 14 | 61E | Jerry Eckhardt |
| 15 | 74S | Joe Shelby |
| 16 | 91T | Cole Thomas |
| 17 | 99K | Lincoln Keeser |
| 18 | 79P | Craig Phillips |
| 19 | 47M | David Malisch |
| 20 | 3D | Chuck Duncan |
Sportsman-
Qualifying
| | | | |
| --- | --- | --- | --- |
| Pos | Start Number | Competitor | Best Lap |
| 1 | 6T | Jason Thoma | 14.915 |
| 2 | 91C | Tim Coley | 14.966 |
| 3 | 2D | Tyler Deporter | 15.008 |
| 4 | 28D | Mark Deporter | 15.047 |
| 5 | 11M | Bryce Miller | 15.065 |
| 6 | 34B | Jake Biever | 15.067 |
| 7 | 22J | Chris Jones | 15.08 |
| 8 | 27K | Jay Kalbus | 15.169 |
| 9 | 4T | Jim Taylor | 15.171 |
| 10 | 42S | Bobby  Selsing | 15.247 |
| 11 | 11T | Josh Theiring | 15.304 |
| 12 | 26L | Mike Lambert | 15.329 |
| 13 | 5S | Dan Silberhorn | 15.33 |
| 14 | 67N | Russ Nicholson | 15.679 |
| 15 | 10P | Merek Pankow | 16.189 |
| 16 | 00H | Chase Hunter | 17.03 |
Heat Races
| | | |
| --- | --- | --- |
| Pos | Start Number | Competitor |
| 1 | 42S | Bobby  Selsing |
| 2 | 5S | Dan Silberhorn |
| 3 | 11T | Josh Theiring |
| 4 | 67N | Russ Nicholson |
| 5 | 26L | Mike Lambert |
| 6 | 68B | Miguel Baladez |
| 7 | 10P | Merek Pankow |
| 8 | 00H | Chase Hunter |
| 9 | 90H | Tytus Helgestad |
| | | |
| --- | --- | --- |
| Pos | Start Number | Competitor |
| 1 | 27K | Jay Kalbus |
| 2 | 4T | Jim Taylor |
| 3 | 22J | Chris Jones |
| 4 | 11M | Bryce Miller |
| 5 | 2D | Tyler Deporter |
| 6 | 34B | Jake Biever |
| 7 | 91C | Tim Coley |
| 8 | 6T | Jason Thoma |
| 9 | 28D | Mark Deporter |
Feature
| | | |
| --- | --- | --- |
| Pos | Start Number | Competitor |
| 1 | 42S | Bobby  Selsing |
| 2 | 27K | Jay Kalbus |
| 3 | 11M | Bryce Miller |
| 4 | 28D | Mark Deporter |
| 5 | 6T | Jason Thoma |
| 6 | 91C | Tim Coley |
| 7 | 11T | Josh Theiring |
| 8 | 34B | Jake Biever |
| 9 | 2D | Tyler Deporter |
| 10 | 22J | Chris Jones |
| 11 | 5S | Dan Silberhorn |
| 12 | 90H | Tytus Helgestad |
| 13 | 4T | Jim Taylor |
| 14 | 26L | Mike Lambert |
| 15 | 67N | Russ Nicholson |
| 16 | 00H | Chase Hunter |
| 17 | 10P | Merek Pankow |
| 18 | 68B | Miguel Baladez |
International-
Qualifying
| | | | |
| --- | --- | --- | --- |
| Pos | Start Number | Competitor | Best Lap |
| 1 | 00H | Scott Hoeft | 15.792 |
| 2 | 57E | Mark English | 15.997 |
| 3 | 5S | George Sparkman | 16.088 |
| 4 | 27J | James Junget | 16.176 |
| 5 | 0B | Keith Bell | 16.183 |
| 6 | 8B | Todd Buckley | 16.185 |
| 7 | 64P | Merek Pankow | 16.234 |
| 8 | 23P | John Preston | 16.267 |
| 9 | 36U | Jason Uttech | 16.285 |
| 10 | 77H | Timothy Higgins | 16.377 |
| 11 | 92R | Josh Rusch | 16.492 |
| 12 | 21E | Tyler Edmundson | 16.545 |
| 13 | 61G | Chris Gottschalk | 16.691 |
| 14 | 11S | Weston Strese | 16.744 |
| 15 | 37J | Chris Jackson | 16.771 |
| 16 | 34Y | Dustin Yanke | 16.827 |
| 17 | 9T | Josh Tanguay | 17.024 |
| 18 | 111 | Devon Dixon | 17.377 |
| 19 | 99K | Chris Kern | 17.757 |
| 20 | 66H | Neil Higgins | 18.283 |
Heat Races
| | | |
| --- | --- | --- |
| Pos | Start Number | Competitor |
| 1 | 34Y | Dustin Yanke |
| 2 | 11S | Weston Strese |
| 3 | 37J | Chris Jackson |
| 4 | 66H | Neil Higgins |
| 5 | 99K | Chris Kern |
| | | |
| --- | --- | --- |
| Pos | Start Number | Competitor |
| 1 | 57E | Mark English |
| 2 | 8B | Todd Buckley |
| 3 | 92R | Josh Rusch |
| 4 | 27J | James Junget |
| 5 | 36U | Jason Uttech |
| 6 | 61G | Chris Gottschalk |
| | | |
| --- | --- | --- |
| Pos | Start Number | Competitor |
| 1 | 0B | Keith Bell |
| 2 | 00H | Scott Hoeft |
| 3 | 77H | Timothy Higgins |
| 4 | 5S | George Sparkman |
| 5 | 23P | John Preston |
| 6 | 21E | Tyler Edmundson |
Last Chance
| | | |
| --- | --- | --- |
| Pos | Start Number | Competitor |
| 1 | 34Y | Dustin Yanke |
| 2 | 11S | Weston Strese |
| 3 | 37J | Chris Jackson |
| 4 | 99K | Chris Kern |
Feature
| | | |
| --- | --- | --- |
| Pos | Start Number | Competitor |
| 1 | 27J | James Junget |
| 2 | 57E | Mark English |
| 3 | 8B | Todd Buckley |
| 4 | 5S | George Sparkman |
| 5 | 00H | Scott Hoeft |
| 6 | 36U | Jason Uttech |
| 7 | 21E | Tyler Edmundson |
| 8 | 61G | Chris Gottschalk |
| 9 | 23P | John Preston |
| 10 | 34Y | Dustin Yanke |
| 11 | 11S | Weston Strese |
| 12 | 0B | Keith Bell |
| 13 | 37J | Chris Jackson |
| 14 | 77H | Timothy Higgins |
| 15 | 92R | Josh Rusch |
Road Warrior-
Qualifying
| | | | |
| --- | --- | --- | --- |
| Pos | Start Number | Competitor | Best Lap |
| 1 | 82D | Mark Dewey | 16.356 |
| 2 | 41L | Jordan  Lamb | 16.551 |
| 3 | 14A | Anthony Accardi | 16.562 |
| 4 | 8R | Bill Reynolds | 16.6 |
| 5 | 42S | Bill Sweeney | 16.608 |
| 6 | 13N | RJ Nicholson | 17.182 |
| 7 | 15B | Bill Bush Jr | 17.458 |
| 8 | 17B | Bill The Cat Bush | 17.532 |
| 9 | 22J | Jasper Gronert | 17.664 |
| 10 | 22L | Leroy Gronert Jr. | 17.899 |
| 11 | 16N | Brant Nicholson | 19.01 |
Heat Races
| | | |
| --- | --- | --- |
| Pos | Start Number | Competitor |
| 1 | 22J | Jasper Gronert |
| 2 | 15B | Bill Bush Jr |
| 3 | 22L | Leroy Gronert Jr. |
| 4 | 16N | Brant Nicholson |
| 5 | 17B | Bill The Cat Bush |
| | | |
| --- | --- | --- |
| Pos | Start Number | Competitor |
| 1 | 8R | Bill Reynolds |
| 2 | 14A | Anthony Accardi |
| 3 | 41L | Jordan  Lamb |
| 4 | 82D | Mark Dewey |
| 5 | 13N | RJ Nicholson |
Feature
| | | |
| --- | --- | --- |
| Pos | Start Number | Competitor |
| 1 | 8R | Bill Reynolds |
| 2 | 42S | Bill Sweeney |
| 3 | 82D | Mark Dewey |
| 4 | 41L | Jordan  Lamb |
| 5 | 14A | Anthony Accardi |
| 6 | 22J | Jasper Gronert |
| 7 | 13N | RJ Nicholson |
| 8 | 15B | Bill Bush Jr |
| 9 | 22L | Leroy Gronert Jr. |
| 10 | 16N | Brant Nicholson |
| 11 | 17B | Bill The Cat Bush |
Bandit-
Qualifying
| | | | |
| --- | --- | --- | --- |
| Pos | Start Number | Competitor | Best Lap |
| 1 | 48U | Matt Urban | 14.754 |
| 2 | 61G | Bryan Guttschalk | 14.946 |
| 3 | J10 | Nick Newton | 15.027 |
| 4 | 21L | Josh Lenz | 15.148 |
| 5 | 83R | Travis Rose | 15.189 |
| 6 | 12J | Ashlynn Jarlsberg | 15.398 |
| 7 | 02M | Chris Matz | 15.541 |
| 8 | 18S | Gaven Smothers | 15.631 |
| 9 | 227 | James Bell | 15.878 |
| 10 | 22J | Mike Kinney | 16.17 |
| 11 | 72R | Rianne Remsick | 16.257 |
| 12 | 83A | Thomas Andrus | 16.592 |
| 13 | 8F | Josh Franks | 16.988 |
| 14 | 5B | Jerid Butram | 17.416 |
| 15 | 39 | Justin Kumbier | 0 |
Heat Races
| | | |
| --- | --- | --- |
| Pos | Start Number | Competitor |
| 1 | 83A | Thomas Andrus |
| 2 | 227 | James Bell |
| 3 | 22J | Mike Kinney |
| 4 | 72R | Rianne Remsick |
| 5 | 5B | Jerid Butram |
| 6 | 39 | Justin Kumbier |
| 7 | 8F | Josh Franks |
| 8 | 02M | Chris Matz |
| | | |
| --- | --- | --- |
| Pos | Start Number | Competitor |
| 1 | 61G | Bryan Guttschalk |
| 2 | 48U | Matt Urban |
| 3 | 21L | Josh Lenz |
| 4 | J10 | Nick Newton |
| 5 | 83R | Travis Rose |
| 6 | 12J | Ashlynn Jarlsberg |
| 7 | 18S | Gaven Smothers |
Feature
| | | |
| --- | --- | --- |
| Pos | Start Number | Competitor |
| 1 | 61G | Bryan Guttschalk |
| 2 | 48U | Matt Urban |
| 3 | 21L | Josh Lenz |
| 4 | J10 | Nick Newton |
| 5 | 02M | Chris Matz |
| 6 | 227 | James Bell |
| 7 | 12J | Ashlynn Jarlsberg |
| 8 | 39 | Justin Kumbier |
| 9 | 83A | Thomas Andrus |
| 10 | 83R | Travis Rose |
| 11 | 18S | Gaven Smothers |
| 12 | 05B | Jerid Butram |
| 13 | 8F | Josh Franks |
| 14 | 22J | Mike Kinney |
| 15 | 72R | Rianne Remsick |
Bandolero-
Qualifying
| | | | |
| --- | --- | --- | --- |
| Pos | Start Number | Competitor | Total Time |
| 1 | 5R | Robbie  Rucks | 16.725 |
| 2 | 4T | Logan Taylor | 16.748 |
| 3 | 92S | Tony Stark | 16.872 |
| 4 | 20G | Jevin Guralski | 17.037 |
| 5 | 3O | Laney Osborne | 17.121 |
| 6 | 90G | Michael Guderski | 17.142 |
| 7 | 8W | Chase Wangsness | 17.308 |
| 8 | 05B | Tucker Bodendorfer | 17.401 |
| 9 | 88H | Cohen Henze | 17.87 |
| 10 | 17B | Keagan Benz | 17.892 |
| 11 | 70K | Keegan Kehoe | 18.014 |
| 12 | 52L | Avery Linnerud | 18.268 |
| 13 | 111K | Marianna Kubicz | 18.29 |
| 14 | 16L | Carli Lenz | 18.351 |
| 15 | 54.3S | Riley Smith | 18.536 |
| 16 | 7R | Easton Riedner | 18.567 |
| 17 | 11W | Kaeden Wangsness | 19.002 |
| 18 | 78M | Tyler Muller | 19.072 |
| 19 | 17W | Teegan Wangsness | 19.689 |
| 20 | 64B | Cooper Bodendorfer | 19.751 |
| 21 | 16G | Kooper Gurlaski | 19.843 |
| 22 | 5B | Paxton Benz | 20.422 |
| 23 | 9 | | 22.329 |
Heat Races
| | | |
| --- | --- | --- |
| Pos | Start Number | Competitor |
| 1 | 54.3S | Riley Smith |
| 2 | 7R | Easton Riedner |
| 3 | 16G | Kooper Gurlaski |
| 4 | 17W | Teegan Wangsness |
| 5 | 11W | Kaeden Wangsness |
| 6 | 78M | Tyler Muller |
| 7 | 5B | Paxton Benz |
| 8 | 64B | Cooper Bodendorfer |
| 9 | 9M | Collin Murphy |
| | | |
| --- | --- | --- |
| Pos | Start Number | Competitor |
| 1 | 20G | Jevin Guralski |
| 2 | 4T | Logan Taylor |
| 3 | 90G | Michael Guderski |
| 4 | 05B | Tucker Bodendorfer |
| 5 | 17B | Keagan Benz |
| 6 | 16L | Carli Lenz |
| 7 | 52L | Avery Linnerud |
| | | |
| --- | --- | --- |
| Pos | Start Number | Competitor |
| 1 | 92S | Tony Stark |
| 2 | 5R | Robbie  Rucks |
| 3 | 8W | Chase Wangsness |
| 4 | 3O | Laney Osborne |
| 5 | 88H | Cohen Henze |
| 6 | 111K | Marianna Kubicz |
| 7 | 70K | Keegan Kehoe |
Last Chance
| | | |
| --- | --- | --- |
| Pos | Start Number | Competitor |
| 1 | 78M | Tyler Muller |
| 2 | 111K | Marianna Kubicz |
| 3 | 11W | Kaeden Wangsness |
| 4 | 54.3S | Riley Smith |
| 5 | 16L | Carli Lenz |
| 6 | 64B | Cooper Bodendorfer |
| 7 | 5B | Paxton Benz |
| 8 | 17W | Teegan Wangsness |
| 9 | 9M | Collin Murphy |
| 10 | 7R | Easton Riedner |
Feature
| | | |
| --- | --- | --- |
| Pos | Start Number | Competitor |
| 1 | 20G | Jevin Guralski |
| 2 | 4T | Logan Taylor |
| 3 | 90G | Michael Guderski |
| 4 | 8W | Chase Wangsness |
| 5 | 5R | Robbie  Rucks |
| 6 | 88H | Cohen Henze |
| 7 | 3O | Laney Osborne |
| 8 | 70K | Keegan Kehoe |
| 9 | 78M | Tyler Muller |
| 10 | 11W | Kaeden Wangsness |
| 11 | 54.3S | Riley Smith |
| 12 | 111K | Marianna Kubicz |
| 13 | 17B | Keagan Benz |
| 14 | 05B | Tucker Bodendorfer |
| 15 | 52L | Avery Linnerud |
| 16 | 92S | Tony Stark |