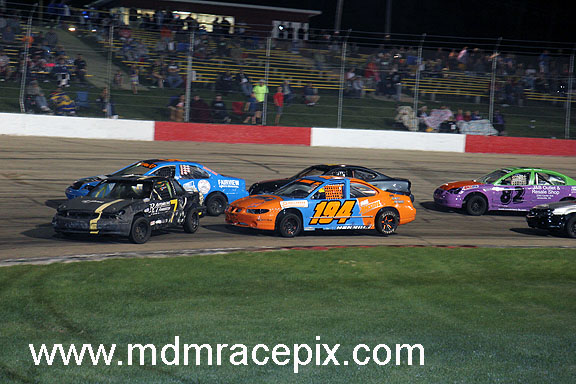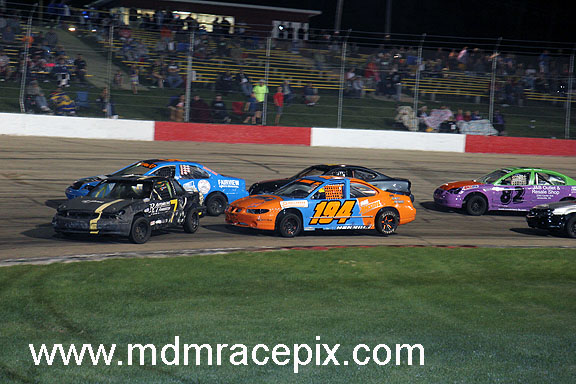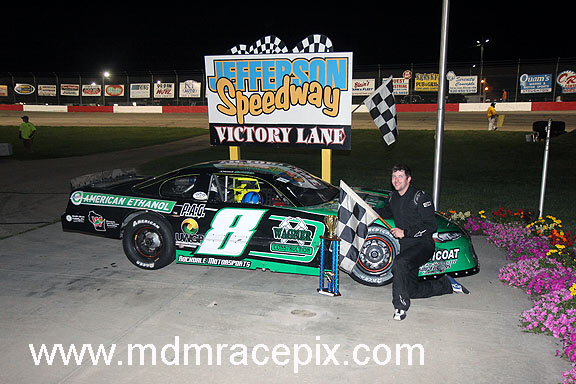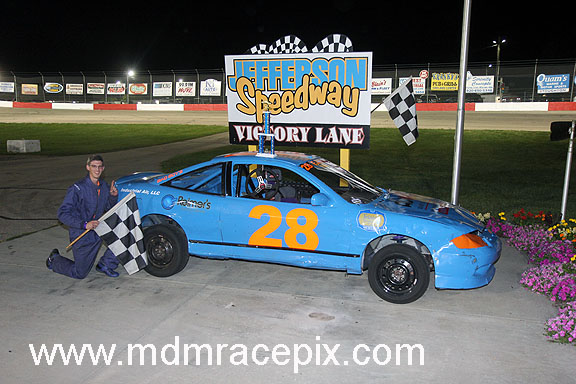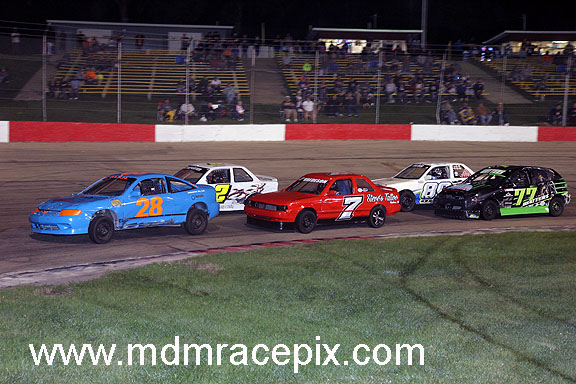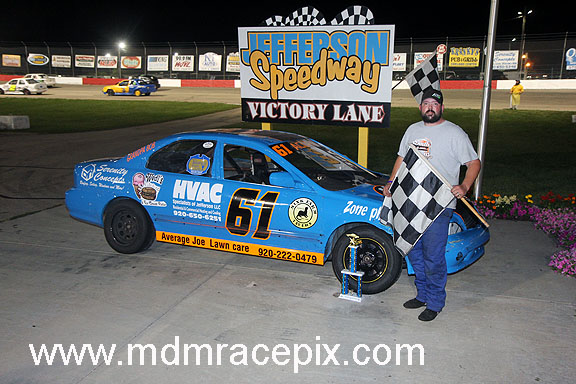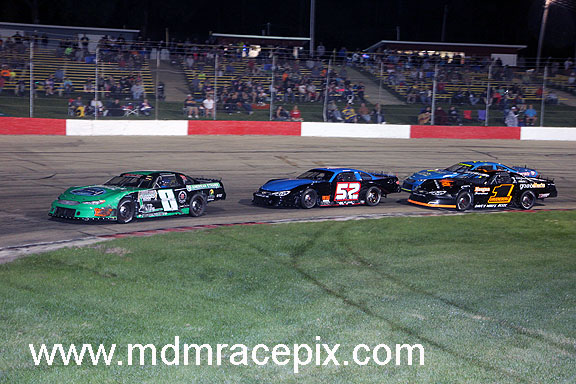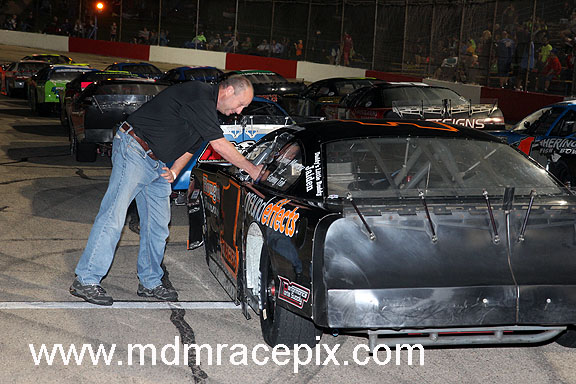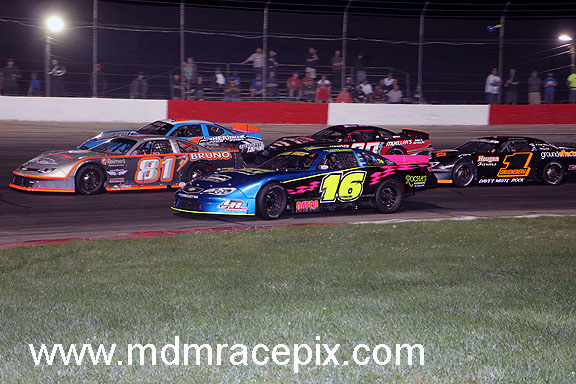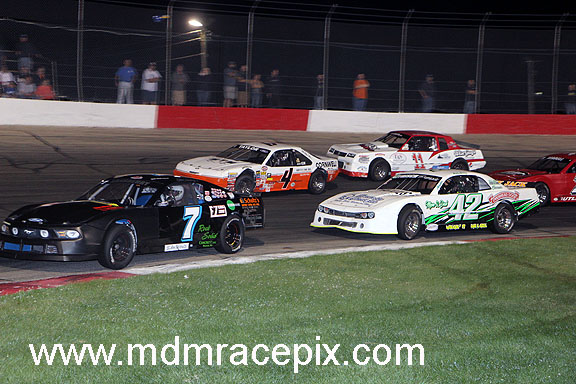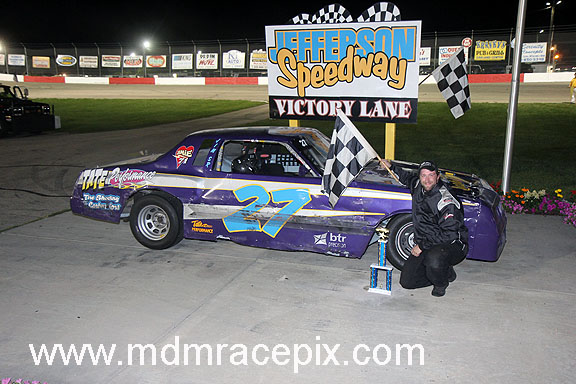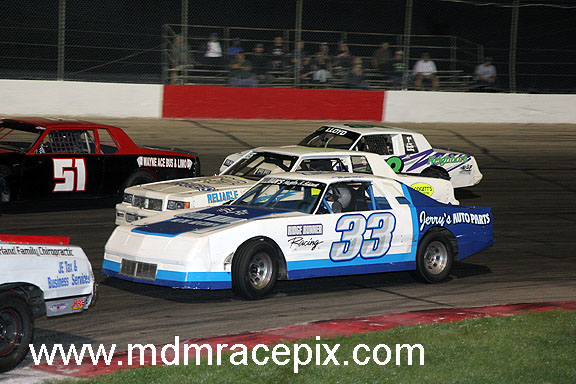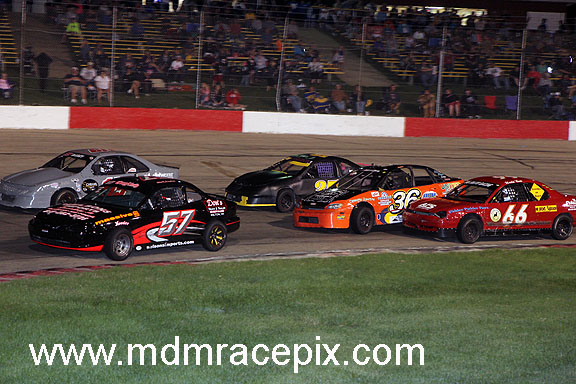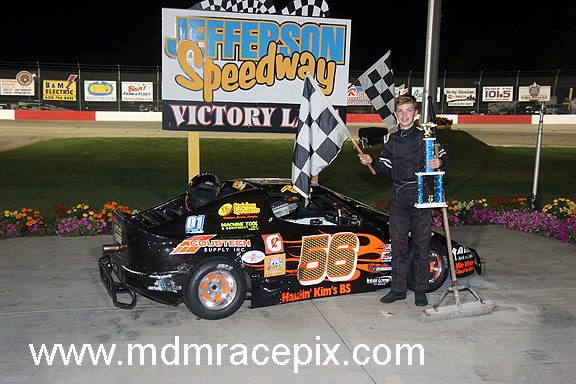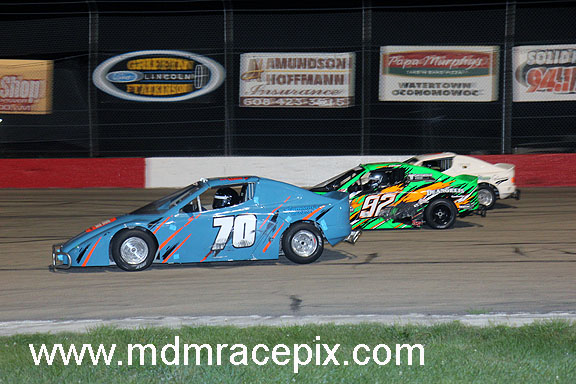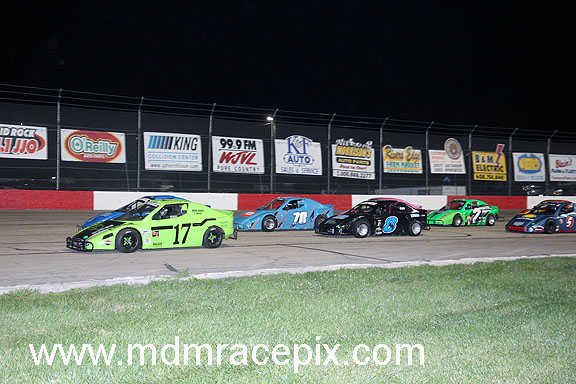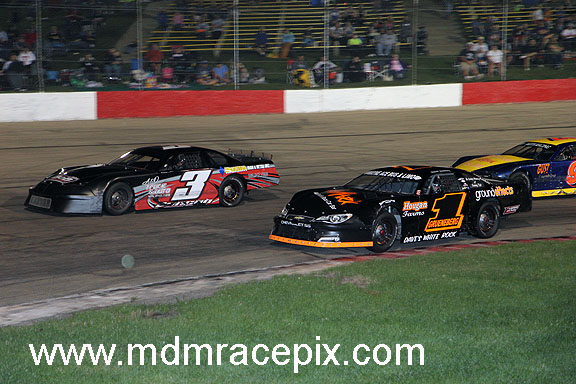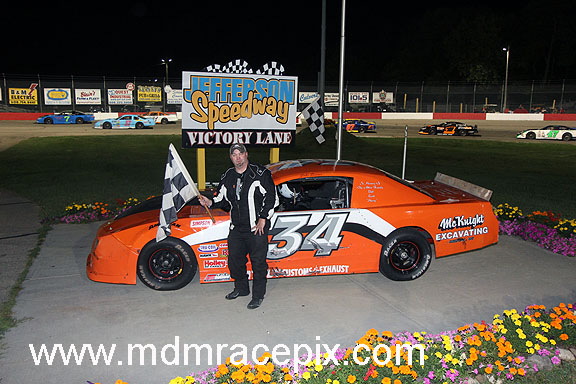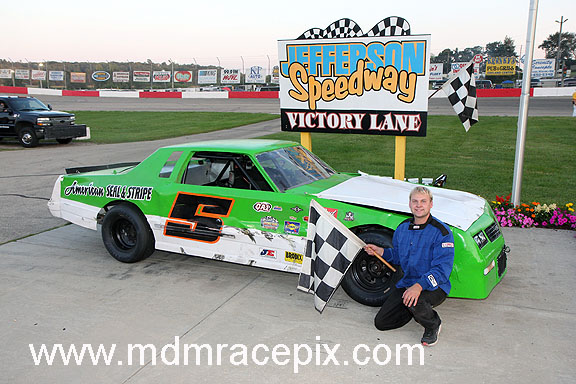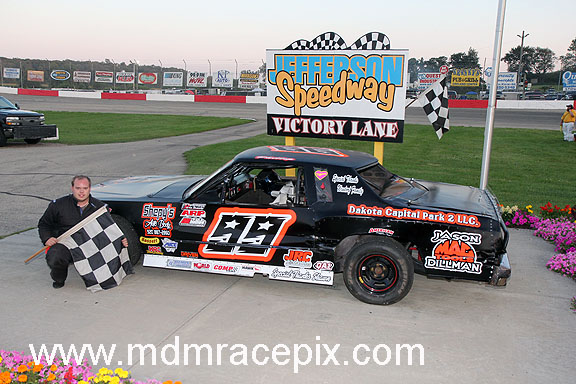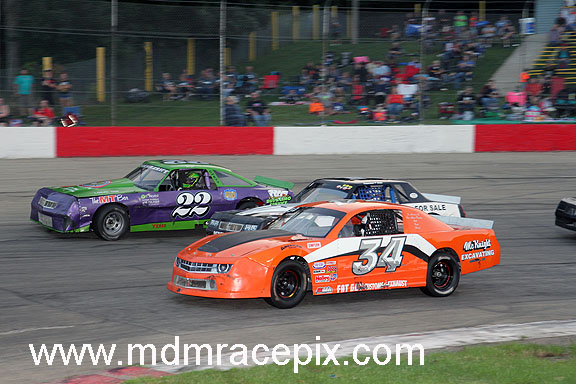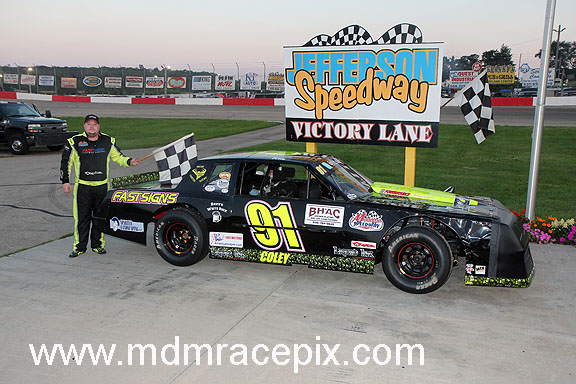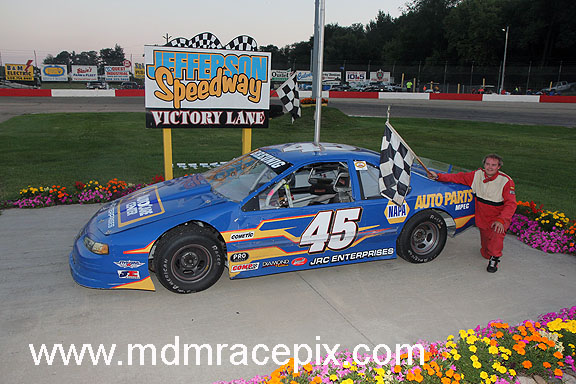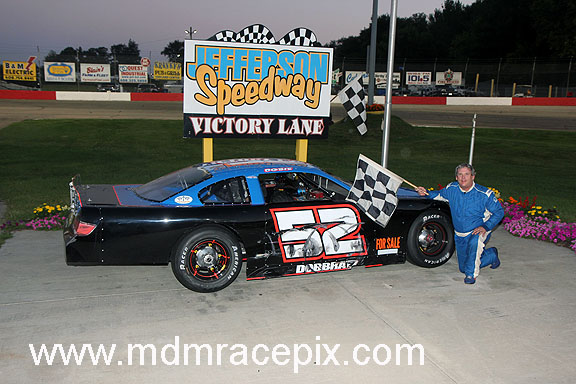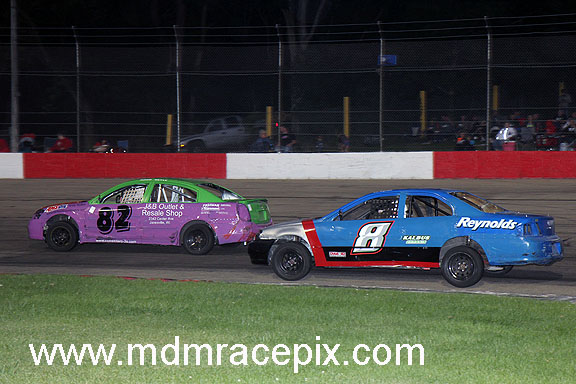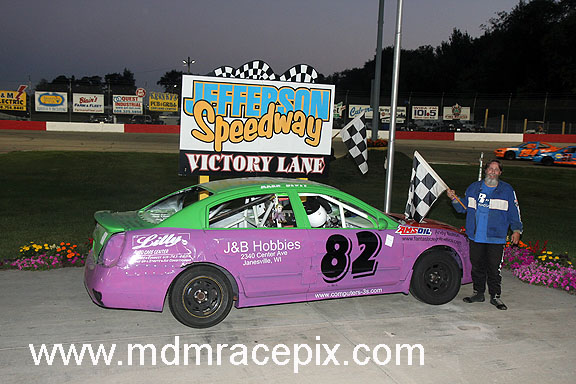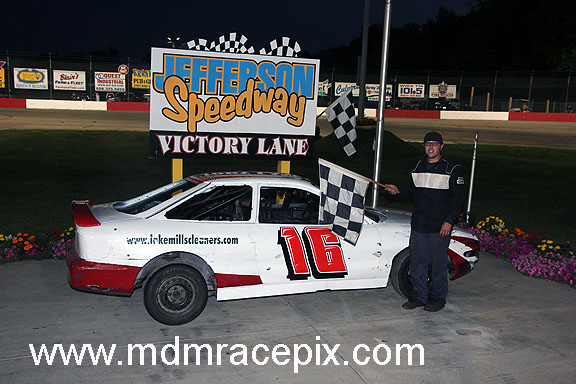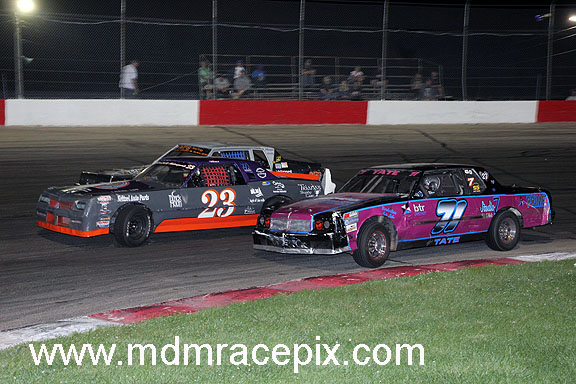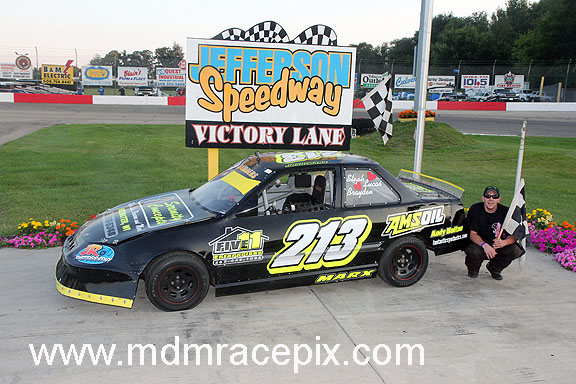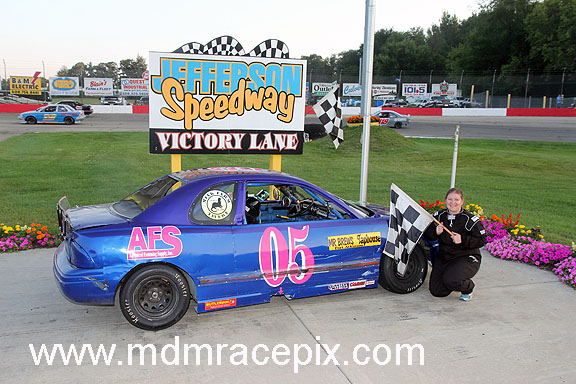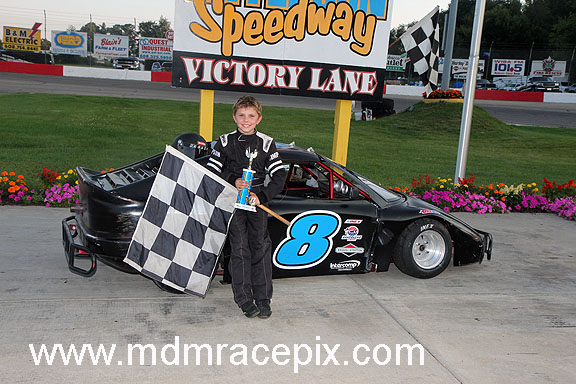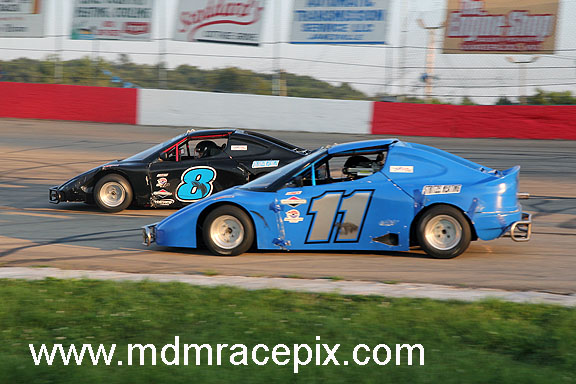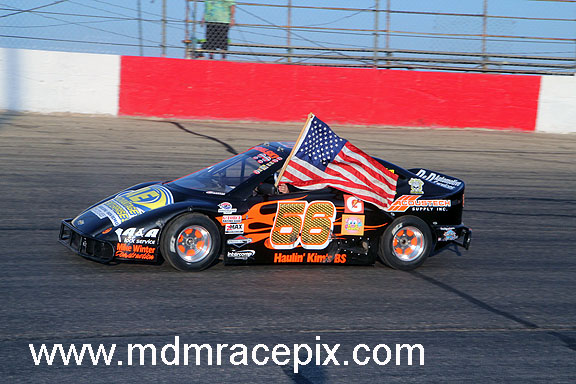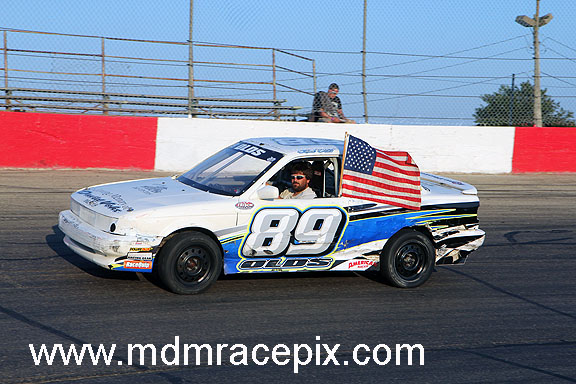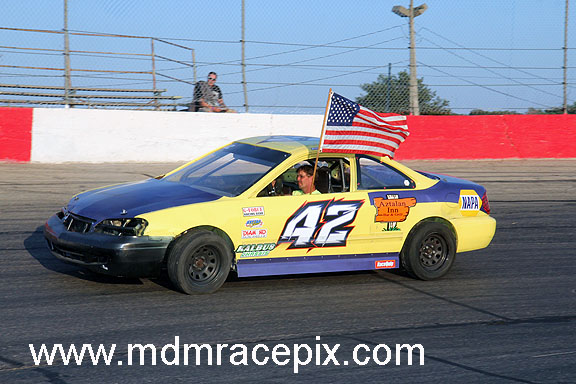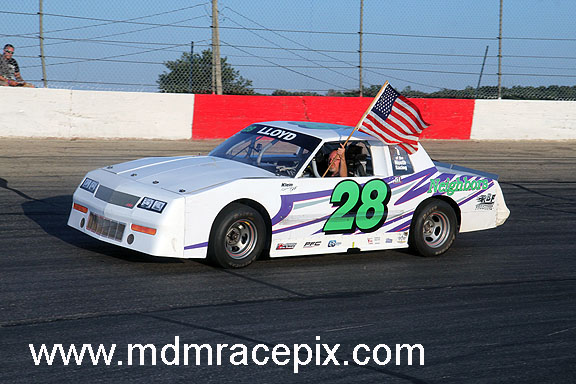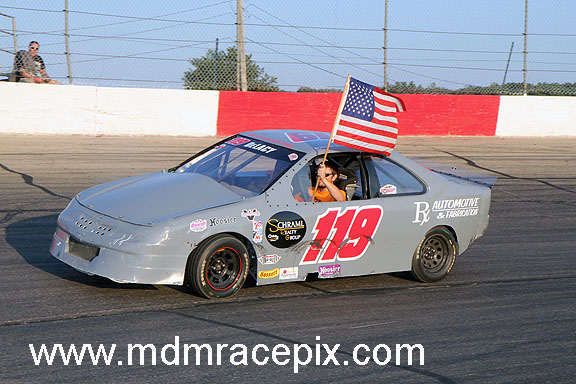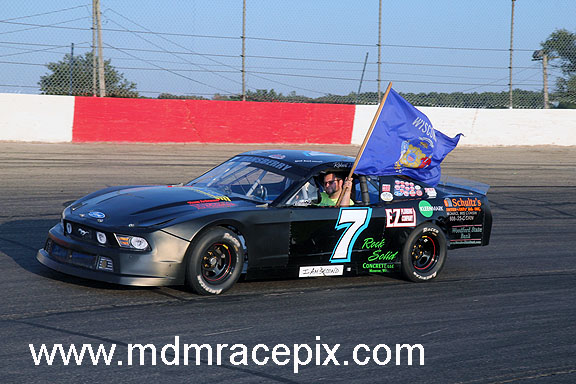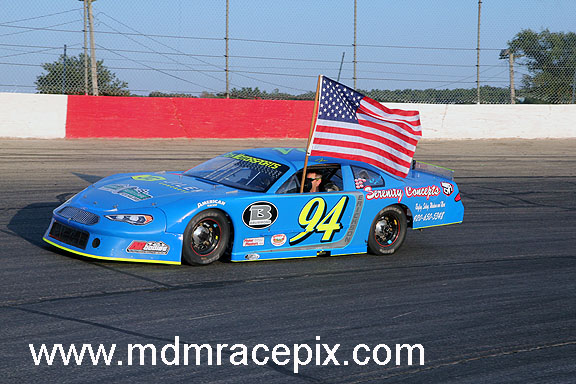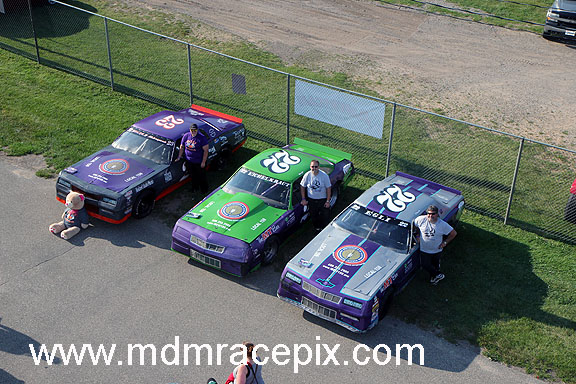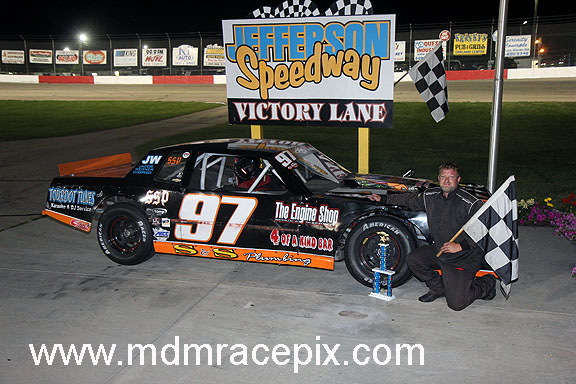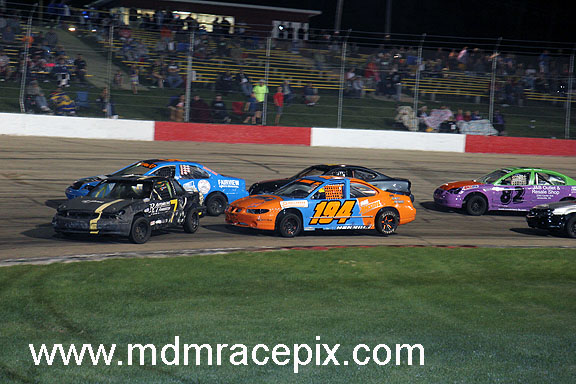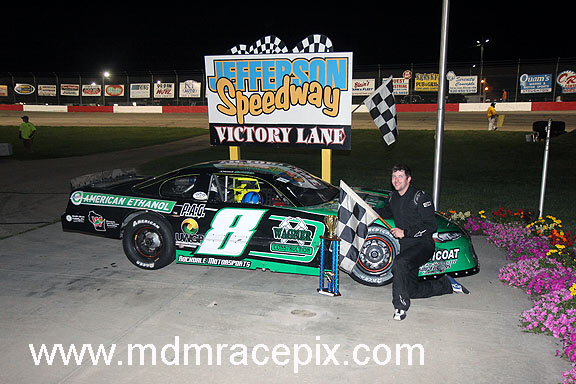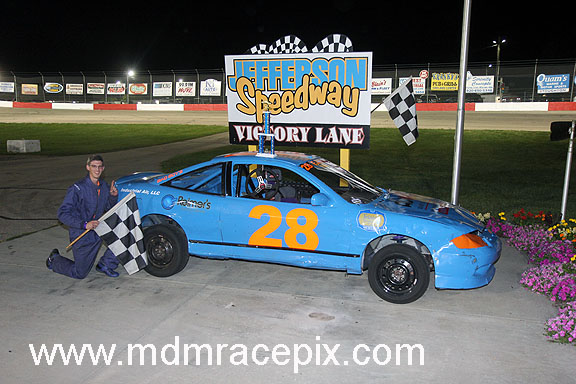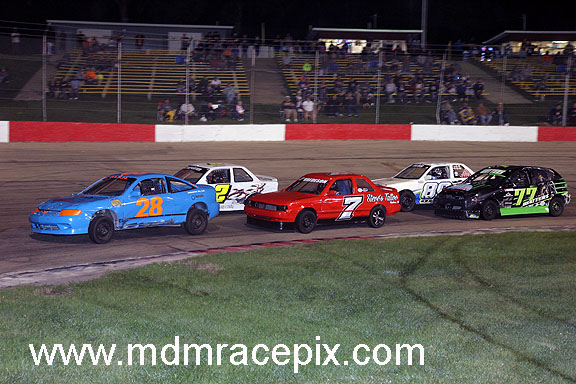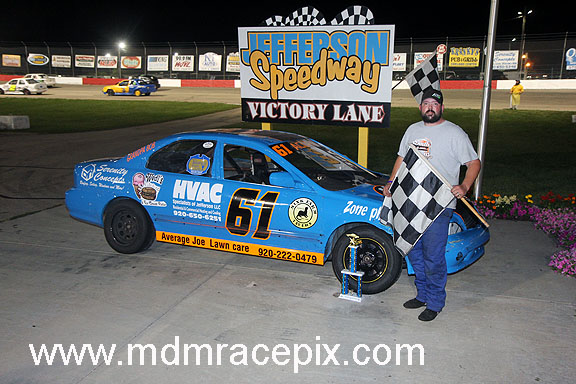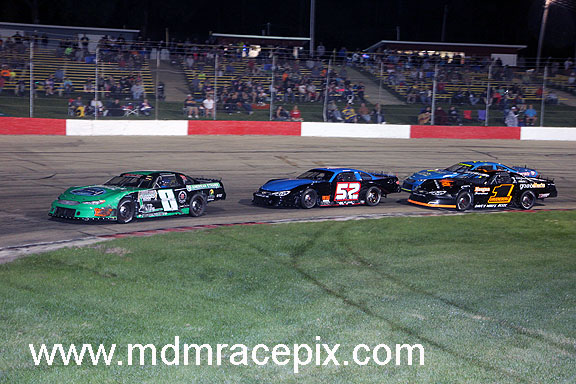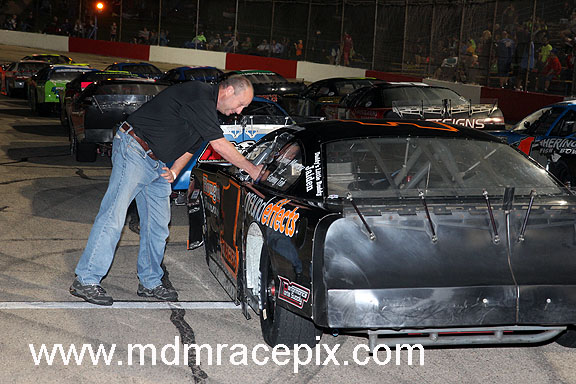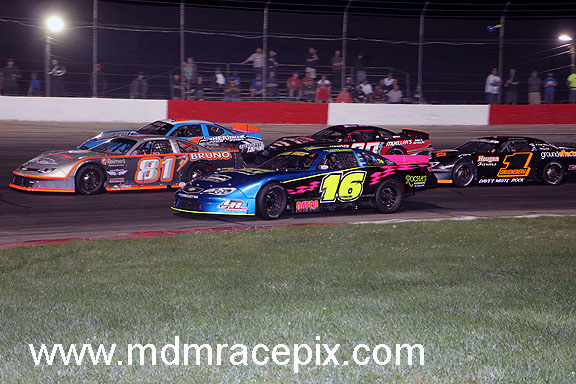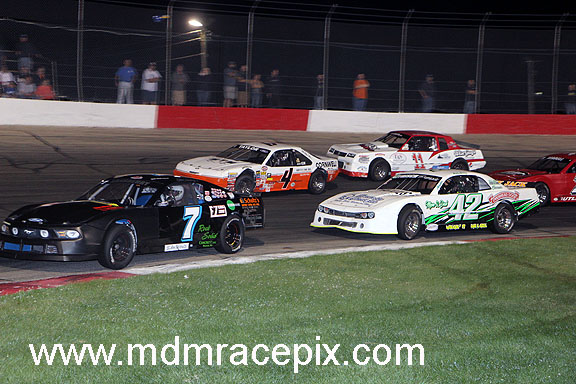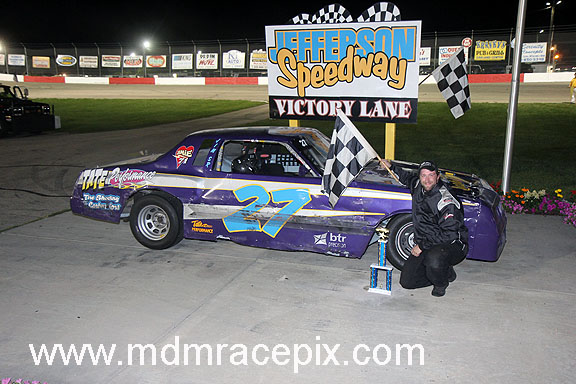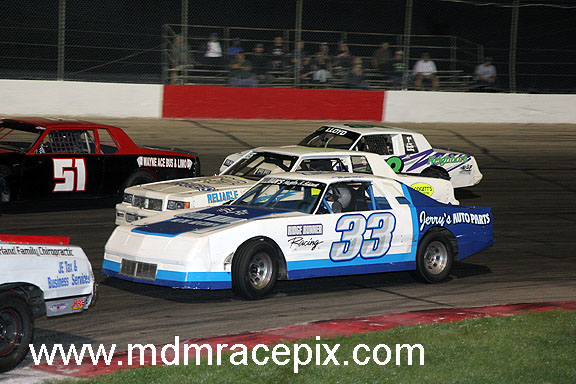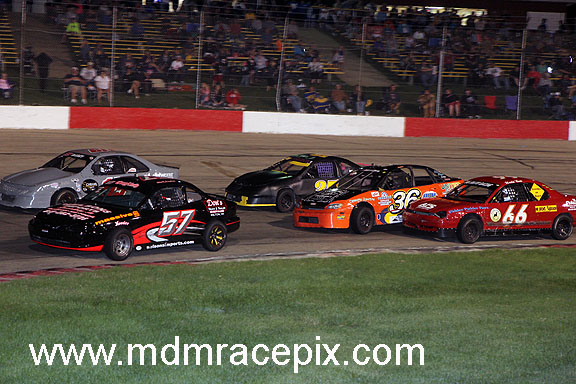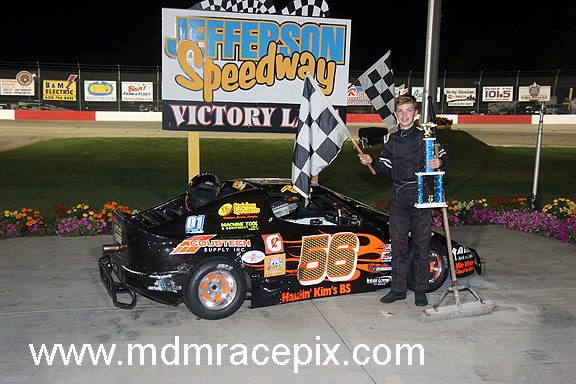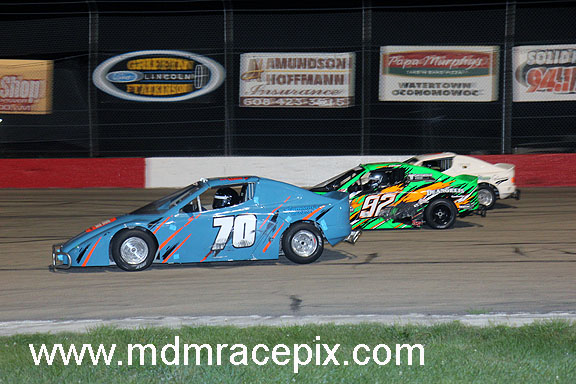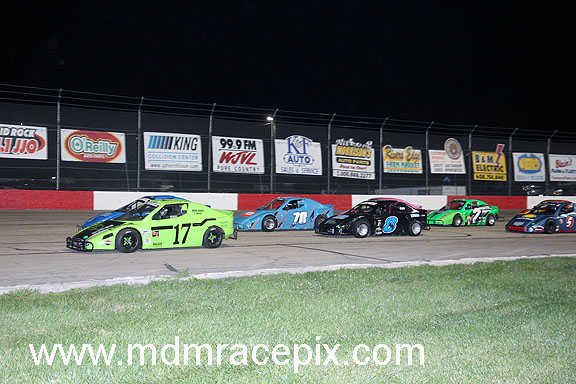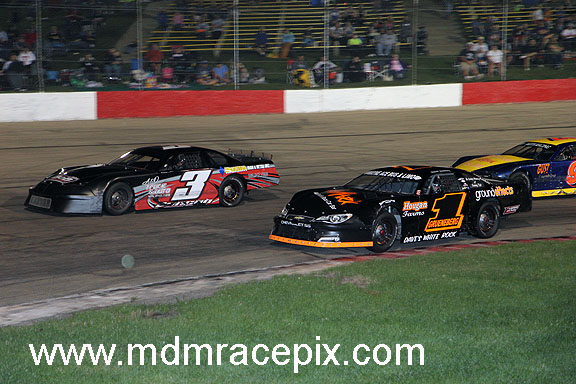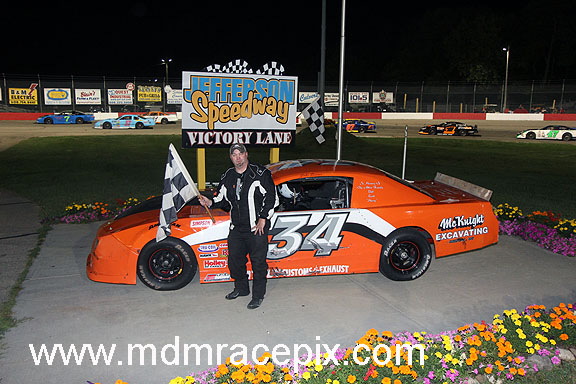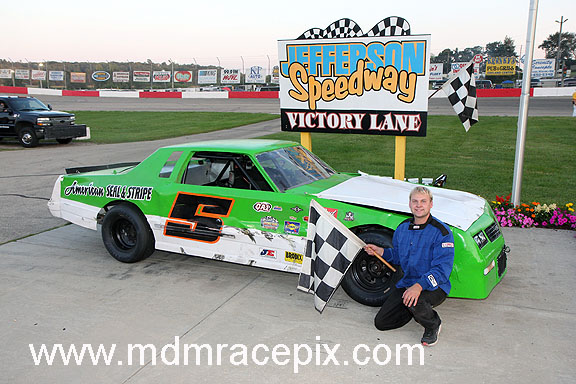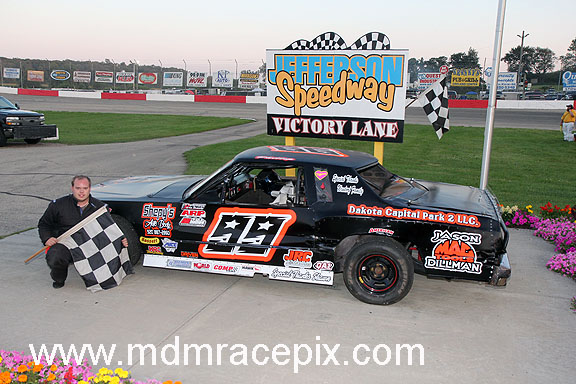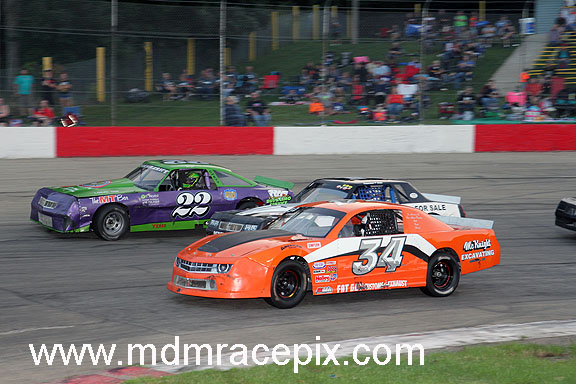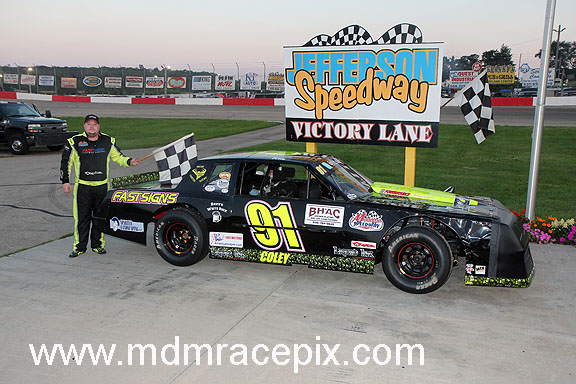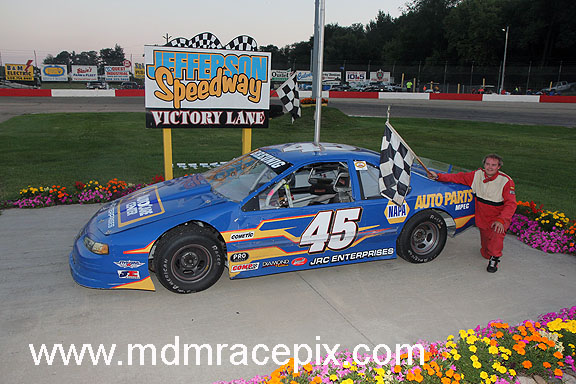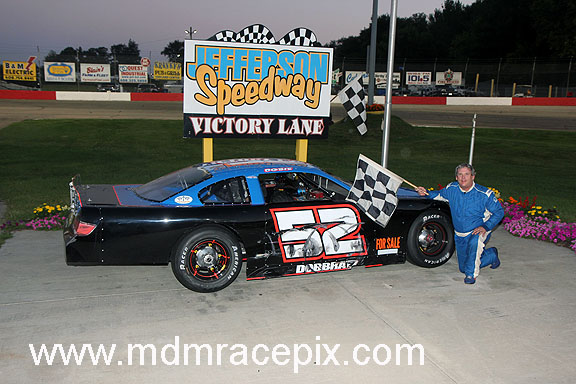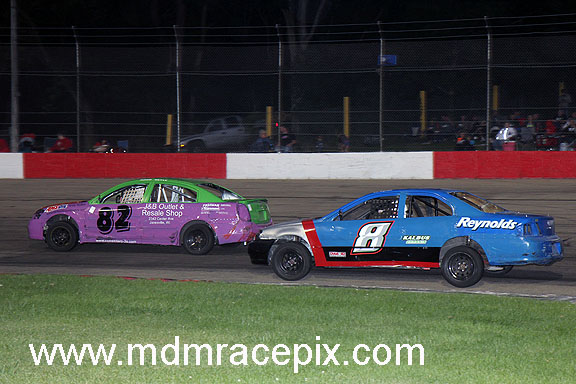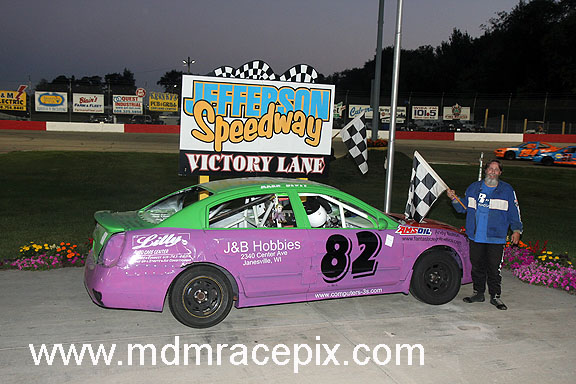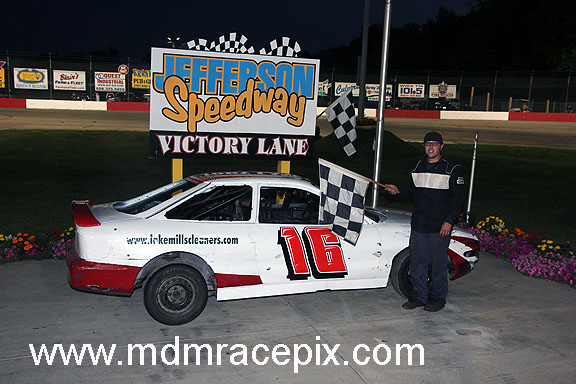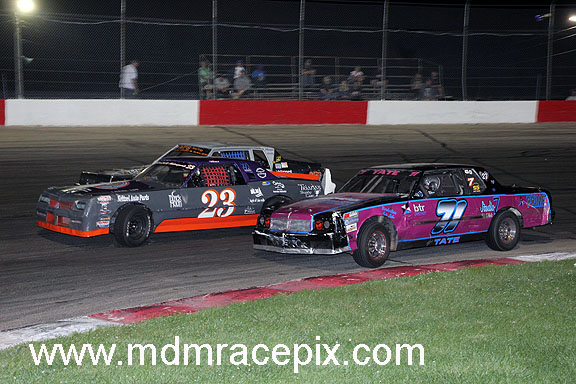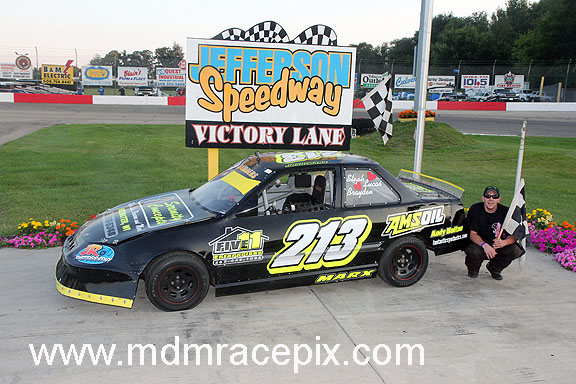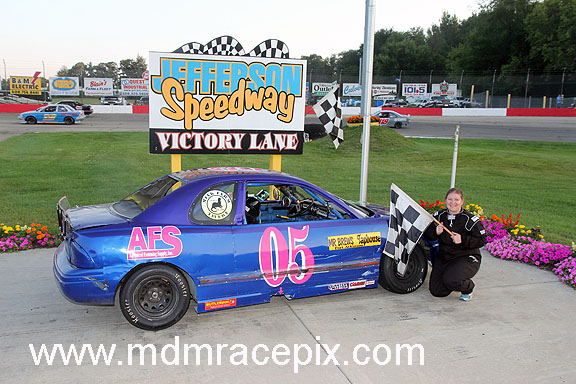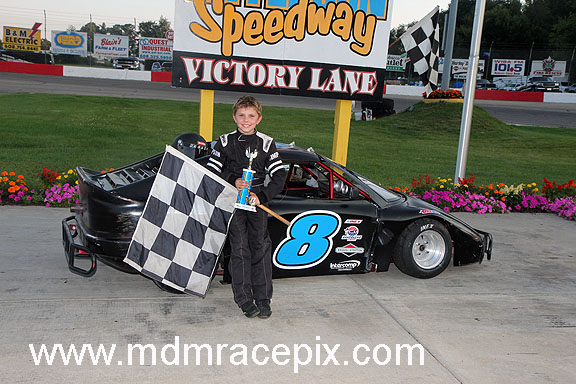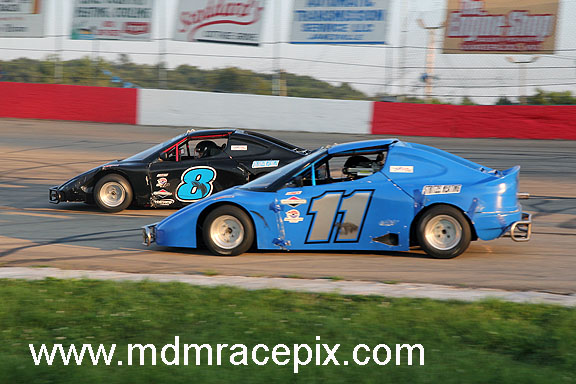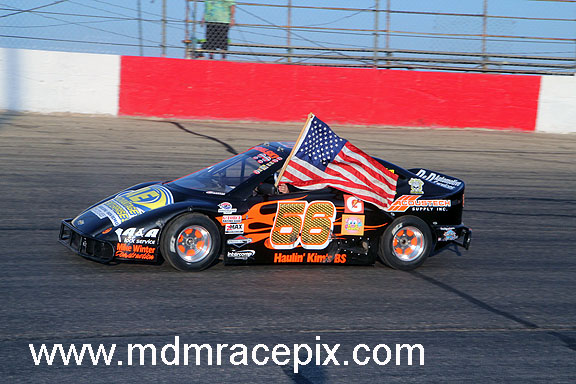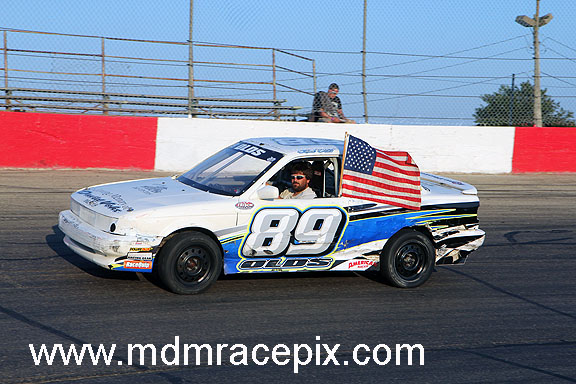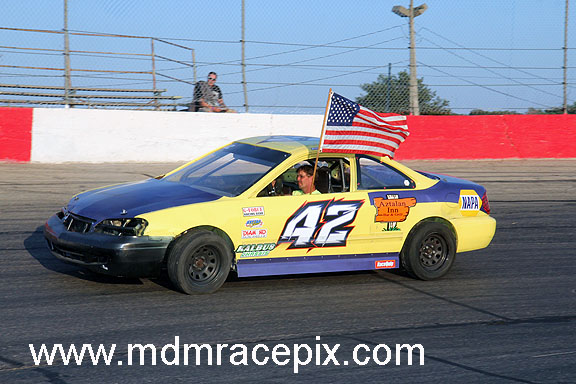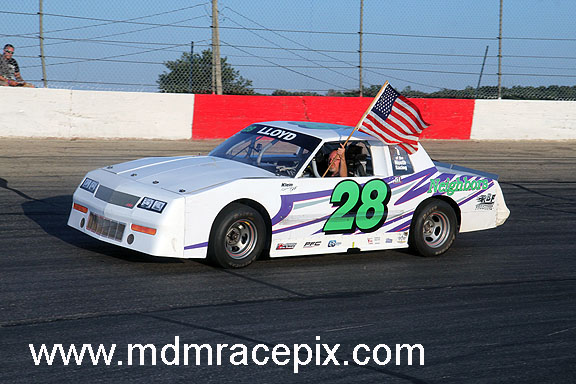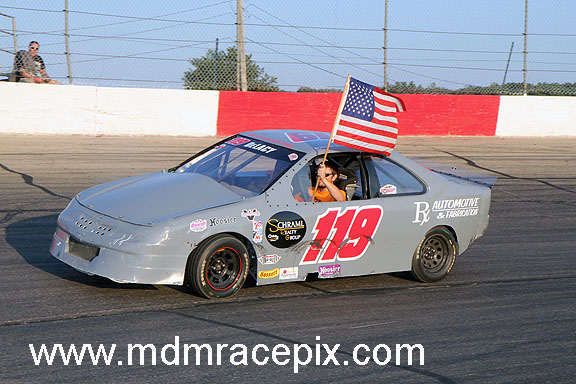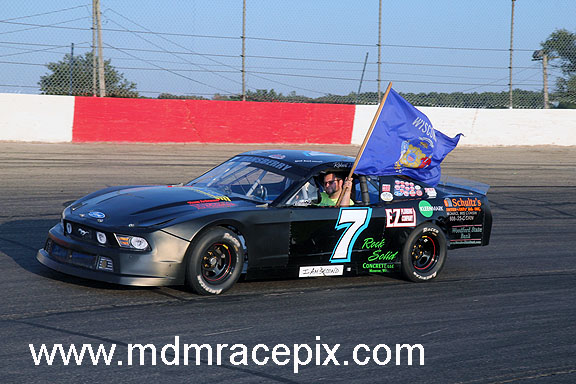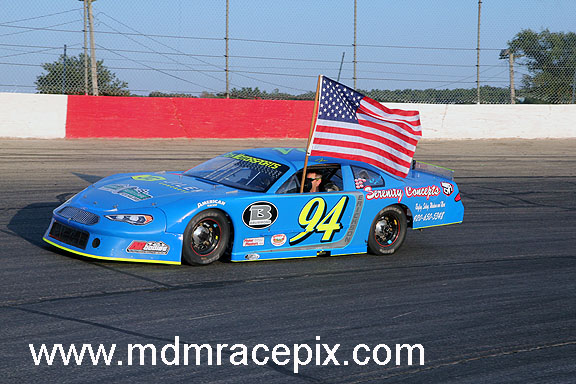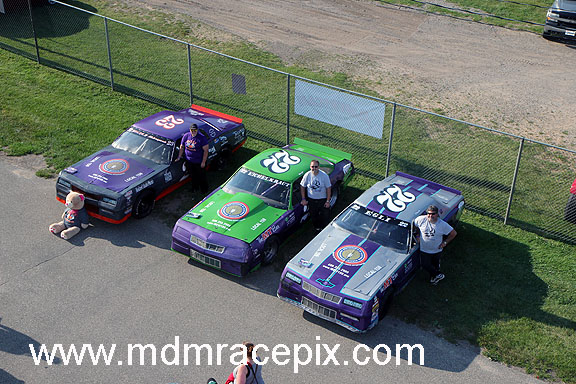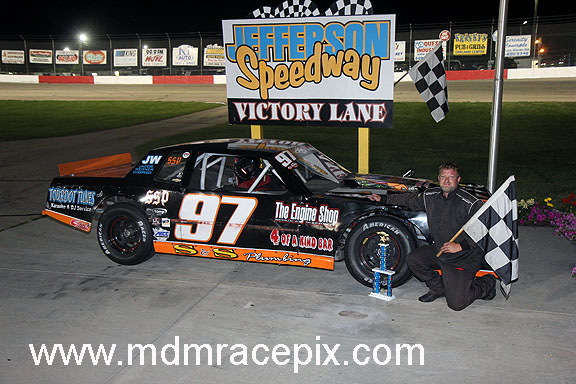 Shaun Scheel Charges to IBEW 50 Victory
JEFFERSON, WI (Saturday, August 19, 2017)           One week after little brother, Stephen Scheel, picked up his first feature win of the season, it was big brother Shaun that found himself in victory lane. Taking over the point after the leaders tangled late in the IBEW 50 lap Late Model feature, the Lake Mills driver hung on in the closing laps to secure the win and claim his second main event win of the 2017 season.
Jerry Eckhardt and Cody Erdmann paced the pack to the drop of the green as they battled side by side for control. Erdmann eventually gained the advantage and moved out front alone on lap four. But a lap later, Dylan Schuyler began creeping up on the high side of Erdmann. By lap eight, they were wheel to wheel with Erdmann trying to hold off Schuyler. Schuyler managed to gain the advantage, clearing for the lead on lap nine. Meanwhile, John Ovadal and Dale Nottestad were making their way towards the front, entering the top five on lap 12. Steve Dobbratz got under Erdmann for second on lap 14, bringing Ovadal along with him. Ovadal continued forward under Dobbratz, claiming second on lap 17 with Nottestad following in his tracks for third. Ovadal pulled up behind Schuyler on lap 20 as the top three ran nose to tail. The first of three cautions slowed the pace on lap 23 with Schuyler still showing the way and Ovadal right behind. On the restart, Schuyler got crossed up as they exited turn two allowing Ovadal to pounce and steal the lead. Nottestad made his way to second and drew in close to the new leader. On lap 29, Nottestad got a solid run off turn two, slipping under Ovadal and drawing even as the battle for the lead was underway. Lap after lap, the duo raced door to door with neither pilot giving an inch. But on lap 37, they made contact resulting in Ovadal spinning in turn four for force the second caution period. Both drivers were relegated to the rear of the field for the restart, handing the point over to Shaun Scheel who had made his way up to third prior to the yellow. Scheel began to stretch his lead as racing resumed with Dobbratz back in second. The leaders ran unchallenged until a wreck on the front stretch involving Luke Westenberg, Jacob Nottestad and Noel Ramge set up a green-white-checkered finish. But Scheel remaining in control in the final laps to see the checkers first and score the win. Dobbratz was second with Michael Grueneberg, Jason Erickson and Schuyler completing the top five.
Watertown's Chris Chenoweth used a late race pass to net the lead and win the 30 lap Sportsman feature event. Tim Coley took the early lead from the pole on lap one with Chris Jones up to second. Terry Wangsness moved up to challenge Jones for the runner up spot on lap four, taking the position a lap later. Wangsness began to shadow Coley, waiting for an opening to appear. On lap 16, Wangsness began to peer to the inside of Coley, making his move a lap later. After a brief battle Wangsness moved out front with Chenoweth trying to follow under Coley for second. By lap 21, Chenoweth was clear of Coley and on the hunt for the lead. With four laps to go, Chenoweth got under Wangsness as they raced down the backstretch. Wangsness reclaimed sole possession of the point on lap 28, but Chenoweth wasn't done trying yet. Chenoweth tried the low side once again, getting even with Wangsness as they flew past the white flag. Chenoweth inched forward on the final lap, holding the advantage as they raced out of turn four. At the stripe, it was Chenoweth with the half car lead to secure the win over Wangsness. Robert Hansberry Jr finished a close third with Bobby Selsing and Mark Deporter rounding out the top five.
Stoughton's Brandon DeLacy picked up his second consecutive International feature win by claiming the 20 lap event. Ashley Gottschalk grabbed the initial lead on lap one with Noah Pankow quickly up to second. On lap five, Josh Marx got by Pankow with DeLacy in his tracks for third. Marx continued to move forward, drawing even with Gottschalk on lap seven. Marx cleared for the lead a lap later as DeLacy took his place on the low side of Gottschalk for second. On lap ten, DeLacy cleared Gottschalk and powered under Marx as he looked to lead. After a two lap battle, DeLacy moved out front alone with Marx sticking close by in second. Marx made one last attempt at reclaiming the lead, but DeLacy held him at bay to pick up the win. Marx was second followed by Mark English, Gottschalk and Pankow.
Jim Tate Jr of Doylestown captured the 25 lap Hobby Stock feature event. Kenny Storkson led lap one with Chuck Egli and Brandon Angileri battling for second behind him. On lap three, Angileri slid up to the outside of Storkson, stealing the lead with Egli following into second. Egli made a quick attempt to get by Angileri, but he slipped back into a battle with Jimmy Robinson for second instead on lap seven. Robinson cleared for second and began to look towards Angileri out front. Meanwhile, Tate and point leader AJ Lloyd were making their way towards the front, entering the top five on lap 13. Robinson and Angileri made contact on lap 14, forcing Angileri to check up and allowing Robinson to fire into the lead. Tate also took advantage as he pulled alongside Angileri for second. Tate cleared on lap 16 and immediately began to pressure Robinson for the lead. Tate got under Robinson on lap 18, stealing the point with Lloyd trying to follow under Robinson. Tate drove away to the checkers from there with Lloyd edging out Robinson for second. Angileri finished fourth followed by Phil Wuesthoff in fifth.
Fort Atkinson's Chris Gottschalk claimed yet another feature win after winning the 15 lap Road Warrior main event. After a caution on lap one, Rodger Stephenson grabbed the lead with Chester Williams and Mark Dewey side by side for second. Williams motored up next to Stephenson on lap two, taking control of the lead a lap later with Craig Henning in tow for second. On lap four, contact between Williams and Henning forced both drivers to check up allowing Gottschalk to fly by on the high side. Gottschalk grabbed the lead and never looked back as he cruised to the checkers for the win. Henning finished second followed by Merek Pankow, Bryan Gottschalk and Bill Sweeney.
CJ Hemiller of Watertown hung on to win the 20 lap Bandit feature event. Tyler Edmundson led early  with Hemiller quickly up to challenge on lap two. Hemiller got under Edmundson and took command of the lead until a caution on lap four slowed the action. Hemiller and Bart Brockman led the field back to green with Hemiller reclaiming the lead. DJ Hill moved up to second with Tyler Deporter right behind him in third. Deporter got around Hill on lap nine as he set his sights on Hemiller. Another yellow flag on lap 11 set up a nine lap shootout to the finish. This time it was Hemiller and Deporter bringing the field back to green as they fought door to door for control. With three laps to go, Hemiller moved back into possession of the lead while Deporter tried to fight back on the high side. But as they crossed under the checkers, it was Hemiller with the advantage for the win followed by Deporter, Jeremy Bredeson, Chad Olds and Cade Watters.
Wausau's Kolton Guralski scored another clean sweep in the Bandolero division by claiming fast time, winning his heat race and claiming the 15 lap feature event. Chase Wangsness powered into the early lead on lap one. A caution on lap five set up a restart with Wangsness and Anna Malouf on the front row while Guralski and Karter Stark lurked behind them in row tow. As racing resumed, Wangsness reclaimed the lead with Guralski quickly up to second. Guralski charged under Wangsness, clearing for the top spot on lap seven. Stark followed into second and the pair of drivers began to separate themselves from the rest of the pack. Stark stalked Guralski for the remainder of the race, but Guralski stayed strong out front to see the checkers first. Stark settled for second with Alex Hartwig, Wangsness and Jevin Guralski rounding out the top five.
Next Saturday, August 26, is Cost Cutters Bike Night with a full program of racing including the Legends. Time trials begin at 5pm with racing at 7pm. Jefferson Speedway is located halfway between Jefferson and Cambridge on Hwy 18. Please visit jeffersonspeedway.com for more information.
JEFFERSON SPEEDWAY RACE SUMMARY
Late Model-
Feature Results- 1) Shaun Scheel, Lake Mills  2) Steve Dobbratz, Rio  3) Michael Grueneberg, Madison  4) Jason Erickson, Fort Atkinson  5) Dylan Schuyler, Jefferson  6) Cody Erdmann, Horicon  7) Stephen Scheel, Lake Mills  8) John Ovadal, Watertown  9) Don Gaserude, Fort Atkinson  10) Kyle Smith, Lake Mills  11) Jerry Eckhardt, Johnson Creek  12) Dale Nottestad, Cambridge  13) Tony Koepke, Jefferson  14) Luke Westenberg, Jefferson  15) Jacob Nottestad, Utica  16) Noel Ramge, Helenville  17) Kody Hubred, Cambridge  18) Chuck Duncan, Milwaukee
Fast Qualifier- Jason Erickson—14.268 seconds
Last Chance- Michael Grueneberg, Tony Koepke, Chuck Duncan, Kyle Smith
Heat Winners- 1) Michael Grueneberg  2) Steve Dobbratz  3) Dale Nottestad
Sportsman-
Feature Results- 1) Chris Chenoweth, Watertown  2) Terry Wangsness, Jefferson  3) Robert Hansberry Jr, Beloit  4) Bobby Selsing, Johnson Creek  5) Mark Deporter, Fort Atkinson  6) Tim Coley, Madison  7) Tony Ciano, Janesville  8) Jason Thoma, Jefferson  9) Josh Madell, Mayville  10) Chris Jones, Capron (IL)  11) Jim Taylor, Stoughton  12) Kyle Stark, Marshall  13) Jake Biever, Janesville  14) Dustin Ward, Waterloo  15) Bryce Miller, Columbus  16) Boyd Eichelkraut, Stoughton
Fast Qualifier- Robert Hansberry Jr—14.918 seconds
Last Chance- Jake Biever, Dustin Ward, Boyd Eichelkraut, Kyle Stark
Heat Winners- 1) Jake Biever  2) Randy Breunig  3) Tim Coley
International-
Feature Results- 1) Brandon DeLacy, Stoughton  2) Josh Marx, Dousman  3) Mark English, Edgerton  4) Ashley Gottschalk, Fort Atkinson  5) Noah Pankow, Jefferson  6) John Handeland, Belleville  7) Neil Higgins, Watertown  8) Joe Cross, Sun Prairie  9) Jason Uttech, Watertown  10) Chris Jackson, Jefferson  11) Bob Peters, Janesville  12) Gary Stark, Sun Prairie  13) Dillon Scott, Rio  14) Adam Schook, Palmyra
Fast Qualifier- Brandon DeLacy—15.915 seconds
Heat Winners- 1) Ashley Gottschalk  2) Josh Marx
Hobby Stock-
Feature Results- 1) Jim Tate Jr, Doylestown  2) AJ Lloyd, Loves Park (IL)  3) Jim Robinson, Beloit  4) Brandon Angileri, Janesville  5) Phil Wuesthoff, Beaver Dam  6) Bud Riedner, Waunakee  7) Chester Williams, Waukesha  8) Chuck Egli, Stoughton  9) Kenny Storkson, Indianford  10) Jared Vike, Sussex  11) Dan Snyder, Madison  12) Jamie Tate, Doylestown  13) Lucas Buckingham, Whitewater  14) Jordan Egli, Stoughton  15) Korey Bengsch, Fond du Lac  16) Gary Paulick, Union Grove
Fast Qualifier- AJ Lloyd—15.743 seconds
Last Chance- Jamie Tate, Jordan Egli, Gary Paulick, Korey Bengsch
Heat Winners- 1) Jessica Breunig  2) Brandon Angileri  3) Phil Wuesthoff
Road Warrior-
Feature Results- 1) Chris Gottschalk, Fort Atkinson  2) Craig Henning, Helenville  3) Merek Pankow, Jefferson  4) Bryan Gottschalk, Jefferson  5) Bill Sweeney, Lake Mills  6) Bill Reynolds, Watertown  7) Chester Williams, Waukesha  8) Mark Dewey, Janesville  9) Richie Nelson, Stoughton  10) AJ Accardi, Madison  11) Rodger Stephenson, Cambridge
Fast Qualifier- Bill Sweeney—16.650 seconds
Heat Winners- 1) Mark Dewey  2) Chris Gottschalk
Bandit-
Feature Results -1) CJ Hemiller, Watertown  2) Tyler Deporter, Fort Atkinson  3) Jeremy Bredeson, Deforest  4) Chad Olds, Whitewater  5) Cade Watters, Sun Prairie  6) Josh Lenz, Lake Mills  7) Bill Kohn, Madison  8) DJ Hill, Watertown  9) Tommy Bleecker, Lake Mills  10) Mike Misch, Rochelle (IL)  11) Bart Brockman, Rockford (IL)  12) Carter Williams, Sun Prairie  13) Matt Weber, Whitewater  14) Tyler Edmundson, Janesville
Fast Qualifier- Chad Olds—14.124 seconds
Heat Winners- 1) Josh Lenz  2) CJ Hemiller
Bandolero-
Feature Results -1) Kolton Guralski, Wausau  2) Karter Stark, Marshall  3) Alex Hartwig, Portage  4) Jevin Guralski, Wausau  5) Chase Wangsness, Jefferson  6) Anna Malouf, Rhinelander  7) Logan Taylor, Watertown  8) Michael Guderski, Markesan  9) Keegan Kehoe, Fort Atkinson  10) Emma Hunstiger, Helenville  11) Robbie Rucks, Deerfield  12) Kaeden Wangsness, Jefferson  13) Keagan Benz, Wausau  14) Carli Lenz, Lake Mills
Fast Qualifier- Kolton Guralski—14.353 seconds
Heat Winners- 1) Chase Wangsness  2) Kolton Guralski